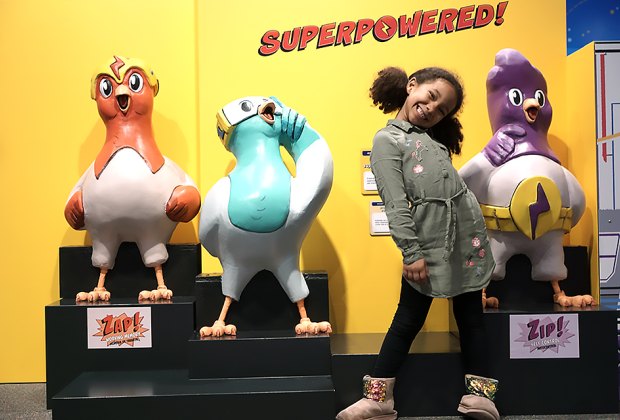 Superpowered Metropolis Debuts at CMOM
Big things are happening at the Children's Museum of Manhattan. The museum we already love for so many reasons has opened two new exhibits in the past six weeks, including the just-introduced Superpowered Metropolis: Early Learning City, which debuted over the weekend.
The exhibit takes over the ground floor space, bringing to life a trio of super-hero inspired pigeons who are ready to lead the institution's youngest visitors on an interactive, city-inspired journey meant to build early learning lessons and set them up for success in school and beyond.
Read on for an introduction to the new feathered friends, Zip, Zap, and Zoom and to learn more about this exhibit that's big fun for little kids and their grownups.
Superpowered Metropolis: Early Learning City caters to kids ages 0-6, and its focus, backed by big-time science and research conducted at institutions like NYU, Columbia, and Harvard, introduces babies, toddlers, and preschoolers to three executive functioning skills. While CMOM's not trying to get babies prepped for the boardroom, these crucial skills are developed early in life and help them soar as they grow.
RELATED: FREE Times to Visit NYC Museums, Gardens, and Zoos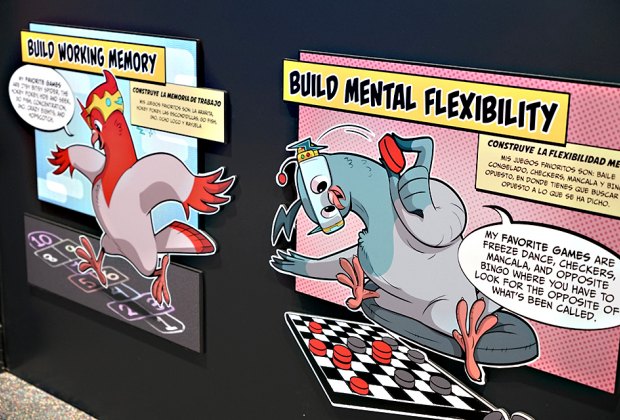 Fun graphics dot the walls of the exhibit and are jam-packed with info about the research that bright Superpowered Metropolis to life.
Each skill—or superpower—is presented in an ultra kid-friendly way, by the exhibit's main characters, a trio of pigeons. Zip teaches self-control and demonstrates an ability to take a "power pause" before jumping into action; Zap's got a big-thinking brain and is a memory master who likes to sort information and follow directions; Zoom's superpower is mental flexibility, illustrated by curiosity and expert problem-solving skills.
While the research and science behind these skills are presented in placards throughout the exhibition, what kids are most likely to see is a brightly colored space packed with comic book-style graphics and plenty of ways to romp and play.
RELATED: MoMA Reopens With Kid-Friendly Art Programs, Family Film, New Galleries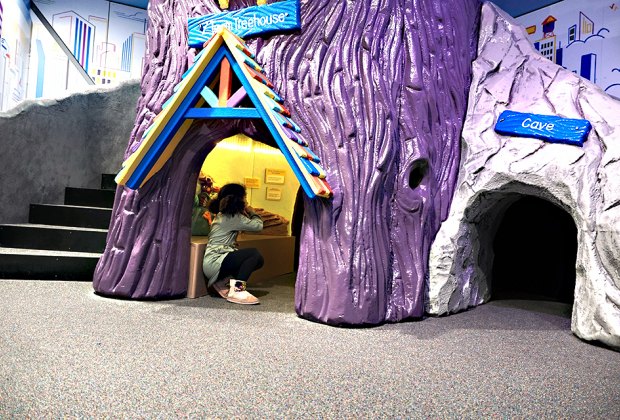 Climb to the top of the treehouse, crawl through the slide, or curl up with a book in the cozy nest-inspired nook. There's even a slide.
The centerpiece of the exhibit is a two-story treehouse with a slide, cave, and reading nook donated to the museum by the well-loved and now-closed City Treehouse play space in Chelsea. It's the command center for Zip, Zap, and Zoom and an excellent hideout to spy all the fun below, especially if you take a peep through the periscope up top.
RELATED: Best Children's Museums for Families to Visit in NYC

Little ones will love the instruments in the music room. There's even a gong to strike.
Multiple play areas allow little ones plenty of ways to engage with the characters and New York City itself serves as the backdrop. You'll see whimsical murals of familiar landmarks, and both a xylophone and train table modeled after the city's subway map.

The Baby Central Station area is sheltered from the wild romping areas and offers plenty of safe places to crawl and climb for infants and toddlers.
Infants up to age 2 get their own soft play space in Baby Central Station, where the famous clock seemingly beckons them to work on their crawling and cruising skills as they conquer a soft-climber to reach it. The socks-only area is blocked off from the main exhibit, so little ones can safely explore. Its half-height walls make it easy for parents to supervise multiple kids in different areas of the exhibit.

The Whimsical Wind Blowing Fountain inspired plenty of smiles.
A colorful series of pipes make up the Whimsical Wind Blowing Fountain, which encourages kids to build teamwork by shooting floating scarves into the air and then try to catch them. It was easily the biggest hit for my daughters when we explored the space. Though they're older than the target audience, they still had plenty of fun.
Other highlights include the Pigeon Mobile, which gives kids an chance to take the wheel and maneuver through the city, as far as their imaginations take them, a trio of tablets with brain-building games developed at NYU's CREATE Lab, and plenty of fun photo ops, including striking a power pose right next to your new Superpowered Metropolis friends.
Superpowered Metropolis: Early Learning City is now open at the Children's Museum of Manhattan. A visit to the exhibit is included in museum admission, which is $15 for all visitors over 1 year of age. While you're there, be sure to check out the newly-opened Inside Art on the first floor as well as our other favorite exhibits.
Photos by the author