Scandinavia House's Redesigned Heimbold Family Children's Playing and Learning Center in Murray Hill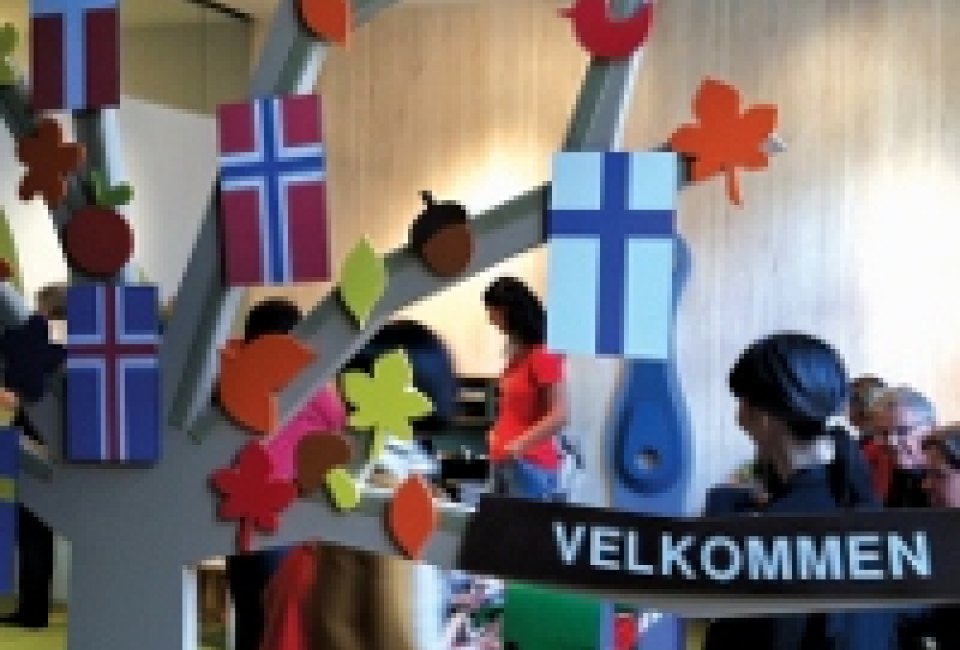 11/3/11
- By
Stephanie Ogozalek
[UPDATED: February 18, 2013] There's a secret most Murray Hill families don't want getting out: The Heimbold Family Children's Playing and Learning Center, a beautiful interactive play space tucked away on the fourth floor of Scandinavia House. Back when my son was a toddler, we visited several times a week. The center was cozy, cheerful, inexpensive and rarely crowded, and it's where my kid became obsessed with Scandinavian toys like Legos and wooden Brio trains.

The Heimbold Family Children's Playing and Learning Center underwent a major two-month renovation in 2011 overseen by Koko Architecture + Design, the husband-and-wife team that created the awesome (though sadly now closed) Imaginasium for the Children's Aid Society in Greenwich Village. Education has always been the center's focus, and this magical redesign enhances that mission with hands-on stations where kids can learn, explore and play using Scandinavian early childhood development concepts.

I visited the revamped center shortly after its grand reopening, and it's really amazing. My now six-year-old son wouldn't even recognize the space! Step inside, and you'll wish you were a kid again.
If you frequented the old center, the first thing you'll notice about the Heimbold Family Children's Playing and Learning Center is that the two separate galleries have been combined into one large space. The right side is an active play area and the left side is a sensory zone. There's a small wall separating the two, and kids can pass though a tiny illuminated tunnel that connects them.

The active play area features a spiffy new landscaped Brio train table, an enhanced Lego zone, a traditional Scandinavian country kitchen and other stations. There's still a fantastic reading nook with English- and Scandinavian-language books, but it's been retooled with fuzzy, touchable walls, additional seating and a fantastic birch bark exterior.

Across the way, the sensory zone is set up for self-directed, open-ended play with soothing wall art and soft lighting. Attractions include a soft, tot-sized climbing area, a giant mushroom house, super-cool light tables with translucent manipulatives, costumes for dress up, a touchable book wall and lots of squishy things to sit on.

Grown-ups will appreciate the expanded seating and ample stroller storage. And of course, Scandinavia House still boasts lots of things to do for adults, like a nicely appointed shop, the delicious Smörgås Chef and wonderful art galleries.

Although Scandinavia House assured me that children up to age 10 will enjoy the center, in my opinion it seems best suited for toddlers and preschoolers. (No babies allowed; children must be able to walk in order to enter.) Although my son is a tad too old for playtime here, he's the perfect age for the center's wonderful weekend storytelling and sing-along events. I've listed notable ongoing family programs below. If you want to stay and play after the activity, you do need to pay the regular admission fee.

One very important note about hours and pricing: The center is only open to members Tuesday-Friday noon-5pm. The general public can drop in on Saturdays from noon to 5pm for $15 per child. If you live in the area and have young children, consider buying a Family Associate Membership for $125, which allows you to add on an annual Children's Center Pass for $200. That means for $325, you get access to the Heimbold Family Children's Playing and Learning Center on weekdays for a year. Do the math: It will cost you a lot less than most traditional play spaces.

For the events listed below, visit the website for upcoming dates.

Scandinavian Sing-Along
$7
Children ages 1-7 can croon English-language versions of classic Scandinavian kids' songs, and play fun games.

Saturday Morning Storytelling with the Hans Christian Andersen Storytellers
FREE
These veteran storytellers bring fantastic Nordic tales by Andersen and others to life.

Swedish Christmas Children's Workshop
$10
Every holiday season, the house invites New Yorkers to experience a Swedish julpysseldag, a.k.a. a Christmas craft day. Kids can learn how to make woven hearts, yarn tomtar and paper angels. Preregistration required.

The Heimbold Family Children's Playing and Learning Center at Scandinavia House is located at 58 Park Avenue at 38th Street. Open to the public Saturday noon-5pm. $15 per child.

For other cool places to play in NYC, check out our Inside Activity Guide.
Photos by Tina Buckman
Places featured in this article:
Click Here to Sign Up!
i