Imaginasium: Drop-In Indoor Playground for Kids in Greenwich Village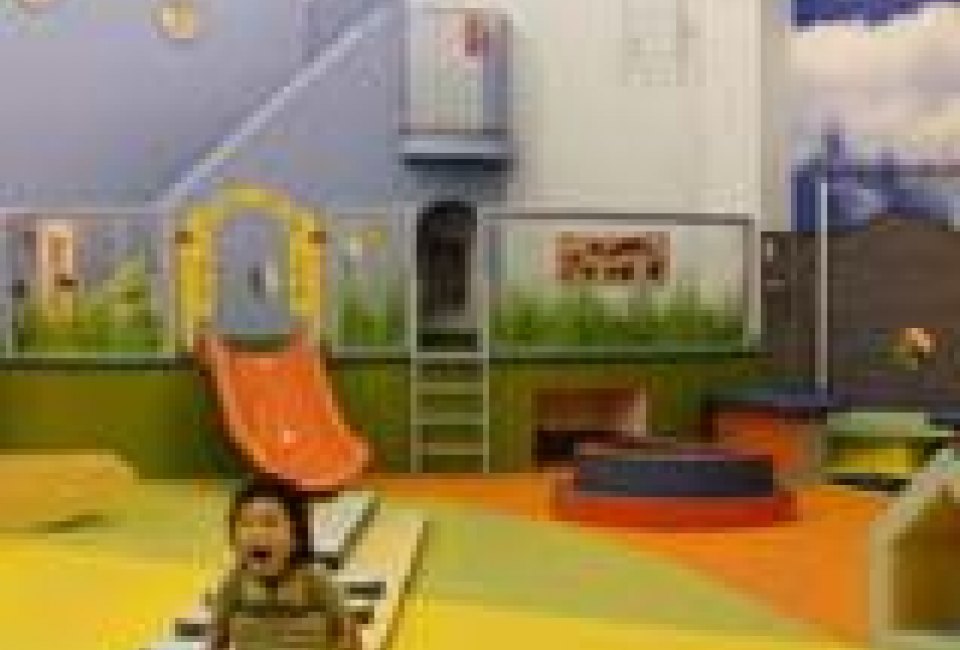 2/7/10
- By
Allison
This venue is now closed.

We've been updating our Indoor Activity Guide and parrticularly our list of drop-in indoor play spaces so NYC families can find lots of fun things to do during this cold weather.
With cabin fever setting in over these winter weeks, I've been bundling up my 13-month-old and taking field trips to a few indoor spaces with open play times. With drop-in play areas, it's great to be able to hang out for a few bucks admission without having to commit to expensive memberships or classes. My son loves exploring the new toys, and I love not having to clean up the mess.
Check out one of my new favorite drop-in indoor playgrounds.
The Imaginasium in Greenwich Village has open play weekdays for $15. My son and I both love this colorful, creative space for many reasons. He simply has a really, really fun time there.
Open play takes place in one huge room, so I can keep an eye on him from most anywhere and he can be more independent climbing obstacles and exploring each nook. Imaginasium has unique activities like a bubble light where you can press buttons to change the colors, a wooden row boat, dress-up costumes and Velcro walls for sticking on different shapes.
The highlight for many kids is the water table where they can dip their hands or splash and set toys afloat. Smocks are available, but if you plan to let your child explore this area I suggest you bring a bathing suit or change of clothes. There is also a reading room downstairs with books for different ages.

Parents will love Imaginasium because it's well kept and there aren't too many toys to go in the mouth. Even during open play the staff interacts with the kids. They read a story and sang songs on my last visit. There's a really convenient stroller parking room with individual spaces and shelves for your stuff. Last but not least, its never too crowded. A maximum of 20 kids are allowed in for open play daily.
Reservations are recommended, but walk-ins are welcome when space is available. You can reserve up to 3 play times in advance. I think this space is best suited for children 6 to 24 months, but its open to kids up to 5 years old.


Imaginasium
Children's Aid Society, Early Childhood Annex
177 Sullivan Street, Manhattan
(*Near the West 4th St. subway station which has elevator access )
Open Play: Tuesday 1-3pm, Wednesday noon-2pm and Friday 10am-noon
$15 per child, paid in cash
For reservations call Call 212-254-3074 ext. 300.


Sign up for our free
newsletters.
Mommy Poppins is a family activity website that helps people find things to do with kids.
©
2023
MommyPoppins. All Rights Reserved.
mp-prod4-v4.32.99
We use cookies and other data collection technologies to provide the best experience for our customers.
Learn More
t Click Here to Sign Up!