A Stroller for Every NYC Lifestyle: Walk-ups, Budget, Doubles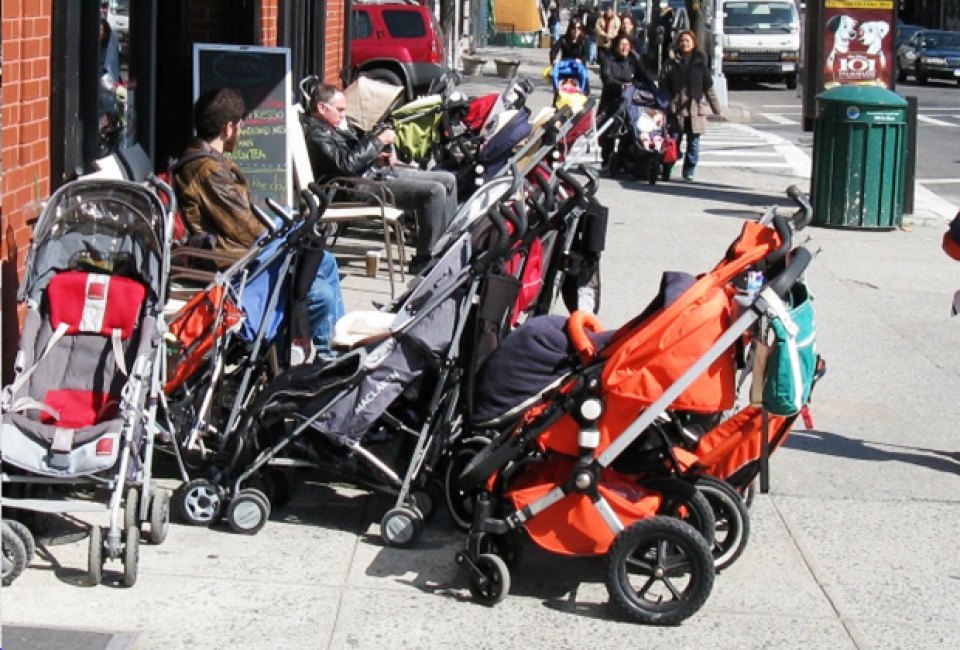 5/9/17
- By
Jessica Laird
After three trips to Buy Buy Baby, six separate email chains with your sister-in-law, and a plea to your local parents group, you still can't decide which stroller to buy. From one-handed folds to fixed wheels and car seat adapters, it can feel as if you need an engineering degree to understand the endless options, and then a panel of experts to pick the right model.
Here's the thing: Whether planning for your first baby or adding another little one to your crew, the key to finding the perfect fit for your growing family is to focus on your lifestyle. So, forget about the stroller your best friend swears by or the new release you just read about in that parenting magazine and start thinking about things like the size of your NYC apartment and the number of stairs you climb in a day. From there, read on to find recommendations based on your everyday needs.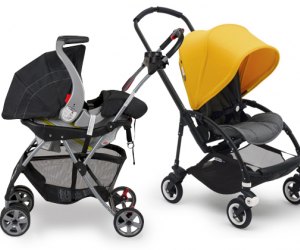 Top options for those with walk-ups? How about the Baby Trend Snap-N-Go, left, and the Bugaboo Bee5.
You're in a three-floor walkup and lobby parking is off limits.
An elevator isn't easy to come by in this city. And for families who will be hauling their stroller up and down the stairs, weight and fold are top priorities. You need something you can carry, and a way to collapse it while holding your precious cargo. One budget-friendly option for the first four to six months is a frame stroller, such as the Baby Trend Snap-N-Go EX Universal Infant Car Seat Carrier (we're talking under $50). Just like all frame strollers, the Snap-N-Go is a lightweight metal base that attaches to a car seat, and this particular model has a one-handed fold that couldn't be easier. When it comes to bumpy New York City sidewalks, it doesn't offer the smoothest ride compared with pricier travel systems, but considering cost and ease of use this could be the perfect fit for tackling all those flights until it's time for an umbrella stroller. It's also a good space-saving pick for that little New York apartment of yours.
Meanwhile, for parents with a little more wiggle room in their budget (or generous grandparents), the Bugaboo Bee5 is walkup-friendly with many of the bells and whistles that come with a premier stroller. While it isn't as light as a frame stroller, weighing in at 19½ pounds including the seat, it offers a smooth ride, one-handed steering, good storage space, and an extra large sun canopy. While the fold requires two steps, it can be done with just one hand, and the stroller can be carried conveniently on your shoulder, an improvement over a number of premier strollers that are tough to get a grip on. The stroller is car seat-compatible—although a bassinet attachment is available for those interested—and the reclinable, reversible, extendable seat is suitable for birth through toddlerhood, meaning this could be the only stroller you ever own. That's a good thing, though, because it's pricey.
RELATED: Must-Have Baby Registry Items for NYC Parents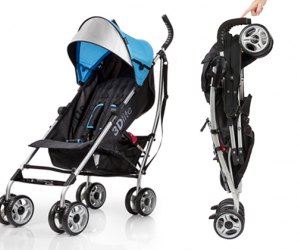 The Summer Infant 3D lite Convenience Stroller is a top choice for subway commuters.
There's a daily subway commute to day care in your not-so-distant future.
If day care is a subway ride away, parents are best off with an umbrella stroller that's lightweight and easy to fold—much like walk-up dwellers, but these factors are even more dire here. Many day cares will allow you to leave a stroller in a storage cubby or hallway, but only if it folds up, and we don't have to tell you about the dearth of elevators (and plethora of stairs) and minimal space on the subway, right?
Your stroller options really open up at the 6-month mark when the recline for an infant isn't crucial, but there are plenty of models that can be safely used from birth and beyond. The most budget-friendly choice is probably the Summer Infant 3D lite Convenience Stroller, which weighs 12 pounds and costs less than $100. It's not the lightest option out there, but it should be manageable for most, especially with a carry strap and a fold that are simple once you get the hang of them. The storage basket is big enough to store the day's baby gear, and the additional back pocket, sun shade, and cup holder are all valuable perks at a reasonable price. Oh, and speaking of the lightest option, moms and dads looking for a seriously affordable style suited for an older child might consider the Cosco Umbrella Stroller (or the Comfort Height version for taller parents) which is less than $20 and weighs less than 7 pounds. This no-frills model is unlikely to be tough enough tor everyday use, but it's a great secondary option for commutes with minimal walking.
Parents interested in investing in a durable stroller that's likely to last a few years (and maybe even a few kids) are probably best choosing from several popular Maclaren models. The Mark II is the lightest of the bunch, clocking in at less than 7½ pounds, and it doesn't skimp on quality with an easy one-hand fold, carry strap, large 50+ SPF sunshade, a good amount of storage space, and lockable front swivel wheels. This style is suited for kids 6 months and older, although it does recline if the subway lulls your little one to sleep. The buckle is a bit tricky, but it's still a strong choice for NYC straphangers. The Triumph and Globetrotter do pack a few more pounds, but with many of the same features, and are also good options for little ones 6 months and older. For a new baby, the 12½-pound Quest is an ideal way to go, with its full recline, built-in safety system, and the same MTA-friendly perks as other models, including an easy fold and carrying strap.
RELATED: 12 Things to Do with Your NYC Baby Before They Turn 1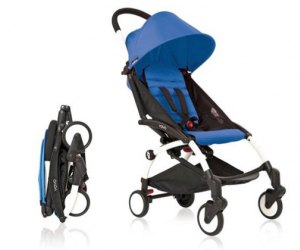 Babyzen Yoyo+ is a compact, though pricey, option for small spaces.
You're still in a studio and space is limited... to say the least.
Space is a luxury in New York, so a compact stroller can make a big difference in a small apartment. For parents willing to spend in the name of space-saving, the newish Babyzen Yoyo+ has been getting rave reviews from city parents. It's a travel system that can be used from birth with the included bassinet or car seat, and then from 6 months on with the reclining front-facing seat. It features one-handed folding, unfolding, and driving, and it weighs in at just 14½ pounds. Most importantly for studio dwellers, it's about 20 by 17 by 7 inches when folded, making it small enough to fit in the overhead storage on a plane and light enough to hang in a closet. How's that for convenient?
For moms and dads looking to spend a little less, the Baby Jogger City Mini is another compact option, even though its footprint isn't quite as small. It is known for its fold, which is done quickly and easily by pulling a strap that folds the stroller over on itself and an auto-lock feature that keeps it collapsed and streamlines storage. At 17½ pounds, it's still one of the lightest travel systems, and comes with perks such as a seat that reclines almost entirely flat, a canopy with peek-a-boo windows, and front-wheels suspension for a smooth ride. If you're in a studio that's up a flight of stairs or two it really doesn't get much better than this.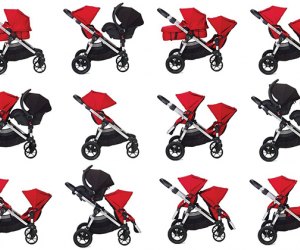 Growing family? Baby Jogger City Select has over a dozen configurations.
Double trouble. Enough said.
With its busy sidewalks and narrow doorways and shopping aisles, NYC wasn't designed for double strollers. Lightweight options with simple folds are tough to come by in this category, so you are best focusing on streamlined styles—and not side-by-side seats—that will allow better navigation of the city. For those ready to open their wallets, the UppaBaby Vista is a big hit with parents of both twins and children of different ages, and it can actually carry as many as three kids. With the right attachments and adapters, this travel system accommodates two bassinets, two car seats, two standard seats (that reverse and recline), or any combination of the three. A buggy board can be attached, as well. This model is known for its enormous storage basket and trusty wheels that offer shock-absorbing front and rear suspension. Its fold isn't the easiest and it weighs about 26 pounds with just one seat, so while it rides beautifully it's not going to do any favors on the subway or your front stoop, especially with added attachments. And the more additions you need, the more it's going to cost you, of course.
For those looking for something just as flexible, but slightly less expensive, the Baby Jogger City Select with more than 16 possible configurations that accommodate one to three kids might fit the bill. Much like the Vista, this travel system can support any combination of seats, car seats, and bassinets with the option to add a glider board. It's just 2 pounds heavier as a single. It is known for offering all passengers a spacious ride and parents love the versatile tires, adjustable handlebar, and hand brake. The stroller can't be folded with both seats installed, which is tough if you need to carry this bad boy. For those with one older kid and a newborn, you might consider something in the "sit and stand" stroller category. A number of manufacturers sell and carry this version of the double, often at a nice price point, including Target, Joovy, Graco, and many others. It folds up small, is typically narrow and light, can integrate with a car seat, and offers a quick seat for a fidgety tot or preschooler who may be just about, but not quite ready to age out of the stroller.
Top photo: Stroller parking in Park Slope demonstrates the range of strollers preferred by New York City parents. Photo courtesy of Melissa Dimas. All other photos courtesy the respective companies.