Good Subway Citizenship: 10 Must-Dos When Riding the Subway with Kids & Strollers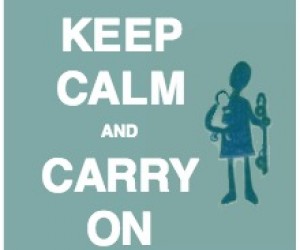 3/9/15
- By
Anna Fader
As much as I believe that NYC is the best place on earth to raise children, I can't deny that traveling on the subway with babies or toddlers can be tough. While we're lucky to have an amazing mass transit system, it's not always easy to use and safety is a concern. Plus we have to share it with millions of other people—people who may not think our strollers and restless kids are as cute as we do. From finding a station with an elevator, to knowing what to do if you and your child are separated, to avoiding hipsters filming you as an annoying breeder and posting it on their blogs, we have some tried–and–true tips that will keep your trip safe and relatively hassle-free. Here are 10 strategies for getting around NYC on the subway with a baby or toddler.
Keep calm and carry on. Before I even talk about strollers on the subway, I want to make the case for avoiding them altogether. While strollers seem convenient because you can carry all your stuff and your child on wheels, when you're traveling by subway, they can be a hindrance. If you can get used to toting your little one in a carrier, it gives you a lot more flexibility, and is safer and easier to boot.


Have a subway stroller. Big strollers are the trend now, but using a lightweight umbrella stroller when taking the subway has many advantages. If necessary, you can carry your child down the stairs in one without a team of assistants, plus they're easy to fold. With the increase of stations where you need to fold your stroller in order to get through the turnstile, having a cheap, lightweight and easily collapsible umbrella stroller makes life a lot simpler on the subway.


Going down. Carrying an empty stroller down the stairs is easier and safer than schlepping your child down all those steps while she's still strapped in. If she's old enough to walk down, have her get out. Better yet, find a subway station with an elevator. The MTA has a list of accessible stations, but the handy site and app HopStop can plan your trip around stations with elevators. Then you only have to deal with the stench.


Lock, don't roll. Once on the platform, make sure to lock the brakes on your stroller. The platforms are actually tilted toward the tracks for drainage, which could cause your stroller to roll forward and potentially fall off the edge. Yes, this has actually happened—yikes!


Avoid the crush. If you have to travel during rush hour, you won't make any friends if you try to get on with an open stroller. During peak times, fold your stroller and carry your child or hold her hand. If you must use your stroller, make sure to move in and away from the doors. Of course, that might be impossible if the train is crowded.


Transit-gate. Veteran New Yorkers know the deal: You catch the attendant's eye, swipe your MetroCard at a turnstile and then you're buzzed through the gate so you can enter with your stroller. That said, it's scandalous how few subway entrances have an attendant nowadays. You used to be able to tell if a station was manned by an illuminated green globe at the top of the stairs, but that's no longer accurate (although a red globe definitely means no attendant). Use the MTA's list of accessible stations to find a station with a person to pass you through the gate.


All aboard. Even when your kids are big enough to walk alone, treat boarding a train like crossing a street and always hold hands. Some stations (Union Square and Times Square, for example) have unexpectedly large gaps between the platform and the train. Once my son actually fell between a train and the platform, practically down to his waist! Luckily I was holding his hand, and I was able to carefully pull him back up. All we lost was a shoe, but it was a scary reminder about how careful you need to be.


Don't get separated. When your child is too big for holding hands, make sure he stays in front of you and put your hand on his back or shoulder so others know to let you board with him. This helps avoid getting separated in the hustle of boarding a crowded train.


But if you get separated anyway... Sometimes, despite your best efforts, it happens. So make sure your kids know what to do. If you get on the train and your child is left on the platform, he should stay where he is and wait for you to circle back for him. If your child is left on the train when you get off, he should exit at the next stop and wait for you there. In either of these cases, it's likely that kindly strangers will stay with your child. Tell your child to follow the plan regardless of what well-meaning grown-ups may suggest instead. It's also a good idea for your child to memorize your cell phone number or carry it on a slip of paper. You can also write it in the liner of your child's coat. That way, your child can approach a kindly cop or mom who will help you two reconnect.


Choose between pity and scorn. We're so used to all the annoying things toddlers do like touching our hair, pulling on our earrings, drooling on us and screaming for no reason, that we may not even realize how insanity-inducing it is to everyone else. Remember how disgusting the idea of poop seemed before you had to wipe someone else's butt every day? Luckily, most people understand how much it can suck to have a kid on the subway and will give you a pass—as long as you make some attempt at a sleep-deprived apology. If you need pointers on fake apologies, just follow Brian Williams' lead.
Being a parent in NYC can be challenging and it's easy to feel perpetually harried and overwhelmed. We're all just doing our best to get from point A to point B. While the MTA is focusing more attention on addressing etiquette issues like "manspreading," there's no judgement here. We hope these strategies will help new parents who may feel daunted by their first trip underground.

Have more tips? Leave them in the comments.

Just had a baby? Check out our advice for picking out a NYC stroller and 12 things to do with your infant before he turns 1.