Getting Around NYC by Subway with Kids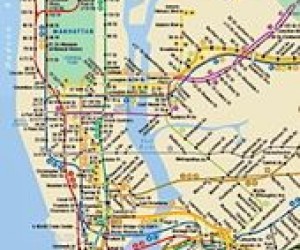 Riding the subway is the fastest, easiest way to get from point A to point B in NYC. And it's a great way to travel with kids. But if you're not 100% familiar with the subway system, are traveling with a stroller, or hit schedule changes, it can really stink. We've rounded up the best online resources to make it easier to get around NYC by subway, especially with kids.
There are now a few sites that give accurate subway directions. Just type in your starting and ending addresses and they will tell you the best routes.
HopStop gives excellent subway, bus, taxi, and even walking directions that take into account all the crazy weekend service disruptions. And lately there are so many weekend service changes that I don't risk leaving the house without checking hopstop before I go.
MTA Trip Planner also has a hopstop-like application. It isn't as pretty to look at as the HopStop one, but two features that I like are that is has a round trip feature and accessible routes. I thought using the accessible routes feature might be good for people with strollers. It's worth checking, but sometimes the alternative route will be more of a pain than just carrying the stroller up the stairs.
If you want to know which subway stops have elevators there's a list by borough here: subway stops with elevators.
If you want to know which elevators are actually not in service, the list is here: Elevators out of service
Google Transit. Google maps now offers google transit where you can get directions by subway, bus, car or walking. Subway directions use the MTA database so I assume it takes schedule changes into account, but not sure. Just google the address you are going to, click on get directions and select subway and it will tell you how to go and even the schedules departures (as if).
Google Street View. While you're on Google Maps, check out google street view. This is a great feature which shows you an actual image of the location on the map. You can even move around, traveling down the street in either direction. I have used this to show my husband or baby sitter where they will be going when it is hard to describe. Sometimes a picture is worth more than a thousand words.
Do you know when you have to start paying for your child to ride the subway? See our post explaining it here.
And check out this post which has lots more cool stuff to learn about the subways in NYC with kids.