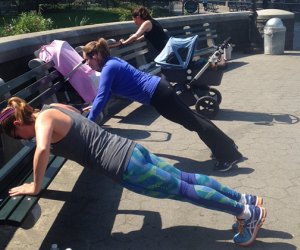 10 Postnatal Workout Classes for NYC Moms
Getting back into shape after having a baby can be daunting. But we know exercise gives us more energy, encourages a positive body image, and just seems to make us feel better. Don't know where to start? A postnatal exercise class geared toward new moms is a great way to get motivated, meet other new moms, and learn what exercises will help you look like your old self (or better).
We've rounded up 10 postnatal exercise classes in New York City that address the needs of your new body. Many are baby friendly and some offer free or discounted trial classes. As with any new exercise program, check with your doctor for the go-ahead.
Check our NYC Baby Guide from Pregnancy to Preschool for more new mom city info, or find more classes in our Classes Guide and Directory Listings.
FIT4MOM​ – Prospect Park, 9th Street entrance
FIT4MOM features three different programs: Body Back, Stroller Strides, and Run Club. The Body Back program is a two-month session that includes fitness assessments, food journal and diary, individualized goal setting, weekly weigh-ins, online support, and two high-intensity workouts per week. It's not just for new moms but rather any mom who wants a high-intensity workout. Kids should be left at home. Stroller Strides is a total fitness program that moms can do with their babies. It includes power walking and intervals of strength and body toning exercises. The Run Club is just that—a running club for moms, offering a start-to-finish 5K program for beginners and a 5K and Beyond program for moms who want to increase speed and stamina or train for longer races. Kids of any age are welcome in a stroller, or on bikes or scooters if older. There are monthly memberships, and class passes and registration can be purchased online.
RELATED: Baby Classes in Brooklyn That Are Anything But Boring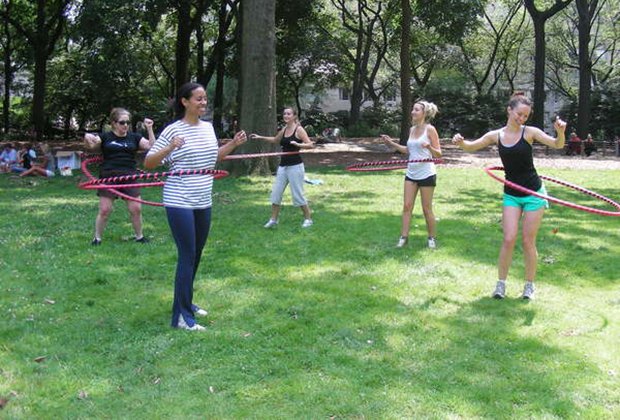 Strengthen your core with a Hoopdance cardio class at Fitnotic.
Fitnotic – Upper East Side, online
Sheryl Wilson, mom and founder of Fitnotic, specializes in prenatal and postpartum fitness and offers a unique blend of online, in-home, and group programs for moms and expectant moms. Wilson will customize a workout for you based on physical level, interests, and equipment you already have on hand. Programs can be done online or via Skype and emphasize core and pelvic strengthening. She also offers a fun Hoopdance cardio class that meets weekly at John Jay Park (77th Street between York Avenue and the East River).
Indigo Studios – Park Slope
This Pilates studio in Park Slope offers specialized mat classes for new mothers, who are welcome to bring babies aged 2 to 6 months. The class targets the abdominal and pelvic areas and helps new moms coping with lower back pain. Instructors try to incorporate babies into some exercises. Classes also offer instruction on pelvic floor exercises like Kegels. Check online for schedule and registration information.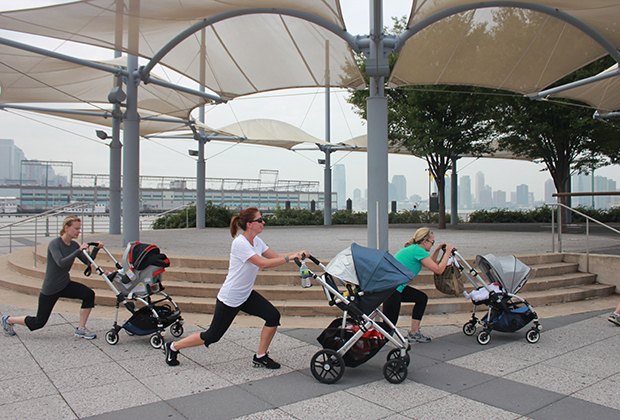 Lunges with a view at a Mommy and Me Fitness NYC class.
Mommy and Me Fitness NYC – Greenwich Village
Local NYC mom and personal trainer Meri offers a stroller workout for new moms. She is certified by the American Council on Exercise and in the Tupler Technique, which helps correct diastasis recti (a separation of the abdominals). Each class is different and Meri likes to switch the workout every week to keep moms challenged. New moms will jog, squat, lunge, jump rope, use resistance bands, and work with the surrounding environment.
Movin' Mamas – Upper West Side
Postnatal Pilates instructor and mom Randi Stone offers an hour-long stroller class for moms to move and sweat together. Babies are welcome. Stone has created a whole-body workout that aims to rehabilitate the core, heal the pelvic floor, improve posture and flexibility, relieve aches and pains, and release stress. The workout uses your own body weight for resistance, along with the stroller, bands and balls, park benches, trees, and more. A mat or blanket is recommended. Classes take place in Central Park in warmer months and at JCC Manhattan from November to April. Classes vary from small groups to more costly semi-private and private packages.
RELATED: Where to Get Fit with Baby: Mommy and Me Fitness Classes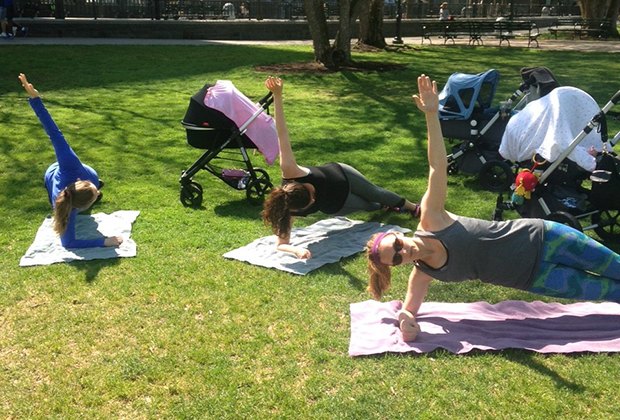 Try planks in the park at a PROnatal Fitness class, held around NYC.
PROnatal Fitness – Central Park, Battery Park, Tribeca
Developed with the guidance of fitness experts and ob-gyns, the founders of PROnatal Fitness offer hour-long indoor and outdoor classes for new moms. The stroller outdoor class offers a total body workout that includes cardio conditioning, body strengthening, core rehabilitation, postural improvement, and gentle stretching. Outdoor classes take place in Central Park and Battery Park. Indoor classes take place in Tribeca at the Manhattan Youth Center and are suitable for all fitness levels and stages of pregnancy and motherhood. There is also a childcare area in the back of the studio. Check the website for pricing and exact locations.
Strollercize – Various locations
For the ultimate stroller workout with your baby, check out "Mommy Bootie Camp," which is Strollercize's signature stroller fitness program. The stroller is used in most exercises to add resistance and for balance. Other programs include "A Fit Mom," for moms who no longer use the stroller; "Grounded," a workout that uses locked and parked strollers; and "F.I.T," or "Family In Training."
Postnatal Yoga
If you're looking to get back into shape with some gentle stretching and yoga, we've also included a few mommy-and-me yoga classes here, too, but definitely check your local studio for other options.
92nd Y – Upper East Side
This cultural institution offers mommy-and-baby yoga focusing on core muscle stretching and strengthening. Check the website for schedule and registration information.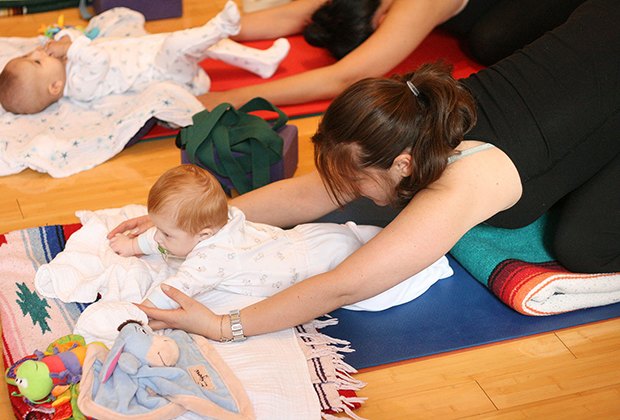 Take a solo or mommy-and-me yoga class at the Prenatal Yoga Center.
Prenatal Yoga Center – Upper West Side
This pregnancy-focused studio offers postnatal yoga, as well as mommy-and-me classes. Postnatal classes focus on rebuilding strength in the abdomen, back and pelvic muscles, releasing tension in the shoulders and neck, and opening the chest. Moms are welcome to bring their babies. Mommy and Me focuses on strengthening the spiritual, emotional, and physical bond between parent and child. Using interactive, slow-moving postures, the class is ideal for mommies and babies 4 weeks to crawling age. Classes include infant massage and other exercises that assist in the development of childhood motor skills. Check online for schedules and pricing.
The Yoga Room – Long Island City, Astoria
The Yoga Room offers parent-and-baby yoga at its Queens studios in Long Island City and Astoria. It's a great way to reconnect with your body and have fun with your baby. Dads and caregivers are also welcome.
Top image: Practice pushups at a PROnatal fitness class surrounded by other new moms. All photos courtesy of the respective venues.