Where to Get Fit with Baby: Mommy & Me Fitness Classes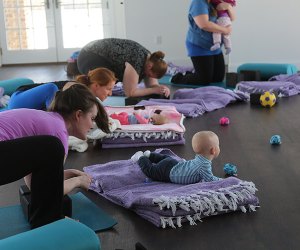 It's hard to make the time to get back into shape after baby arrives, and maybe even more so once that bundle of joy begins to crawl and walk. Try one of these gyms that offer babysitting, or if you're not quite ready to leave baby, check out a Mommy & me fitness classes. Moms bring their babies, some snacks or toys, water bottles, and enjoy time with the baby while stretching, strengthening and nurturing their bodies.
Belly Pilates -- Bryn Mawr
Class: Belly Baby & Me
Age: 6 weeks old to crawlers
Strengthen your body while incorporating core work, breath work, relaxation, and meditation techniques. Ease into your new life as a mom, enjoy some special time with baby, and meet other new moms.
Fit4Mom -- Various
Class: Stroller Strides, Stroller Barre and Body Back
Age: infants and toddlers who will stay in the stroller for the whole class.
In parks, gyms, and studios Fit4Mom uses strollers, the environment, and sometimes a piece or two of equipment (think exercise tubes and sponge balls) to give moms a workout. Stroller Strides uses power walking, strength, and body toning exercises and Stroller Barre incorporates Pilates, ballet, yoga, cardio, and barre exercises. If you want to return to your pre-pregnancy body, Body Back is a whole program including workouts, a nutrition plan, and coaching. Fit4Mom programs are offered all across the Delaware Valley. Check the website to find a location near you.
Mama's Wellness Joint -- Center City
Class: Mommy & Me, Mama's Moving, Kids/Toddler Yoga
Age: 6 weeks to 8 months; crawlers to 4 years old; 2 to 4 years
With classes for moms and children of all ages, new moms and their little ones can start in a Mommy & me where they'll enjoy gentle and playful poses to relax the body, clear the mind, and bond a little more. As the babies grow, they can move on to Mama's Moving, a class that lets the little ones play and have fun while mom does the work. For those toddlers who want to mimick mom, there's the Kids/Toddler yoga. After about age 4, the kids can move into their own classes and mom can focus on her own practice.
Philly Dance Fitness -- Midtown/Rittenhouse/South Philly
Class: Mommy & Baby Yogalates, a combined yoga and pilates class for moms
Age: infants who aren't yet crawling
Bond with baby, stretch, build strength, and tighten that core in this series that devotes extra attention to the shoulders, back, chest, and other muscles most affected by carrying and breastfeeding babies.
Prancing Peacock -- Yardley & Langhorne
Class: Mommy & Me, Movers & Shakers, Toddler Yoga
Age: 6 weeks to crawling; 6 weeks to 24 months; 2 to 5 years
A full family wellness destination, the Prancing Peacock offers Mommy & Me, Mommy & Me: Movers & Shakers, and Toddler Yoga (and classes for every age beyond toddlers). Mommy & Me focuses on reconnecting and reclaiming one's body after birth through building strength and stamina for mom, as well as some baby massage and stretching for the little ones. Movers & Shakers focuses on breathing techniques to relax mom and baby, as well as gentle baby massage and stretching, games, stories, and playtime, and yoga poses for mom. Toddler Yoga introduces yoga through real life and imaginary scenarios through poses, movement, simple breath-work, literature, art, music, group games, simple guided meditation, and partner poses. The Langhorne location also offers childcare.
Shanti Yoga Shala -- Center City
Class: Mommy & Me Yoga
Age: infants who haven't learned to crawl or crawlers to 24 months
Moms and little ones enjoy an hour filled with breathing techniques to calm mom and baby, gentle baby massage and stretches, asanas for mom, and a supportive community.
The Spirit of Yoga -- West Chester
Class: Fit Mom, Kids' Yoga
Age: babies under 12 months; 1 to 3 years
Fit Mom focuses on gentle movements to stretch and tone the postnatal body. Babies are incorporated in the moves when appropriate and encouraged to interact with mom. Slither like snakes, hop like frogs, stand tall like a tree and take a yoga adventure with your little one in the Kids' Yoga class. This parent and child class incorporates music, movement, and sequential yoga poses, and includes about 30-45 minutes of yoga, a related story, games, and/or coloring pages.
Yoga Life Institute -- Wayne
​Class: Moms & Toddlers
Age: active crawlers to 3 years
Moms and toddlers can practice gentle yoga poses together, relax, and stretch in a warm, relaxing, peaceful environment. Yoga Life is all about building community, so meeting others is encouraged.
Photo courtesy of Prancing Peacock.