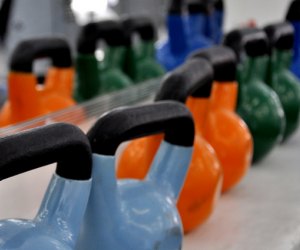 Philly Fitness Centers and Gyms that Offer Childcare
Working out is hard. It's ten times harder if you've got kids climbing all over you, or whining for snacks and screen time, or just plain crying. Let's be honest, we could all use a little time for ourselves anyway. For your health, and your sanity, check out one of these great gyms in the city that offer childcare. Drop your kids off for a morning of fun and play, while you sweat it out.
The YMCA
The YMCA is a great gym for families. Not only does it offer extensive, fully-staffed daycare hours, it also has lots of programming for kids and adults alike. The Y offers lots of free fitness classes for adult members, as well as classes for kids (at a small extra fee). Plus, there's a pool with family swim hours. If your kid is anything like mine, they might insist on swimming before even thinking about setting foot in the daycare facility. Families get 2 hours of childcare each day as part of their membership. The Philadelphia Freedom Valley branch has locations on Christian Street in South Philadelphia and in West Philadelphia, which are perfect for Philly families. There's also locations in Roxborough and the Northeast.
LA Fitness
Much like the Y, LA Fitness offers lots of great, free fitness classes for members, in addition to its full gym facility. Kids Club hours are not as extensive here; hours are not available on weekends or the middle of the day. Childcare is a small additional monthly fee added to your gym membership cost. LA Fitness offers locations in South Philadelphia, Andorra in Roxborough, and in the Northeast.
AFC Fitness
AFC Fitness offers lots of great features in addition to its childcare room. With an olympic-size swimming pool and 40,000 square feet of workout space, there's plenty for you to do while your kid has fun playing in the babysitting area. There's also parent-supervised free swims in the pool. AFC Fitness is located on Grant Avenue in the Northeast.
Sweat Fitness Queen Village
Sweat Fitness is a well-known gym in the Philadelphia area. Maybe less well known is that its Queen Village location offers childcare. This location offers childcare hours every weekday and Saturday morning as well as evening hours on Mondays and Wednesdays. Fitness classes are offered at no extra charge to members.
Philadelphia Sports Club Rodin Place
Located near the Rodin Museum, Philadelphia Sports Club has a full class schedule as well as plenty of amenities to entice Philly families. For an extra monthly fee, you can work out without worrying about your kids as they play in the child care facility with a trained professional. Other amenities this gym offers are laundry services, overnight lockers, towel service, a sauna, and a steam room- as well as parking. Note, there are 2 other locations in the city, but only the Rodin Place location offers child care.
Northeast Racquet Club & Fitness
This gym is 125,000 square feet. It offers a fitness facility, an aquatic center, a racquet ball court, a tennis court, arena sports, and basketball. It offers child care as well as programming for kids 2.5- 12 years old. It's a great way for you to work out stress free, but also keep your kids active and healthy. This club is located on Grant Avenue in the Northeast.
Photo by Victor via Flickr.