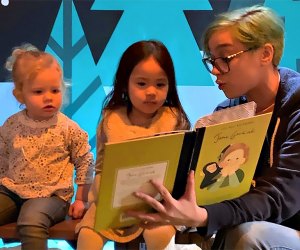 Drop-Off Child Care Options in NYC for Date Night
If date night is a distant memory, it's probably time to book a couple's night out. But in a city as pricey as New York, babysitting costs can really blow up your date night budget.
While you might luck into an occasional care swap with another family, you shouldn't have to wait until your kid is old enough for sleepovers or sleepaway camp to enjoy a night on the town. Luckily several play spots in the city offer safe, supervised drop-off care for kids, often for less than your average sitter. Better still: Not only do you get some adult time, your kids will have enough fun that they'll be begging for your next night out soon enough.
Read on for 10 cool date-night drop-off spots, plus some tips for dealing with child care emergencies day or night.
92nd Street Y Kids Night Out – Upper East Side
1395 Lexington Avenue
Friday nights, 6-9pm
Ages 4-13
$50 per child
Kids have the run of the world-class gym at this Upper East Side institution on Friday nights. Gymnastics and sports coaches supervise their play, help create Ninja Warrior-style obstacle courses, and encourage more bouncing-off-the-walls fun. Pizza and drinks are served, and kosher options are available.
CAMP Date Night Pajama Party – Flatiron
110 Fifth Avenue
Saturday nights, 6-9pm
All ages, but must be potty trained
$60 per child
We're always amazed at what we find behind CAMP's magic door, but this date-night drop-off program might top all our finds so far (even the French macarons and s'mores sundaes!). Kids get to run wild under the watchful eye of CAMP's counselors, who orchestrate classic games like freeze tag, read stories, sing songs, serve pizza, and let the kids wind down with a show before you pick them up. That sounds pretty magical to us.
JCC Tweens Night Out – Upper West Side
334 Amsterdam Avenue at 76th Street
Select Saturday nights
Ages 10-13
$55 per child
If you've got older kids, the Marlene Meyerson JCC offers this fun alternative to finding a babysitter for date night. These every-other-month outings are centered around a unique theme, like Shabbat Under the Stars and Ticket to Tel Aviv. Kids enjoy dinner and fun, age-appropriate, on-theme activities.
Children will be able to jump around and play under the supervision of our amazing instructors at Ms. J's! Photo courtesy of Ms. J's
Ms. J's Gymnastics & Dance Kids Night Out – Williamsburg, Brooklyn
43 South First Street
Select Saturday nights
Ages 3-12, but must be potty trained
$50 per child
Kids will have a blast running around this gym, learning to jump and tumble on the trampoline, and hiding underneath the parachute. The evening ends with a pizza dinner. Visit the website for available dates.
New York Kids Club Pajama Party – Manhattan, Brooklyn & Queens
Various locations; visit the website for a complete list.
Select weekend evenings, times vary by location
Ages 2.5-8
$40 per child
A New York Kids Club membership isn't required for these drop-off fetes. Each Kids Club PJ party comes with its own theme, like space exploration or the land of the wild things. Expect themed activities to keep kids engaged, in addition to time to monkey around in the gym, snack on pizza, and more active fun. Check the website of the New York Kids Club nearest you for more info and to register.
PLAY Kids Drop-Off Movie Night – Greenpoint, Brooklyn
33 Nassau Avenue
Select Fridays, 6-8:30pm
Ages 3 and up, but must be potty trained
$25 for the first child, $15 for siblings
During this tot spot's movie nights, kids enjoy arts and crafts, games, and open play. Dinner is also served.
Recess DUMBO – Dumbo, Brooklyn
81 Washington Street
Select Fridays, 6-9pm
Ages 4-8
$45 for the first child; $35 for siblings
This popular Brooklyn playspace offers themed drop-off playdates throughout the month. Supervised open play in the ultra-cool, custom-built climber and a pizza dinner are included.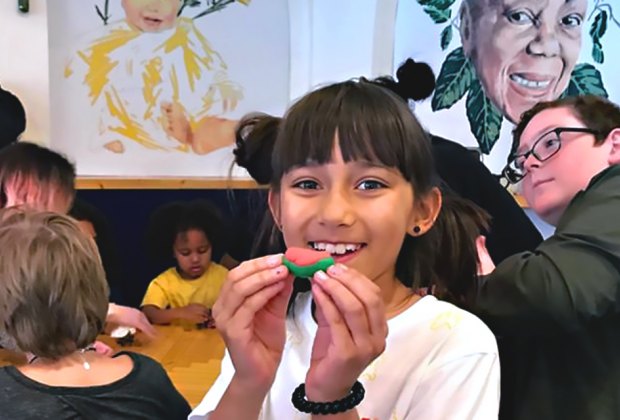 Drop off your kiddos at Sugar Hill Creamery during the day and go out for a brunch date. Photo by the author
Sugar Hill Creamery Parents' Free Time – Harlem
184 Lenox Avenue
Select Saturdays, 10am-1pm
Ages 3-11, but must be potty trained
$44 for the first child, discounted rates for siblings
If you've got an early riser, or miss the days of bottomless brunch, one of our favorite mom-and-pop scoop shops has a sweet deal for you. Drop off your brood for some hands-on crafting; activities have included printmaking, cookie decorating, and more, plus a pizza lunch and—of course!—a scoop of ice cream. Take note, some of Harlem's hottest eateries are just a few blocks north!
The Tiny Scientist Night Science Parties – Park Slope, Brooklyn
Select Saturday nights
1624 Eighth Avenue at Windsor Place
Ages 4 and up
$45 for first child, $20 for siblings
Aspiring scientists enjoy experiments, STEM-inspired games, and watch Bill Nye the Science Guy or other educational programming, plus eat pizza in their PJs. What could be better? (Other than a quiet dinner with your partner, of course.)
World Explorers Group – Brooklyn Heights, Brooklyn
36 Saint Felix Street
Drop-off care offered daily
Ages 2-10
$25/hour for up to three children
Formerly Brooklyn Explorers Academy, this community org has the most robust drop-off program around. Care can be booked any day of the week in durations ranging from 1-8 hours. At $25/hour for up to three children, it's also the most reasonably priced. Kids enjoy a variety of activities, choice time, story time, and dinner.
Back-Up and Sick-Day Care
While the above spaces are good for a night on the town, working parents know all too well the need for reliable back-up care during working hours (hello, random DOE holidays and closures!) or help when your kid is too sick for school, and you've got a can't-miss meeting. Below are some options to explore the next time you find yourself in a bind:
Beyond Care Co-op: This care co-op is available for regular gigs, but also provides rapid child care after hours. Members receive 100 percent of the wages you pay.
Nanny Poppinz: This service performs personal interviews to ensure candidates are CPR- and first-aid certified and background-checked before sending them to your house.
Pinch Sitters: This long-time agency requires its sitters to have a minimum of three years experience, at least two recent references, and submit to background and reference checks.
The Little Wing: While some co-working spaces with child care have come and gone, The Wing's Soho location is the latest to add the service. Beyond booking up to 8 hours of care per week, you can also enroll your child in classes, or utilize the space for weekend drop-in play.
YMCA: Check with your local branch; many offer affordable daycare on a drop-in basis as an added perk.
This post originally published in May 2011; it has been updated for 2019. Jody Mercier contributed additional reporting.