Cooking Classes for Kids in NYC
1/25/19
- By
Jody Mercier
If your kitchen can't contain your budding Food Network star, there are plenty of stellar cooking classes throughout New York City for the littlest chefs, from toddlers to teens. We've rounded up the best food prep courses in the area. And who knows? Maybe you'll get a delicious kid-made dinner out of the deal—or even expand a picky someone's palate!
Find more NYC classes in our Classes Guide and Directory Listings.
Allergic to Salad — Multiple Locations
There are only two rules at Allergic to Salad: You must try everything and you don't have to like it. Kids dive into exciting recipes—from kale chips to chilled carrot cumin soup—in classes that include vegan, nut-free, and soy-free options. Allergic to Salad focuses on developing kitchen skills and international cuisine while using local, seasonal, and organic ingredients whenever possible. Weekend classes and birthday parties (you provide the location) are available for kids ages 2 and up.
The Art Farm in the City — Upper East Side
This fun farm-focused center on the Upper East Side offers a host of classes for kids, from science to animal care. But their Farm Foodies sessions—offered after school and on Saturday mornings—will be of particular interest to junior chefs, given their emphasis on fresh, organic goodies, and in-season preparations. They also have a party-version of the Farm Foodies shindig, complete with invites, pizza, party favors, and "farm time."
Chef Toni's Cooking Adventure — Harlem
Chef Toni and her culinary crew train kids ages 7-14 to make healthy food choices, plan menus, and create yummy meals that even the most finicky kid will eat. Treat your little foodie to a full-day culinary session the next time school is out. Day-long camps include a continental breakfast upon arrival, cooking instruction, and accompanying cultural lessons, plus fun challenges like Chopped-style mystery basket cook-offs.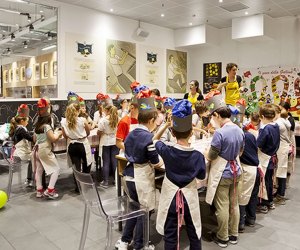 With seasonal ingredients and homemade pasta, Eataly's classes are wildly popular.
Eataly — Flatiron
This location of the expansive (and expensive) specialty Italian shop offers some delicious workshops for your young Master Chef. Class offerings include a hands-on homemade pasta making class for children ages 8-12. A Bring Your Parent to La Scuola class includes both child and parent, and will teach you how to prepare a pair of fresh dishes using seasonal ingredients. With either option, you'll go home with recipes to recreate the menu at home.
RELATED: NYC Classes and Enrichment Guide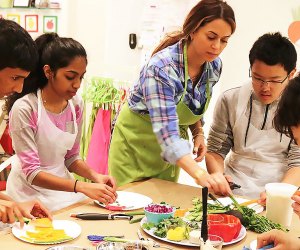 Freshmade NYC has classes for tweens and teenagers.
Freshmade NYC — Soho
The cool thing about this Soho-based school is it has plenty of daytime caregiver-and-me classes for toddlers and preschoolers ages 2-4. Kids and their grown-ups can explore fun foods and beginners' kitchen skills together. But there are also plenty of after-school drop-off options for bigger kids. The theme for winter 2019 is cooking around the world, so each class series focuses on a different international cuisine weekly. Freshmade also offers all-inclusive parties with menu options like tacos, pizza, and veggie sushi.
Home Cooking New York — Soho
A more sophisticated take on kids' culinary instruction, this Soho-based school offers single-day workshops and week-long camps for ages 11 and up. Teens 13 and up may opt for the adult workshops, but only if they're signing up with an adult. From fresh pasta to dim sum and regional cuisines, tweens and teens can score some pretty fancy cooking skills. Home Cooking New York also offers in-home cooking parties, including groceries, and chef supervision, for all ages.
Horticultural Society of New York — Harlem
The lovely Riverbank State Park houses gardening plots locals vie for in seasonal lotteries each spring, and this vibrant gardening community makes a perfect backdrop for the cooking classes offered by the Horticultural Society of New York. While many offerings are adults-only, there are a selection of family-focused workshops, which are very reasonably priced.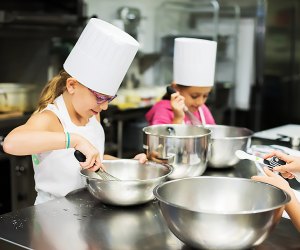 The Institute of Culinary Education offers classes for serious chefs-in-training.
Institute of Culinary Education — Tribeca
Talk about fancy! The Institute of Culinary Education offers foodie fun for families, including classes for kid-and-parents on everything from cupcakes to steaks, knife skills, and even kitchen science. Plus, plenty of kids-only classes too, for serious chefs-in-training.
League of Kitchens — Multiple Locations
This innovative company teams up with local immigrants who want to share their home country's culinary traditions with city dwellers. Rather than entering a stark, industrial kitchen, you're invited into the home of a local and given a hands-on class. While the classes are geared toward adults, serious kid chefs ages 11+ are welcome to register.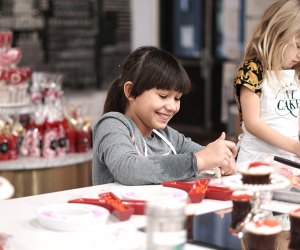 If you've always wanted to learn to decorate a cake, NY CAKE Academy is the place to go. Photo by the author
NY CAKE Academy — Chelsea
NY CAKE's baking superstore has everything you need to become the next Cake Boss, including the classes to teach you the skills. While there are a wide variety of adult classes, kids aren't left out of the kitchen. A weekly after-school cupcake club introduces a new sweet medium each week and special one-off classes like a Valentine's Day chocolate-making parent-and-me class are on the schedule, too. Date night classes are even available!
RELATED: 9 Exciting New Spots in NYC for Kids' Classes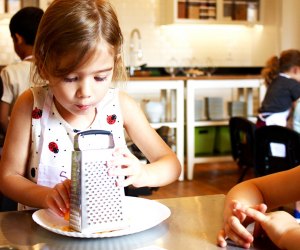 Learn to use all kitchen gadgets at Taste Buds Kitchen.
Taste Buds Kitchen — Chelsea
Offering a semester-long, around-the-world culinary workshop—named best kids' cooking class by New York Magazine—along with fun, innovative single-session classes, this Chelsea staple offers plenty of options for hands-on, food-focused workshops exploring various cultures through cuisine (including upcoming sessions celebrating Chinese New Year). Parent-and-me and family classes are available. Taste Buds also offers parties and, if you can snag a sitter, adults-only BYOB classes in the evenings.
Tiny Turnips — Williamsburg, Brooklyn
The founders of Tiny Turnips believe that when a child is involved in the cooking process, they're more likely to eat what they've made. The company comes to your home and personalizes a cooking class for your picky eaters, aspiring chefs, and creative bakers. Classes start with kids as young as 3 years old and include private lessons, play dates, and birthday parties.
Young Chef's Academy — Forest Hills, Queens
Focusing on age-by-age and stage-by-stage culinary coaching, this Queens-based school centers each month's classes on a particular theme, while building on kitchen skills as you go. Party planning? YCA's in-house space is perfect for a short shindig for kids 4 to 18, complete with pizza, the treats kids make (including options like calzones, pasta, or teas and scones), chef hats and goodies to go.
This article was first published in 2016 but has since been updated. Jody Mercier contributed additional reporting.
Sona Charaipotra contributed additional reporting. Unless noted, photos courtesy of the venues