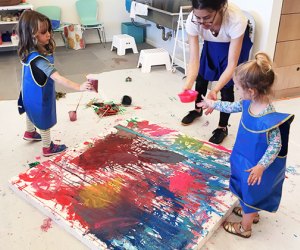 9 Exciting New Spots in NYC for Kids' Classes
Confession time: Sometimes, I feel a little overwhelmed by just how many children's classes are available in New York City. Should we do gymnastics or ballet? Robotics or writing this semester? It can be hard to know which are worth the time and money. An inspiring instructor can shape a lifelong hobby or even a career, but if that first class isn't good, a kid can sometimes lost all interest in a subject.
We've put together a list of nine new spots around the city offering cool kids' classes; hopefully this list makes your choice a little more manageable! Your child can get a mental workout at one of the new maker spaces or work off any excess energy with more physical classes, like yoga or rock climbing.
Remember, this is just a sampling of offerings in NYC. For more enrichment options, check out our Classes Guide or Directory of businesses for a more complete listing.
Spark — Dumbo, Brooklyn
Early Childhood Education
Who doesn't love the Brooklyn Children's Museum? Spark, its new play space/class center for babies through 6 year olds, has opened in a separate space located in Dumbo. In addition to its indoor play space, which includes a sizable art-making area, it offers exciting programs all taught by professional teaching artists. Enjoy fun like Little Artist Mornings, Storytime and Sensory Lounge, and music and movement classes. Classes cost $330 for a 12-week series; or drop in for open play at $15/hour and is FREE on Thursdays from 1-6pm.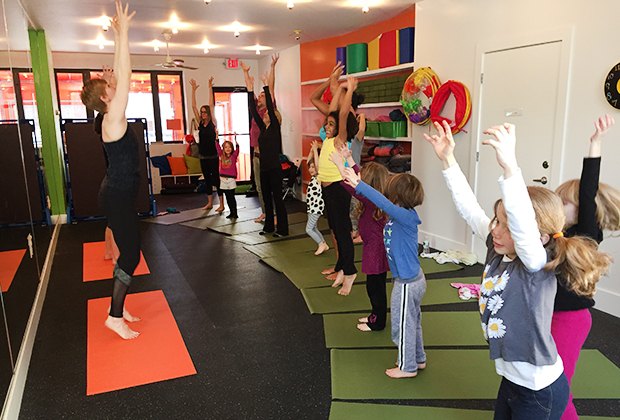 Kids stretch in a Monkey Do! Yoga class.
Monkey Do! Yoga — Gowanus, Brooklyn
Yoga and Creative Movement
I would have loved a yoga studio like this when I was a new mom trying to figure out how to make exercise and a child compatible with each other. You can do yoga alongside your child (even when they're babies!), or participate in movement or song classes for newborns and toddlers. There are even special needs classes for children with sensory issues. Monkey Do! was a hit with another Mommy Poppins writer who thoroughly enjoyed her class. Sessions average $20/person, although packages can bring down the cost.
Skill Mill NYC and Dazzling Discoveries — Upper West Side
STEAM/STEM
Skill Mill NYC and Dazzling Discoveries are sister STEM establishments on the Upper West Side. While Skill Mill is oriented more toward middle schoolers, teens, and adults with classes like sewing, electronics, 3D printing, and laser cutting, Dazzling Discoveries caters to the younger crowd with coding, science, engineering, and game design. Bonus: If you have an older kid, you can both learn something new by taking a class together. Most one-time workshops cost $35 per child. Both locations also offer school vacation camps.
RELATED: Best Winter Theater Shows for NYC Kids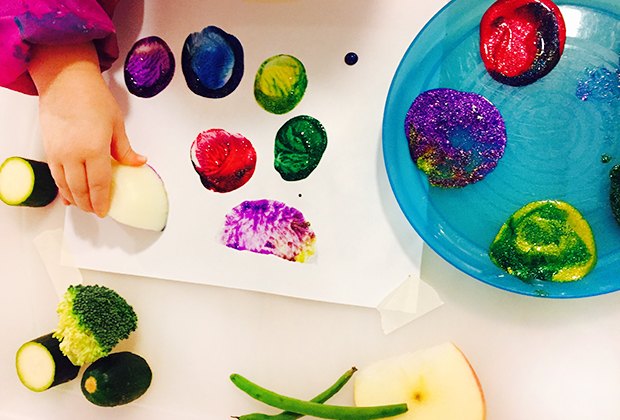 Fruit and veggie stamping at Sensational Play.
Sensational Play — Upper West Side
Early childhood education/sensory
As we probably all know by now, scientific research has proven that play is crucial for social development and learning. While most of us parents are theoretically on board with this idea, it can be hard when there's a fort smack-dab in the middle of your living room or a "volcano" exploding onto your kitchen floor. Sensational Play to the rescue! The 45-minute classes focus on either unstructured or pretend play opportunities, which are run by Tina, a mother and former pediatric occupational therapist from Australia. Classes are recommended for ages 2.5-8; trial classes cost $20 while semester-long classes average $310. New drop-in sessions are now available, too!
SciTech Kids — Upper East Side
STEAM/STEM
​SciTech Kids, which has run STEAM classes for four years, recently opened a permanent home on the Upper East Side. Its comprehensive, project-based curriculum offers classes for ages 18 months to 15 years, with a focus on scientific inquiry, problem solving, and critical thinking. Classes run from four to 12 weeks, and there is a 5 percent discount for families who register more than one child. Rates vary based on age, class, and length of the session.
RELATED: 2017 GoList: Best Things Happening this Year for NYC Families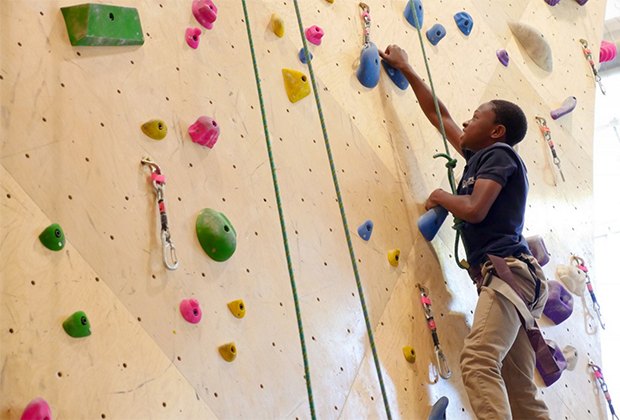 Conquer your fear at Brooklyn Boulders.
Brooklyn Boulders Queensbridge — Long Island City, Queens
Rock climbing
This location opened just over a year ago, but kids have so much fun here that we decided to include it anyway. My daughter had her birthday party here, and the instructor was fantastic—sympathetic, but pushing just enough to help move the kids past their fear. There are weekend classes, an after-school program, and even summer camp—and it's perfect for working off some energy when the weather's not great. Plus, if you're so inclined, you can rock climb while your child takes a class. Please note that you must sign a waiver to participate or even to observe your child in action. Ages 5-18. $39 for a two-hour class or $375 for a 10 pack.
Zaniac — Upper East Side
STEM/STEAM
This almost-year-old center is basically my nine-year-old's dream. With classes like Lego Robotics, Tinkering, Coding, Minecraft Learning, and Design, it makes science and math fun. Zaniac teachers are trained to adjust lessons to each child's skill level, so there's no worry that your kid will be overwhelmed or bored. Grades K-8; offering 6-week classes, after-school programs, and camps.
LIC Kids Gymnastics — Long Island City, Queens
Gymnastics
This place has been around for a while, but recently changed its name—and its focus—to concentrate exclusively on gymnastics. My daughter took classes here when it had a more general slant, and really liked the teachers, while our young neighbor became a skilled gymnast in a very short time. LIC Kids says its goal is to provide "a fun, nurturing, and safe environment where children are inspired to learn gymnastics." Ages: 16 months to 17 years, 13-week sessions from $375. Also offers vacation camps, birthdays, and even a preschool alternative.
Top photo: Get creative at Spark's "little artist" class. All photos courtesy of the respective venues.