Ballet Classes for NYC Kids Across the Five Boroughs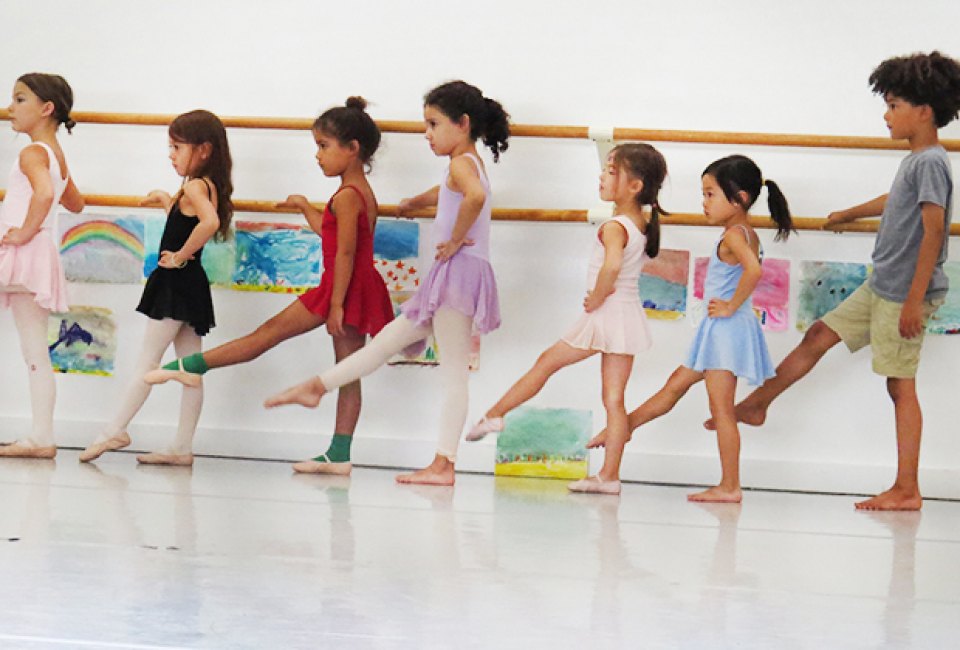 7/1/18
- By
Sara F
New York City kids are lucky to live in a city so infused with the arts and even luckier to have so many class options to help them explore their creative side. Ballet is a popular dance option for kids of all ages, and NYC is teeming with top-notch ballet schools. From tots to teens, we've rounded up top picks for ballet classes citywide—nearly two dozen of them!
Remember, though, this is just a sampling of ballet lessons in the city. Find more in our Classes Directory.
Manhattan
Ballet Academy East — Upper East Side
1651 Third Avenue
Ages 18 months and up
This traditional school introduces wee ones to the fundamentals of ballet and can nurture their study of dance through their teens. Some classes are accompanied by a live pianist.
Ballet Hispanico – Upper West Side
167 West 89th Street
Ages 2 and up
Ballet Hispanico celebrates Latino cultures with dance. The ballet program is the school's foundation of all other dance techniques.
Harlem School of the Arts — Harlem
645 Saint Nicholas Avenue
Ages 2 and up
Harlem School of the Arts is an official affiliate school offering the curriculum of the American Ballet Theatre. The entry class combines elements from French, Italian, and Russian methods.
Peridance Capezio Center — East Village
126 East 13th Street
Ages 18 months and up
This renowned ballet school offers classes for those as young as 18 months. Motor skills, rhythm and musicality are emphasized from a young age.
The Ballet Club – Upper East Side
328 East 61st Street
Ages 18 months and up
Parents can tag along to the tot classes at this ballet studio, where songs and stories help engage little ones. Dancers progress to the Children's Creative Dance Club gaining age-appropriate ballet skills and confidence. A pre-professional performance division is also open to advanced dancers. The approach at this school is on classical methods, but a focus on the individual and creativity.
The School at Steps – Upper West Side
2121 Broadway at 74th Street
Ages 18 months and up
Toddlers and preschoolers begin with the First Steps program at this studio introduces toddlers and preschoolers to varied dance disciplines before they graduate to "technique" lessons or "pre-professional" where they can specialize in ballet, tap, hip hop, theater, or another method.
Brooklyn
Brooklyn College — Flatbush
2900 Bedford Avenue
Ages 3 and up
What could be cuter than starting your child in a class called "Itty-Bitty Ballet"? Brooklyn College's impressive performing arts center offers rigorous training for aspiring dancers. The curriculum teaches a specific set of ballet skills at each level, and students are evaluated at the end of the year.
Brooklyn Dance Centers — Bensonhurst and Bay Ridge
6720 20th Avenue in Bensonhurst
9110 Fifth Avenue in Bay Ridge
Ages 2 and up
This borough-wide favorite has two locations, and starts them early in ballet. Parents and kids can look forward to a yearly recital to show off their skills.
Dancewave — Park Slope
45 4th Avenue
Ages 2 and up
All ages can enjoy ballet lessons at this studio, including a toddler class that incorporates games and signing, and on up to a ballet repertory class for advanced teen dancers.

RELATED: NYC Classes Guide and Directory to Kid-Friendly Programs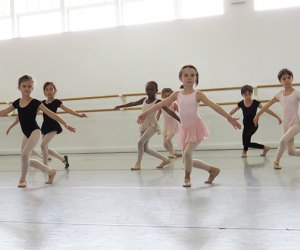 Kids practice ballet at Mark Morris Dance Center. Photo by by Lindsey Mendollini/courtesy of Mark Morris.
Mark Morris Dance Center — Fort Greene
3 Lafayette Avenue
Ages 6 and up
This uber-popular dance center attracts toddlers from all over Brooklyn to its creative movement classes, but ballet doesn't start until age 6. If you're interested in this school, take note of the registration day and time so you can get online to sign up right away. Classes typically fill up within minutes.
Nika Ballet Studio — Sheepshead Bay
1708 Sheepshead Bay Road
Ages 4 and up
This school teaches the Russian method of ballet, and young dancers are taught the names and techniques for each movement. Strength and discipline are emphasized along with creative expression.
Queens
All Star Studios — Forest Hills
108-21 72nd Avenue, 4th floor
Ages 3 and up
Pre-ballet classes start at age 3, and introductory ballet begins at 5 in this well-known performing arts studio that features large changing rooms and – bonus – parent viewing windows.
Astoria Dance Centre — Astoria
42-16 28th Avenue
Ages 5 and up
Pre-ballet classes start for 5-year-olds at this Queens dance hub, and beginner classes begin at age 8. This school takes the long view approach to ballet training, with an emphasis on learning through repetitive exercises over time.
Long Island City School of Ballet — Long Island City
44-02 23rd Street, 2nd Floor
Ages 2 and up
This Queens school introduces kids as young as 2 to the concept of ballet and other dance movements with a parent-and-child class. Children then advance to pre-dance, pre-ballet, and so on, all the while focusing on technique and strength.
Studio E School of Dance — Flushing
187-16 Union Turnpike
Ages 4 and up
This acclaimed dance center has been training tiny dancers since 1969. The littlest ones start in a pre-ballet program, and move up by age 6.
The Bronx
Bronx Dance Theatre — Little Italy
585 East 187th Street
Ages 3 and up
This small school is beloved by many, including one of our editors whose son first developed his love of theater and tap dance here. Little ones explore the discipline with a "creative dance" class, or a pre-ballet session that begins at age 4.5, while more advanced students can place into intermediate classes or even a competitive dance group. We hear the end of year recitals are stunning (and as cute as they come).
The Dance Studio at Bronx House — Morris Park
990 Pelham Parkway South
Ages 3 and up
As early as 3 years old, children in this program are taught basic ballet steps and some of the French terminology of ballet. Classes emphasize listening skills, paying attention, and having fun.
Performers Edge Dance Academy — Throgs Neck
4037 East Tremont Avenue
Ages 2 and up
Ballet is available for all ages at this popular dance academy, including a preschooler combined tap and ballet class, competition teams, ballet intensives, and of course, summer programming.
Staten Island
Staten Island Ballet School — Mid-Island
460 Brielle Avenue
Ages 4 and up
From tots to teens, this well-regarded Staten Island school offers multiple levels of ballet instruction, as well as private coaching, but keeps the focus on the craft with classic instruction and a ban on commercial efforts that might cost parents extra, such as recitals. The organization has a commitment to giving back and offers hundreds of FREE tickets to its Nutcracker each year, and inexpensive family shows in the summer.
Brighton Ballet Theater/The School of Russian American Ballet — Brooklyn and Staten Island
Varies
Ages 2 and up
Children are instructed in the Russian ballet method at these classes held year-round either on Staten Island, or the Kingsborough Community College in Manhattan Beach, Brooklyn. Instructors also show the students various other dance steps, including folk dance, ballroom, and Latin.
Top photo: Mark Morris Dance Center. Photo by by Lindsey Mendollini/courtesy of Mark Morris.