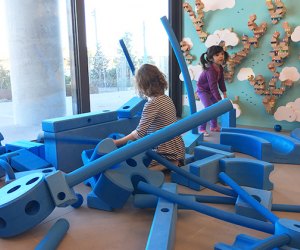 New Children's Play and Art Space Arrives in Dumbo with Spark
The ever-changing Dumbo waterfront just gained a new kid-friendly tenant. Spark, the brand-new annex of the Brooklyn Children's Museum, opened in mid-October with drop-in play hours and educational programming for kids ages six months to 6 years. It's modest in size, with 1,850-square-feet spread out across one floor, but that intimate setting is particularly manageable for those with babies, toddlers, and preschoolers.
I visited the space on opening weekend with my 3-year-old. Read on for our full review of this new drop-in play spot in Brooklyn.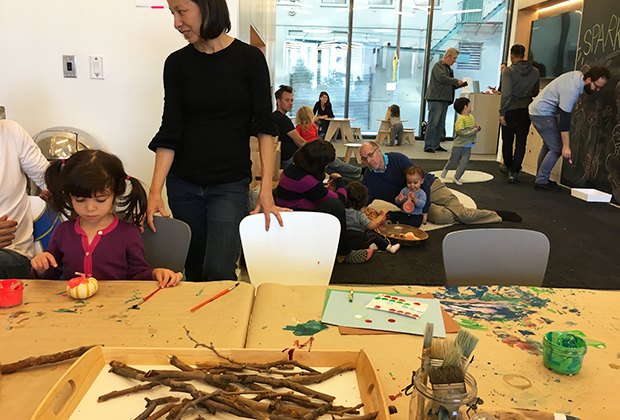 Creativity is encouraged with ample space and lots of materials.
Brooklyn families know they can easily while away a day or afternoon at the Brooklyn Children's Museum in Crown Heights. The more than 100-year-old institution offers rotating exhibits created just for children, an impressive water table, a block studio, live animals, dress-up clothes and mini theater, and more. So its expansion into downtown Brooklyn is certainly a welcome one to many.
There are no slides or jungle gym equipment here. If you're looking for more active romping in the 'hood, head over to nearby Recess. But what you will find is drop-in play, art, and storytime Tuesday-Sunday afternoons.
RELATED: 50 Things to Do in Dumbo with Kids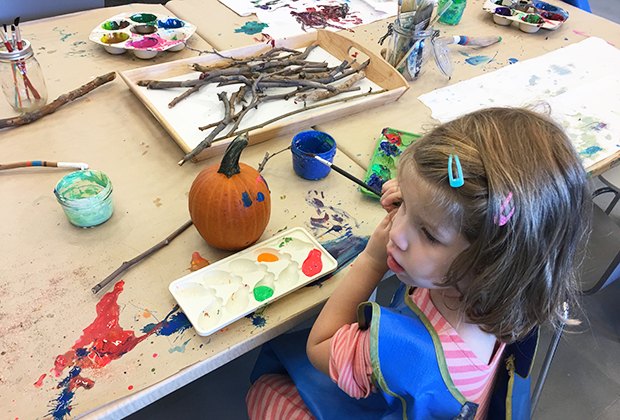 Draw, paint, get messy, and have fun.
Toddlers and preschools can sidle up to several large tables and a variety of supplies for art making, from paints and dot markers to interesting media (we painted pumpkins and branches in October). Supplies are placed on the tables for kids to pick from, and a teacher is on hand to assist with questions. A large communal sink with kid-size step stools make for easy cleaning up.
Next up? Blocks! Spark offers MagnaTiles and Kapla planks for your little builders, but the favorite attraction during our visit was certainly the oversize blue foam Imagination Playground–style blocks. Kids can work together or independently to build bridges, towers, ramps, and more with the light building pieces.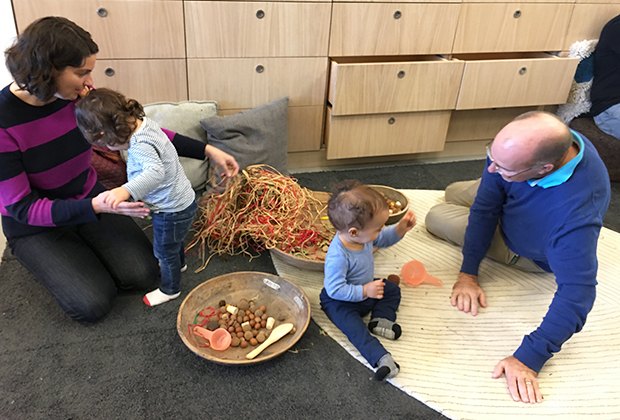 Exploratory play is encouraged with touchable displays, building blocks, and more.
Storytime takes place on the rug where babies and tots can also explore bins of various sensory items and small, touchable displays from the museum. Throw pillows make it cozy and provide support for crawlers.
The space is bright and airy with views of the harbor, Manhattan, and yes, those famed bridges. Children's artwork adorns the walls and books can be found in nearly every corner. There's a chalkboard that takes up nearly a whole wall where kids can doodle, too. I expected my almost 4-year-old daughter to get bored at some point, but she seemed to want to stay all day! I finally tempted her out with the promise of One Girl cookies and a romp on the nearby Main Street playground. Because space is limited, open play reservations are accepted by the hour, and staff encourage visitors to leave on the hour if a crowd is waiting. There are small tables in the front near the desk check-in where families can hang while they wait their turn to play, or just enjoy a book or snack together out of the fray.
Spark also hosts weekly classes in the morning for tots and preschoolers, including music and art sessions. There's even a parent meetup on Friday mornings and plans are underway for drop-off evening child care, so that parents can get out for dinner or shopping this holiday season. Birthday party packages are also available, especially on weekend mornings before open play begins. Expect some outdoor programming in the adjacent Brooklyn Bridge Park and John Street Plaza in the warmer weather.
Good to Know
There are a few steps to climb to the entrance.

You'll need to remove you and the kids' shoes (cubbies are located at the entrance).

Spacious, clean bathrooms with baby changing tables are available for guests.

Limited stroller parking allowed outside.
Spark is located at 1 John Street (between Adams and Pearl Streets). It is $15 per child (adults are FREE). Brooklyn Children's Museum Passport members attend for FREE. Thursday afternoons are FREE for all as is the case at the main branch of the museum. (See Spark's website for the full schedule.) Reservations for open play, offered in hour-long slots, are encouraged, but walk-ins are accepted when space allows.
Top Photo: Imagination Playground-styled foam blocks, tubes, and other building items encourage creative play.
All photos by the author.