18 Best New NYC Family Destinations That Opened in 2018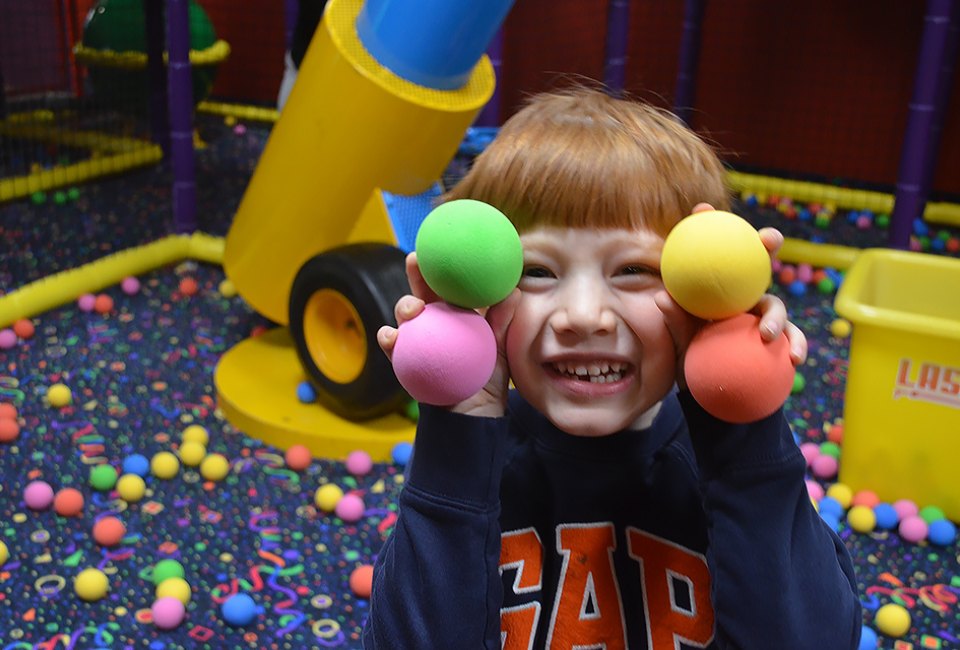 12/27/18
- By
Jody Mercier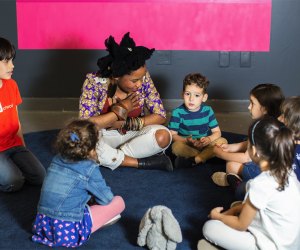 ColorLab is Brooklyn Children's Museum's family art-making space where artists of all ages can explore, make, and celebrate art! Photo courtesy of the museum
Museums, Cultural Institutions, and Stage Shows
ColorLab at the Brooklyn Children's Museum – Crown Heights, Brooklyn
Creative families rejoice: This new, permanent exhibit at the Brooklyn Children's Museum invites families into a real, fully stocked art studio to create masterpieces of their own. Teaching artists are on hand to help guide your work, if needed, though families are encouraged to work together to create take-home projects. Your refrigerator never looked so cool. Younger kids will appreciate the "wonderwall" encircling the room, with plenty of cool textures to explore.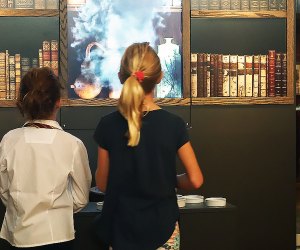 Harry Potter: A History of Magic is magical treat for Harry Potter fans. Photo by Jody Mercier
Harry Potter and the Cursed Child – Times Square
Everyone's favorite wizard made his debut on the Great White Way this year. The two-part (read: two sets of tickets) play opened to rave reviews. Our theater writer admitted the experience is "magical," even if you're not a total Potterhead. The Broadway show wasn't the only ode-to-Harry to take the city by storm this year, either. The New-York Historical Society has hosted the British Library's incredibly popular exhibition Harry Potter: A History of Magic. The exhibition closes January 27, 2019, so snag tickets before it disapparates.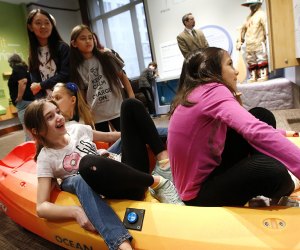 Try out a kayak balancing activity at the ImagiNations Activity Center. Photo by Jason DeCrow/AP Images for the Smithsonian
imagiNATIONS Center at National Museum of the American Indian – Financial District
The Smithsonian's branch of the National Museum of the American Indian in Lower Manhattan is wholly underrated, especially when you consider its always-free admission policy, but the addition of this new, interactive exhibit is icing on the cake. Kids can learn about all the inventions Native Americans have contributed to society in this STEM-focused space. Hands-on activities allow them to attempt building bridges, weaving plastic bags into cords, and even play a quiz show to test their knowledge.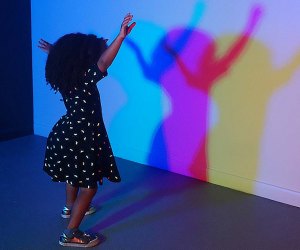 Do a shadow dance at the Museum of Illusions. Photo by Jody Mercier
Museum of Illusions – Chelsea
Seeing is not believing at this new interactive museum, where each exhibit tricks the eye and bends your perceptions. Instagram-friendly photo ops allow your kids to tower over you, turn your face into a kaleidoscope, and turn the entire room upside down. Beyond the fun visuals, there are educational descriptions to teach kids how these wacky illusions come to life.
Ocean Wonders: Sharks at the New York Aquarium – Coney Island, Brooklyn
The New York Aquarium took a huge step in its rebuilding efforts with the opening of this sparkling new exhibition last summer. The 3-story, 57,000 square foot exhibition space houses more than 115 species and is a striking site on the Coney Island boardwalk, with panels that make it look like the ocean waves are washing over the side of the building. More striking: The interior, where kids can spot sharks in a shipwreck, in a coral reef, and even from a crawl-through tunnel that puts you in the middle of the exhibit. Beyond the sea life (which includes 18 different types of sharks and rays, plus loggerhead sea turtles!), there's plenty of educational installations along the way.
Spyscape – Midtown West
Secret agents in training take note: Spyscape offers a glimpse into the double lives and secret dealings of the spy world. Utilizing immersive technology, interactive challenges, and profiles of well-known spies, Spyscape lets kids explore an undercover world. Broken down into four galleries, each focuses on a different aspect of spy work: Deception, Surveillance, Hacking, Cyber-Warfare, Special Ops, and Intelligence. With an emphasis on history and plenty of educational placards, Spyscape is best for older tweens and teens, and parents are bound to learn a few new tricks and tips, too. A real highlight: attempting to navigate a laser maze.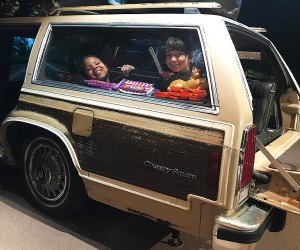 Kids will ask to go back to CAMP. Photo by Jody Mercier
Indoor Places to Play
CAMP Store – Flatiron
This just-opened spot drew the ravest reviews of the year from my little critics! Part retail store, part indoor playspace, CAMP offers an interactive retail experience. Currently set up to resemble a summer camp, you can climb inside the ubiquitous childhood station wagon and journey to camp where you can perch in a bunk bed and shoot down a slide, traverse a musical bridge, make music in the radio station, do arts and crafts, lick bubbles in the mess hall and so much more. Interactive events pepper the calendar and loads of unique gifts line the shelves. When you've had enough of CAMP, refuel at the onsite Milk Bar, which serves a s'mores-themed sundae in honor of the theme. Even better: The interactive installation rotates every 8-12 weeks, meaning CAMP will have something new to explore to keep you coming back for more!
Court 16 Indoor Tennis – Long Island City, Queens
Tennis gets an ultra-cool makeover at this LIC spot, which was predated by a sister location in Gowanus, Brooklyn, four years ago. Nine courts are housed at this indoor facility, with varying kid-friendly sizes. A members-only facility, kids can take lessons from USPTR-certified coaches and book court time to play. Parents will appreciate perks like the free wi-fi and on-site snack bar.

FAO Schwarz will amaze visitors. Photo by Jody Mercier
FAO Schwarz – Rockefeller Center
The beloved toy retailer made a triumphant "return to wonder" this holiday season, opening a new flagship store at Rockefeller Center in mid-November. The dance-on piano returns, as does the clock tower. Tons of interactive areas await in-store, too, including a Melissa & Doug grocery store where tiny tots can fill a bag of produce and mom and dad can pick up the tab. Pack a little patience when you visit; it's as popular as ever and often requires a wait in line before you can salute the trademark soldiers (or snap a selfie with them!) and walk through the doors.
Laser Bounce – Glendale, Queens
This old-school inspired arcade has been a hit with city kids, whether they want to work out their wiggles on the bounce house, in the jungle gym, laser tag arena, or playing video games and VR. Best for the elementary school and older crowd, there's plenty of action here for as long as you can stomach the accompanying sensory overload.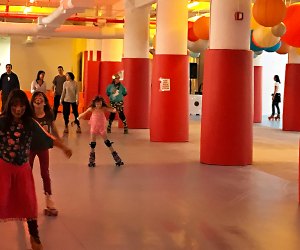 Industry City's Lola Dreamland Roller Rink. Photo by Siobhan Adcock
Lola Star Dreamland Roller Rink – Industry City, Brooklyn
Lola Star, longtime host of the skating parties bearing her name at the LeFrak Center in Prospect Park, has her own, family-friendly joint now at the booming Industry City. The bright, cheery, retro-inspired space plays a rocking, diverse music mix as you skate and twirl your way around the rink. Family skates are held on weekend afternoons for those ages 7+. When you're done there, check out other IC fun, including its (now indoor) mini-golf, fun eats at the Food Hall, and the new Japan Village.
Playday – Long Island City, Queens
Founded by a local father to fill what he saw as an art a gap in the neighborhood's public schools, Playday brings a creative hub to the bustling neighborhood. Well-stocked with art supplies and plenty of space for cool, creative, messy play, Playday offers a diverse schedule of drop-in classes, from parent-and-toddler art classes, to after-school creative sessions, to music, art, and textile classes. On-staff educators help lead activities and direct the action. Playday even hosts birthday parties. Its success has already allowed it to expand to Gramercy Park and a Tribeca location is in the works.
Outdoor Places to Play
Billy Johnson Playground – Upper East Side
This beloved Central Park playground has emerged from a months-long renovation, funded by the Central Park Conservancy, which not only brought the play space up to current safety and accessibility codes, but also added a second, slightly tamer granite slide to the mix, plus loads more fun. While we had a wonderful fall day swooshing down the slide and playing on the newly expanded swing set, more fun awaits. A custom-built climber will be added in early 2019 and the water feature has been greatly upgraded. C'mon spring...
Chelsea Waterside Playground – Chelsea
This beloved playground doesn't take up a lot of real estate, located on a small triangle of land at 12th Avenue and 23rd Street, but like many seasoned New Yorkers, it maximizes that space for functional fun. A 22-foot-long Pipefish is the centerpiece of the playground, allowing kids to climb on, in, and over it, plus a pair of massive slides shoot from its center into a sandbox below. A pair of water play areas separate the big kids from the toddlers, and you can't beat the view of the Hudson River or its cool breeze on a hot summer day.

Grab a taco and play in the water, in warm weather, at Domino Park. Photo by Rosalind Muggeridge
Domino Park – Williamsburg, Brooklyn
This quarter-mile patch of green space takes over the former Domino Sugar Factory space and packs in tons of family-friendly fun. A playground inspired by the old factory consists of three primary structures: an elevated cabin, towering silo, and centrifuge container. It features ramps, tunnels, "conveyor belts," catwalks, a climbing cage, and stainless-steel slides. Mid-park, you'll find the Water Square, a central gathering space and water feature perfect for splashing in while mom and dad lounge on the four-tiered seating area ... perhaps munching on tacos from the Danny Meyer's on-site Tacocina.
Pier 3 Brooklyn Bridge Park – Brooklyn Heights
Brooklyn Bridge Park keeps expanding, and the opening of this patch of green space brings the park to 90 percent completion. Centered around a central lawn, there aren't the wide ranging playgrounds of Pier 6, but the newly refurbished area nonetheless offers kid-friendly features like a walk-in kaleidoscope, excavated railroad tracks, echo games, climbing structures and more waiting to be discovered.
Fun Eats
Nitehawk Cinema Park Slope – Park Slope, Brooklyn
Dinner and a movie ... yes, please! The dine-in movie theater mini-chain has finally opened its long-awaited Park Slope outpost in the old Pavilion Theater space. Retaining much of the charm of the old building, Nitehawk made some worthy upgrades, including bigger bathrooms, changing tables, and an elevator. Movies will be a mix of first runs and independent films. Ticket prices are low ($10 for kids; $13 for adults) and the menu includes both kid-friendly eats (tater tots and grilled cheese) and upscale cocktails for adults. That's a win-win in our book.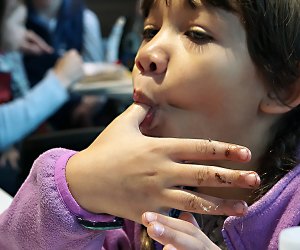 Nutella Cafe will leave you licking up every last drop of sweet Nutella goodness. Photo by Jody Mercier
Nutella Cafe – Union Square
Lovers of this dreamy, chocolatey-hazelnutty spread rejoice: Nutella has opened a hip new cafe near Union Square (Be warned: the prices match the stylish digs!). On the menu is everything from gelato to crepes to overnight oats to waffles, croissants, and cookies all laced with the spread. Lines regularly stretch down the block, but some things are worth waiting for. This special treat might be one of them.
Click Here to Sign Up!