The Very Hungry Caterpillar Show
DR2 Theatre

NYC Easter Brunch Cruise 2023
Event Cruises NYC

Easter Fun Cruise with Egg Hunt 2023
Event Cruises NYC
Sign up for our free newsletters.
Industry City's New Pop-Up Mini Golf Course Is a Hole in One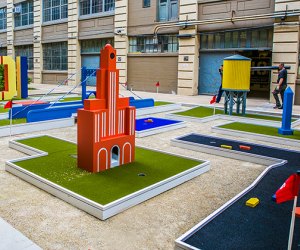 6/23/17
- By
Mona Kayhan
Industry City's Sunset Park has recently earned a little buzz as trendy food stalls, shops, and art and entertainment move in. This summer it ups the family-friendly appeal with a brand-new pop-up mini golf course (NYC's first new one in some years), ping pong, and concerts, all part of its "Summer Spree" programming launched May 20.
I've visited the 6-million-square-foot mixed-use space in this Brooklyn neighborhood a few times over the last couple years, but this is the first time I've thought of it as a destination for my family. But my pre-K-age kid had such a blast with the Brooklyn-themed mini golf and racing around the spacious outdoor courtyards that we've already made a family pact to make it a regular destination.
Upon entry to Industry City, the sheer amount of open space makes one feel they've escaped NYC. At first we just let our son run through the various buildings and courtyards, a novelty in itself, before finding our way to the area with the anticipated putt-putt. Follow the signs to the Industry City Courtyard 5/6.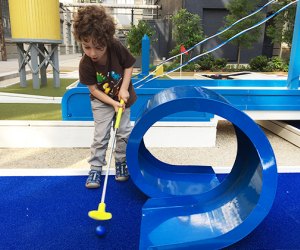 The course is just the right size for kids. Photo by the author.
At $10 per adult and $5 per child, each person is provided with an appropriately sized golf club and ball, and then the course is your oyster. Receiving real mini golf items resulted in a wide-eyed 4-year-old, who had otherwise grown up with plastic, indoor versions of them. The Brooklyn-landmark-inspired mini golf course features 9 holes that can be played in no particular order, making this a more laid-back version of a typical mini golf destination. But for a family that includes toddlers, the free-form, non-committal format was preferable.
RELATED: A Dozen Miniature Golf Courses for NYC Kids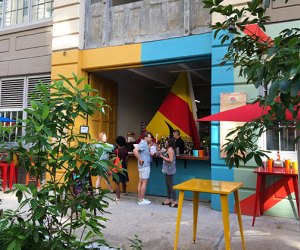 Grown-ups will dig the new bar and eatery, The Wheelhouse. Photo by the author.
The best part for grownups? This transaction happens at the new full-service outdoor bar and restaurant, The Wheelhouse, next to the course, where you could grab a glass of rose to sip on while you marvel at the beautiful setting and your toddler attempting to swat a golf ball into a tiny hole. The new seasonal eatery, operated by Manhattan's well-known Frying Pan, occupies a wheelhouse of a retired tugboat that sailed the New York Harbor beginning in the 1960s. It offers a menu bursting with seafood options (much of which is on the spicier side, so keep in mind for little ones).
For a more kid-friendly menu, you can meander to one of the many indoor restaurants, or the Burger Joint by the live music stage in City Courtyard 1/2. The latter has plenty of outdoor activities as well, and of course live music during its concert series, which takes place on Wednesdays, Thursdays, and Saturdays throughout the summer. Family concerts hosted by The Rock and Roll Playhouse will take place on Wednesday evenings and Saturday afternoons. Rooftop Films will also bring its outdoor movies to the space on Saturday nights. Check out the full event lineup on its calendar.
RELATED: Best Outdoor Restaurants in Brooklyn with Kids Entertainment or Yards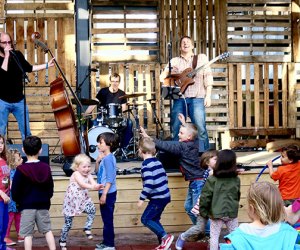 Kids can dance it out to twice-weekly FREE family concerts at Industry City. Photo courtesy the venue.
Once we felt we've conquered the course, we swapped our mini golf items for ping pong paddles and balls ($5 per person), and strolled to the other side of the same courtyard, which featured a huge room of ping pong tables. And wouldn't you know, the there is yet another pop-up bar right outside the ping pong room should you need a refill. If you ordered food, it will get conveniently delivered to you wherever you're wandering, and you can enjoy it at the nice outdoor seating area right outside the ping pong room.
The mini golf course (and restaurant) are expected to stay up until October, which means a full summer of outdoor putt-putt in Brooklyn.
Got a news tip about something cool that opened in your neighborhood? Email us at nyc@mommypoppins.com.
Top image: The brand-new mini golf carries a Brooklyn theme and will offer putt-putt through October. Image courtesy the venue.