Nutella Cafe Brings New Level of Chocolatey Goodness to NYC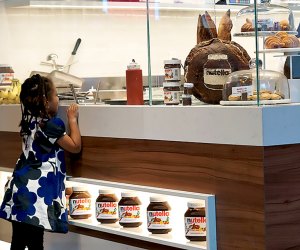 Hang out with my 5-year-old long enough, and she'll inevitably ask for a Nutella sandwich. The creamy, chocolatey spread is practically its own food group in her eyes, so the arrival of a Nutella Cafe in the Union Square neighborhood was cause for a sugar-high induced happy dance.
It took us two trips—thanks to the down-the-block line on our first visit—to get inside the sweet new eatery. Read on to find out if it deserves a spot on our list of must-try sweet spots for New York City kids.
Nutella Cafe may be the first spot I've brought my kids to where there's a bouncer guarding the door. Workers in the seat-yourself spot seem adept at keeping the cafe comfortable, controlling the line just-so. The cafe was packed the whole time we were there, but no one was allowed to loiter inside if there wasn't table space available. And though there was a line while we dined, we felt welcome during our entire trip, and never like we needed to finish eating and hand our seats over.
RELATED: Best Hot Chocolate Spots in NYC

Order at the counter then treats will be delivered to you at your table.
As you enter the corner cafe, you'll be greeted by a staffer and offered a large, illustrated menu—and a pro tip that you should nab your seat before you head up to the register to pay. Once you've placed your order, you're given a table number and can take a seat, get comfortable, and await your treats...or, make like my daughter and head to the counter to watch the goodies made before your eyes. She found watching the crepe maker mesmerizing and rewarding, scoring a cookie from the staffer to munch on while she waited.
RELATED: NYC Restaurants with Fun Things for Kids to Do and See

Make sure to grab a bag of cookies to go!
Unsurprisingly, everything on the menu is drizzled, dunked in, or stuffed with the trademark chocolate-hazelnut spread. Selections range from the classic (crepes, waffles, or pancakes with your choice of fruit and toppings), to the trendy (toast spread with ricotta and Nutella), the healthy (overnight oats and chia seed pudding laced with Nutella), and the completely over-the-top (my choice: Nutella creme brulee). The pastry case overflows with Nutella-stuffed pastries, cookies, and more, too.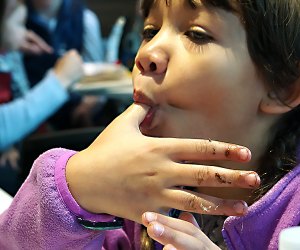 You won't want to waste one drop the gooey goodness.
Prices skew toward sky-high tourist levels, no surprise given the fact people are literally lining up for these goodies, making it a spot for a special treat rather than an everyday indulgence. My girls, who ended our trip by licking the goods off their fingers, would gladly be regulars if I let them.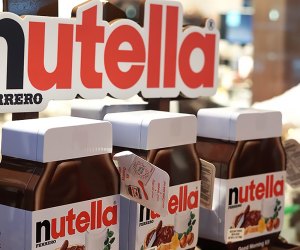 Buy a gift or take home souvenir from the mini-store.
You can also get your goodies to go, or treat a true Nutella lover to one of the Nutella-branded gifts from the mini-store in the corner.
Nutella Cafe is located at the corner of 13th and University Place. Hours are 7am-10pm daily.
Photos by the author