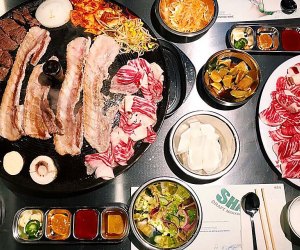 Best Family-Friendly Restaurants in NYC Now
New York City kids live in one of the culinary capitals of the universe—and fortunately for all of us parents, some of the best new restaurants in our food-obsessed city are totally family-friendly. Whether you're headed out for a special celebratory meal as a family, eating out after a long day of family fun exploring NYC's museums and neighborhoods, or just need a break from cooking, here are some the of hottest NYC restaurants to check out with the kids.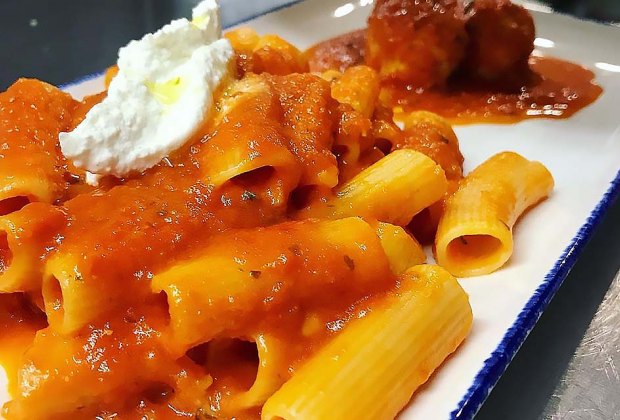 Head to Coco Pazzo for go-to Italian comfort food.
Coco Pazzo – Soho
160 Prince Street
Coco Pazzo is a reliable and delicious choice for lunch when you are out and about in Soho. This Tuscan eatery is a fast-casual cafe during the day that turns into a more upscale dining experience at night. The atmosphere is warm and inviting, the pasta is worth several return trips, and at lunchtime, every dish is under $15. Don't miss their mouthwatering grilled focaccia sandwiches or the fresh and tasty salads. And finish it off with some tasty gelato for a taste of Rome without ever leaving NYC.
Grist Mill – Park Slope, Brooklyn
289 5th Avenue
Three words: Wood. Fired. Pizza. We love this family-friendly gem of a restaurant in Park Slope because the menu is always fresh and ever changing, thanks to the focus on locally-sourced, in-season ingredients. From the wood-fired pizza to the kale caesar, there's something for everyone—and the hamburger definitely will not disappoint, either. Settle into the cozy environment and savor the perfect family meal.
RELATED: NYC Restaurants Where Kids Eat Free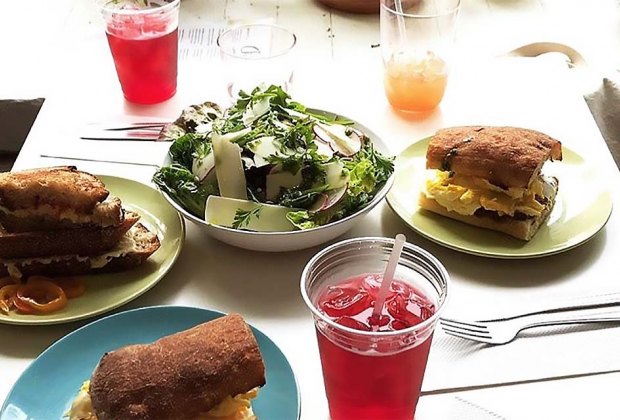 Grab some super-fresh food from Court Street Grocers at Rita in Red Hook.
Rita – Red Hook, Brooklyn
293 Van Brunt Street
The all-day breakfast at Rita's was the draw for my family. A fresh egg sandwich and overnight oats were some of the best we have tried recently. My son loved that they have fresh pressed juices on hand too. This place is a sweet spot to meet friends and enjoy a beautiful lazy weekend. Bonus: They take allergies seriously here, so be sure to tell your server and they will definitely accommodate.
RELATED: 15 of NYC's Most Incredible Desserts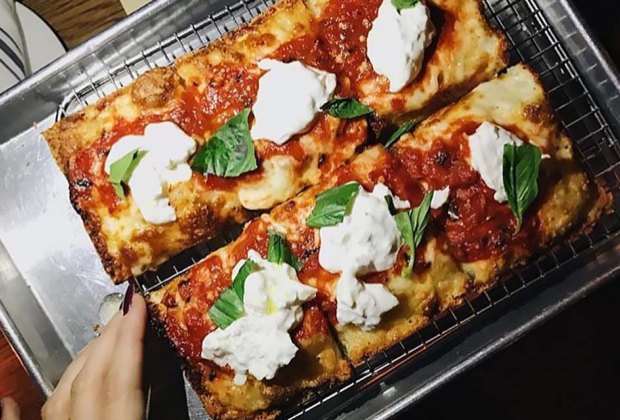 Grab a slice of Detroit-style square pizza at Emmy Squared.
Emmy Squared – East Village and Williamsburg, Brooklyn
83 First Avenue, East Village
364 Grand Street, Williamsburg
Even the most die-hard New York pizza fan should give the Detroit-style square pizza at Emmy Squared a try: It is that good. In fact, give this place a try even if your crew doesn't like pizza at all—my son, who strongly dislikes pizza, scarfed down a slice here. The menu has tasty choices for everyone in the family, with fresh salads and sandwiches, and specialty pizzas ranging from the basic Margarita to the house favorite Emmy, a surprisingly delicious combination of banana peppers, red onion, and ranch. (Sounds crazy, but trust me.)
A Summer Day Café – Tribeca
109 West Broadway
This bright and airy spot is an inviting, family-friendly refuge in Tribeca that offers summery vibes all year long—we'll definitely revisit in the dead of winter to help us dream of warmer days. The seafood-heavy menu has such classics as chilled Maine lobster and shrimp cocktail, but also features a standout raw bar for those adventurous eaters. The new brunch menu has something for everyone too, from sweet-and-savory olive oil pancakes with cherries and mint to focaccia and eggs with sausage gravy.
Noted – Tribeca
112 Hudson Street
This sweet little café just started serving brunch, adding to a menu that's already diverse and delicious. You can order from a multitude of toasts (there's the obligatory avocado toast, but also a banana toast with almond butter and honey, as well as a mouthwatering smashed sweet potato toast with ricotta and lemon) or try one of the inventive salads. Head to this cozy spot for a quick family bite after those mornings filled with errands and sports.
Bellini – Seaport
33 Peck Slip
The Seaport is sure getting a makeover—something new seems to be springing up in this area every day. The new Mr. C hotel (of Cipriani fame) opened this summer on Peck Slip, and their in-house restaurant Bellini is fast becoming a favorite spot for local families. The rustic Italian menu offers a bevy of choices for everyone in the family: the Mr. C Club sandwich is a must-order for us, and we love the pastas, too. The space is beautiful, making it the perfect spot for a nice lunch or a special dinner. A welcome addition to the neighborhood!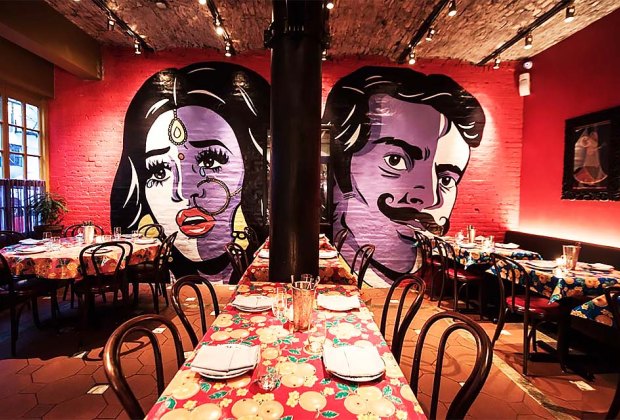 Kids will love the colorful decor and the food at The Bombay Bread Bar.
The Bombay Bread Bar – Soho
195 Spring Street
Adventurous eaters and longtime fans of chef Floyd Cardoz (of Tabla and North End Grill) will love this new Indian street food restaurant, which opened earlier this year in the same spot as Cardoz's previous venture Paowalla. The menu is a tasty riff on Indian cuisine, with snackable dishes that are surprisingly kid-friendly and encourage expanding palates. Don't leave without trying the cheddar-bacon naan, a savory bread that melts in your mouth.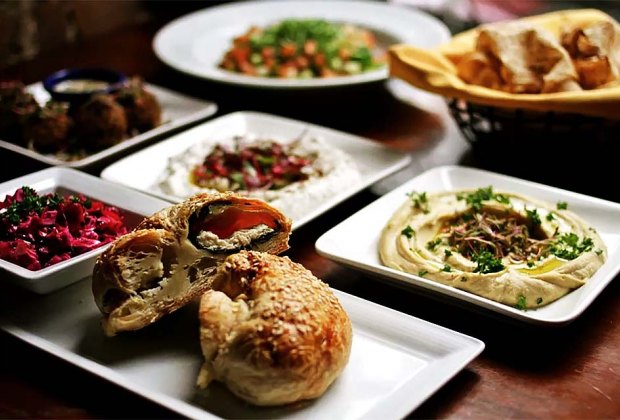 The popular Gazala's is back on the Upper West side.
Gazala's – Upper West Side
447 Amsterdam Avenue
If your family loves Middle Eastern food, then Gazala's, NYC's only Israeli Druze restaurant, is the place for an inexpensive, flavorful meal. The restaurant's previous location, also on the Upper West, was beloved by locals and foodies alike for its pitas and fresh salads. Now reopened in a new space, Gazala has brought back its famous pitas, as well as its creamy hummus and the mouthwatering tahini and kebabs. The restaurant is on the small side, but the vibe is irresistibly charming.
02 Korean BBQ – Bayside, Queens
45-53 Bell Boulevard
How fun is all-you-can-eat Korean barbecue? The sizzle of the table grill, the amazing spread of side dishes and vegetables, the crispy lettuce cups...suffice to say, we are fans, and this place hits it on the nose with standout dishes that can interest all types of eaters. Bonus: Children ages 4-7 eat for 50% off!
Photos courtesy of the restaurants