Lower East Side Food Crawl: Best Old School NYC Eats
The Lower East Side is emblematic of everything we think of "Old New York," especially the hustle and bustle of a working class immigrant neighborhood. Although many immigrant populations called the neighborhood home, the Lower East Side became home base for New York City's Jewish population. The Lower East Side is now much more hipster than Hebrew and most of the old establishments have been spruced up, but it's still an amazing neighborhood to explore...and eat in. Oh my, can you eat!
From knishes to candy, pastrami to pickles, there's so much good food on offer it's hard to know where to begin. But most of all, it's fun to eat in places with tons of history and "theater." Whether you want to do it as a food crawl with the kids or just go down for one family meal, we've covered the best old-school, mostly Jewish food spots on the Lower East Side.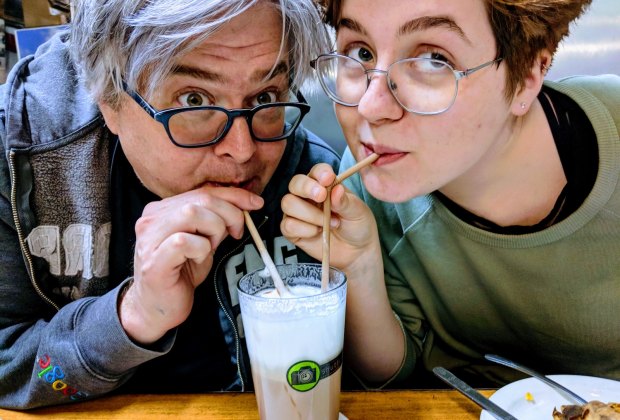 Share an egg cream at Yonah Schimmel.
Yonah Schimmel Knish Bakery
What is a knish? It's essentially the Jewish version of a hand pie (think empanadas, pierogies, Cornish pasties, etc). Knishes can be sweet or savory. The most iconic version is the kasha knish, which is buckwheat groats. That may not sound appetizing, but the Yonah Schimmel version is great, especially with a schmear of mustard. Sweet knishes are typically fruit and cheese filled and taste similar to a blintz or crepe. Special knishes like the jalapeno and cheddar are my favorite. Yonah Schimmel is also one of the few places to find an authentic egg cream in the city or a lime ricky, if you're into that.
Russ and Daughters
If you care deeply about smoked and pickled fish, then Russ and Daughters is your mecca. One of the last "appetizing" shops on the Lower East Side, this 100-plus-year-old institution defines "appetizing" as "the foods one typically eats with bagels." Russ and Daughters is the type of place where the person behind the counter will make sure you understand the distinction between true lox and smoked salmon before filling your order. Pick up some whitefish salad, pickled herring, pastrami cured salmon, and anything else that strikes your fancy, to try at home.
Russ and Daughters Cafe
We didn't opt for the two-hour wait for brunch, so I haven't tried Russ and Daughters Cafe yet, but from all accounts it seems like a wonderful melding of old and new, with the amazing ingredients of Russ and Daughters store prepared with as much care and expertise into traditional and updated dishes. One for the bucket list.
Katz's Delicatessen
Katz's Delicatessen is as close to the actual experience of Old World eats as you can get in New York. Not only because you can't find pastrami, brisket, and corned beef like this at many places nowadays, but because nowhere else do you have to use a ticket and stand in four lines just to get lunch. Go for the meat, go for the experience, just don't lose your ticket!
Economy Candy
No place in New York will delight your child or your inner child more than Economy Candy. Whether you love the nostalgia of finding treats you haven't seen in decades, discovering new ones, or just delight in the sheer wonder of So. Much. Candy! You can't help but be happy in this place.
RELATED: Best Candy Stores in NYC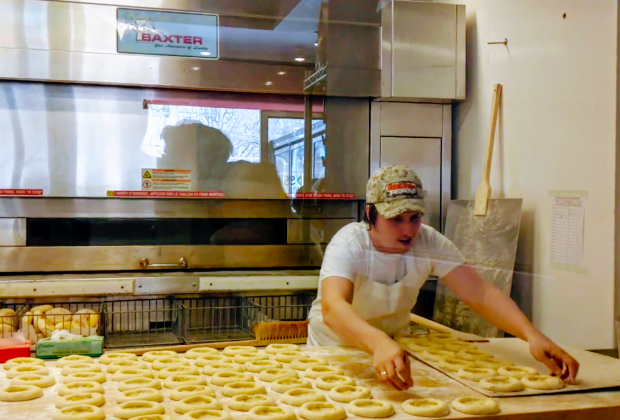 Watch bialy-making at Kossars.
Kossar's Bagels and Bialys
As a very opinionated bagel snob, I don't think the bagels at Kossar's are the best in New York, but it's pretty hard to find a true bialy anymore, so stopping by for one should be on your to-do list. They make great bagel and bialy sandwiches in the store, or take them home to eat with your loot from Russ and Daughters. A Kossar's bialy with creamy pickled herring might just make you convert.
Essex Street Market
Although shops like the Nordic Preserves, Fish and Wildlife Company, and Pain D'Avignon seem far away from the humble immigrant roots of the neighborhood, the Essex Street Market and other indoor markets were created in the '40s to get pushcarts off the streets. In that sense, the experience of finding many interesting food vendors crammed into the space probably hasn't changed that much. It's the type of place to find unexpected goodies tucked into nooks and crannies. Or sit down for a Shopsins' burger, a cheese sandwich from Formaggio Kitchen, or some yuzu fries from Osaka Grub, among the many options. (Note: The Essex Street Market is moving across the street this year!)
The Pickle Guys
What could be more old-school New York than schmoozing with your Pickle Guy, noshing on samples, and choosing from about 50 types from huge barrels in this open-stall-style spot. Kids will be amazed to peek into all the barrels. Who knew they could pickle that!
RELATED: 40 Things to Do in the East Village with Kids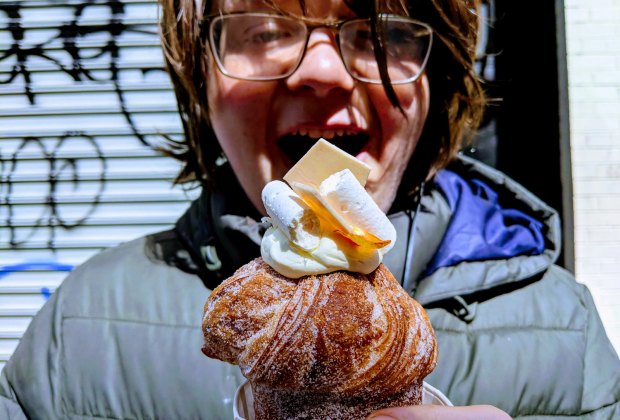 The cruffin at Supermoon Bakehouse is a must-try!
Supermoon Bakehouse
Not even close to being old-school, this bakery is super hipster, but since you're in the neighborhood, try the cruffins (croissant-muffins with unique fillings and toppings). Phenomenal!
The Tenement Museum
Nothing could accompany your Lower East Side food crawl better than a visit to The Tenement Museum. It's a really interesting way to experience life as an immigrant and old New York and is especially engaging for kids.
New York is a city of immigrants, and, therefore, boasts amazing international food enclaves. We're highlighting the best international streets in all five boroughs. See more of the diverse food and fun in neighborhoods like Astoria, Manhattan's Chinatown, Greenpoint, and even at a Queens mall.