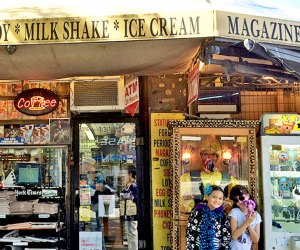 40 Things To Do in the East Village with Kids
The East Village is the epitome of the luxury bohemian paradox. High-end condos, trendy eateries, chain stores, and shiny new NYU dorms sit kitty-corner from decrepit tenements, old-world restaurants, punk-rock shops, and community gardens blooming with flowers and sculptures. Although it's certainly not the gritty neighborhood of my youth, you can still find traces of the artsy, old-school East Village if you know where to look.
For the purposes of this post, our boundaries are Broadway to the East River between Houston and 14th Streets. Read on for all the top spots and experiences for kids in this eclectic Manhattan neighborhood, from play spots and excellent eats to funky, only-in-the-East Village destinations.
Cute kid shops, amenities like the beautifully renovated Tompkins Square Park, and listservs such as East Village Parents and Bowery Babes make the nabe decidedly more family-friendly than it was back in the day (although you still need to avoid drunk college kids—they're like rats!).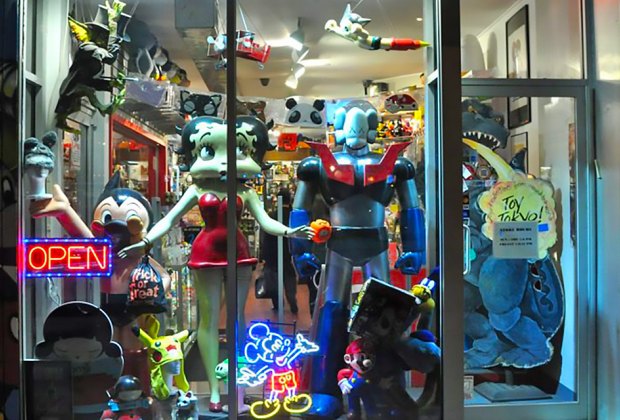 Toy Tokyo is packed with Japanese and domestic anime figures, collectibles, and art toys. Photo by the author
1. Peruse a mind-boggling array of pop-culture playthings at Toy Tokyo. Just be warned that it's blind box central.
2. Turn your kids' outgrown clothes into cash or new outfits at beloved neighborhood consignment shop Jane's Exchange, run by two local moms.
3. Enjoy a wide variety of enriching kids' programs at the 14th Street Y, including a drop-in play space for tots on Sunday mornings that's open to nonmembers.
4. Check out handmade educational toys, adorable little-kid clothes, and other analog wonders at the carefully curated Dinosaur Hill, which has been in business since 1983.
5. Romp in two playgrounds, picnic on the grassy lawn, and splash in the kiddie pool in summer at Tompkins Square Park.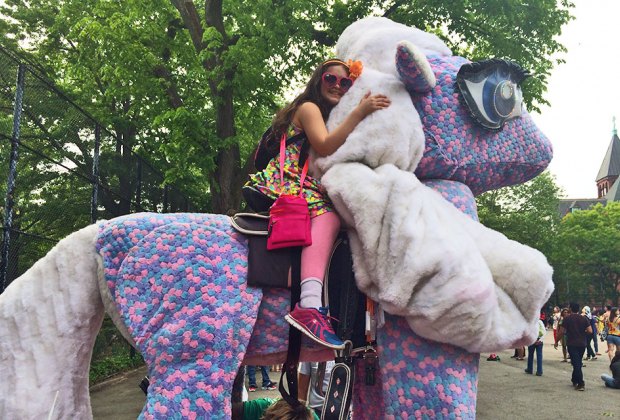 DanceFest comes alive with choreographed performances, dance lessons, and dance floats, all free.
6. Or hit Tompkins for a special event. The green space hosts numerous family-friendly gatherings throughout the year, notably DanceFest in May and the Halloween Dog Parade in October, plus it's the end point of the Unsilent Night procession every holiday.
7. See if you and the kids can spin the Astor Place Cube, aka Tony Rosenthal's Alamo sculpture, which has been turning since 1967.
8. Drop into the Ottendorfer Library for storytime, the Lego club, and teen tech time.
9. Find funny T-shirts and gag gifts at novelty shop Alphabets. A great place to buy presents for jaded tweens.
10. Attend a traditional Japanese tea ceremony or just try some sushi at one of the many restaurants that make up East 9th Street's Little Tokyo at Third Avenue.
11. Or get some Japanese treats to go at Sunrise Mart, which is filled with Pocky, Otsumami, and wasabi peas.
RELATED: Lower East Side: A Guide to the Best Kid Spots

Pick up a treat at Veniero's Pasticceria and Caffe. Photo by the author
12. Indulge in cannoli, pignoli cookies, and other Italian sweets at seriously old-school pastry shop Veniero's Pasticceria and Caffe, which opened in 1894.
13. Although it was forced to move from its longtime St. Mark's Place home, Trash and Vaudeville is still punking up the neighborhood, now on East 7th Street, with glitter platforms, spiked jackets, and a rock-n-roll clientele. There is a small selection of baby and toddler clothes, but tweens can usually fit into anything that comes in an adult extra small.
14. Celebrate the Day of the Dead at Mano a Mano's multiday bash at St. Mark's Church-in-the-Bowery in early November.
15. Go on a carb binge with pierogi, potato pancakes, and other Ukrainian staples at Veselka. Kids love the funky murals and the waiters will give you Wikki Sticks upon request.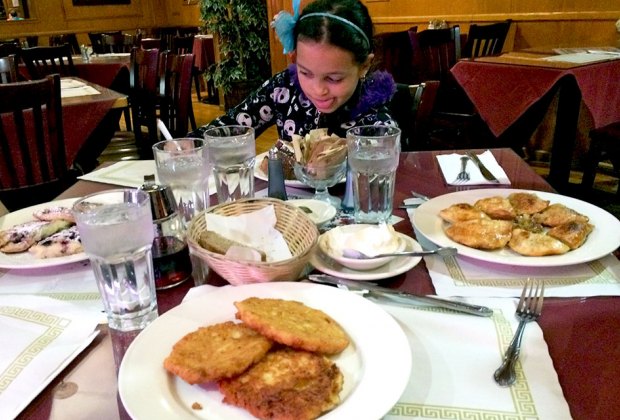 Ukrainian East Village Restaurant serves up traditional Ukrainian food in the East Village. Photo by the author
16. If Veselka has an interminable wait, head next door to Ukrainian East Village or a few blocks north to Little Poland for similar carb-heavy menus minus the hipsters.
17. Step back in time at the Merchant's House Museum, a mid-19th-century family home that is intact inside and out. There are even some original furnishings.
18. See how the other half died at a pair of historic East Village cemeteries: the New York City Marble Cemetery on East 2nd Street and the similarly named New York Marble Cemetery on the Bowery. The latter offers monthly tours April through October, but you can only check out the former during its infrequent open days.

Have a traditional Indian meal at the always festive Milon. Photo by the author
19. Get kid-friendly Indian faves like samosa and mango lassi at one of the restaurants festooned with Christmas lights year-round on East 6th Street's Indian Row between First and Second Avenues. But be warned: the managers at Panna II and Milon will battle it out for your business.
20. Introduce the brood to avant-garde theater at the La MaMa Kids series on select Saturday mornings, which includes live performances and interactive family workshops.
21. Or see what's playing across the street at the Kraine Theater, which presents family matinees on weekends.
22. Watch eclectic family shows at Theater for the New City. While most offerings are aimed at adults, the venue presents annual kid-friendly performances by the Bread & Puppet Theater and the Thunderbird American Indian Dancers, and produces all-ages political street theater in the summer.
RELATED: Best Things to Do with Kids in the West Village and Greenwich Village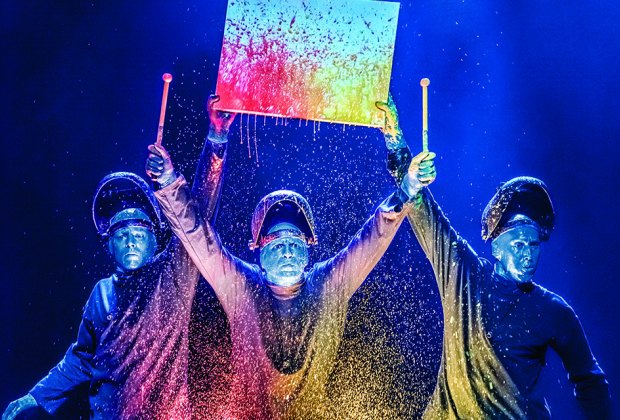 See Blue Man Group and other Off-Broadway favorites in the East Village. Photo by Lindsey Best
23. Or watch an offbeat Off-Broadway show like wordless performance art masterpiece Blue Man Group and cacophonous dance-theater spectacle Stomp.
24. Catch a live alfresco performance or just hang out in the lovely 6th & B Garden. Then walk one block east to the 6BC Botanical Garden to visit the turtle or marvel at the waterfall.
25. Or chill out in the tranquil, tree-filled Liz Christy Garden, NYC's very first community garden founded back in 1973.
26. Bite into a knish that would make your bubbe kvell at the century-old Yonah Schimmel.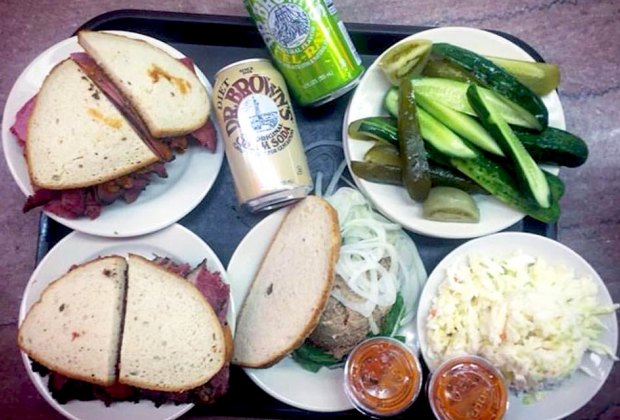 Katz's Delicatessen serves up mile-high sandwiches.
27. Or walk a few blocks east to grab a pastrami on rye at Katz's Delicatessen, the comfort food spot that was immortalized in When Harry Met Sally.
28. Play a game of pool during the day at Amsterdam Billiards, which offers small cues for little hands.
29. Browse brainy high- (robots, Arduino) and low-tech (puzzles, models) toys, or play a free game of Space Invaders at Tinkersphere.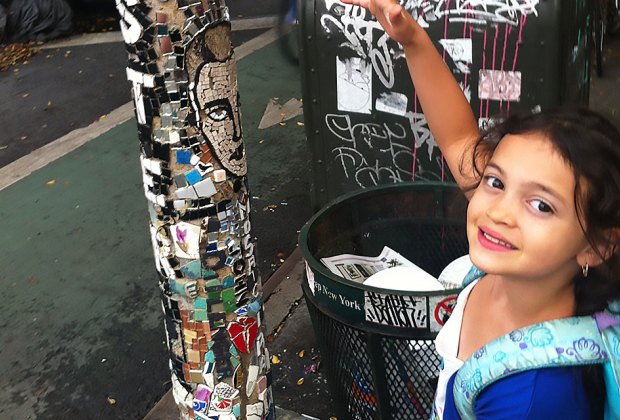 Be on the lookout for lamppost mosaics by Jim Power. Photo by the author
30. Keep your eyes peeled for cool murals, graffiti, and other street art throughout the neighborhood. We're particularly fond of the nature mural on the Rite Aid at 5th Street and First Avenue, the Joe Strummer from The Clash mural on 7th Street and Avenue A, anything by Chico, and the awesome mosaics by Jim Power on St. Mark's lampposts.
31. Get your geek on at St. Mark's Comics and Forbidden Planet, which overflow with graphic novels, action figures, and other nerdy wares.
32. Get the exact amount of pizza you want at Pie by the Pound, which has board games to play while you wait.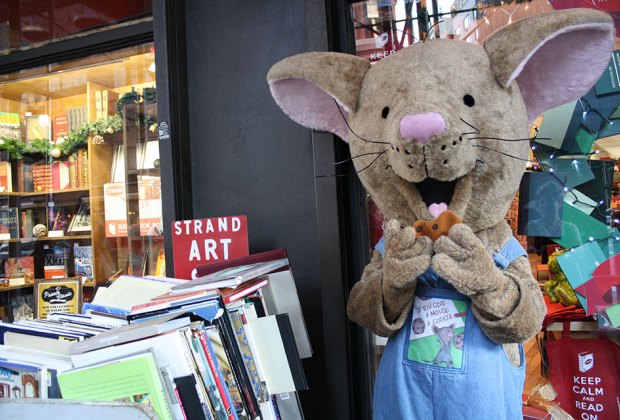 Visit with your favorite storybook characters at Strand Book Store.
33. Browse "18 miles of books" at Strand, which boasts an eclectic children's selection, frequent storytimes, and visits from beloved kid-lit characters.
34. Find goofy get-ups year-round at Halloween Adventure, which has two floors of outfits, accessories, and a nice kids' selection.
35. Give in to your chocolate cravings at Max Brenner, where the "secret chocolate menu" includes chocolate pizza and a chocolate syringe. Warning: advance reservations are a must.
36. Gawk at the strange and unusual (skulls, creepy dolls, taxidermy) at Obscura Antiques & Oddities, which used to have its own TV show.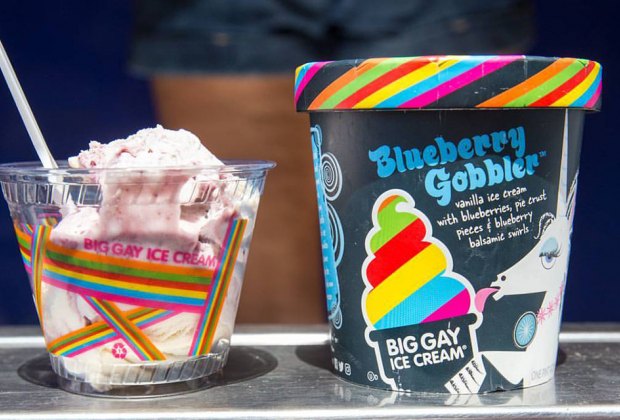 Indulge in edible pleasures at Big Gay Ice Cream.
37. We all scream for ice cream! Grab homemade scoops at a host of artisanal parlors, including Davey's Ice Cream, OddFellows Ice Cream Co., Big Gay Ice Cream, Van Leeuwen Ice Cream, and Mikey Likes It Ice Cream.
38. Although it may look like just another newsstand, Gem Spa is a landmark that serves excellent egg creams. Plus you can get your fortune told by Zoltar (of Big fame) right out front.
39. Or head to Ray's Candy Store for shakes, ice cream, egg creams, and ambiance. It's been around since 1974 and it shows.
40. It's an NYC kid's rite of passage to wander the history-filled St. Mark's Place trying on cheap sunglasses, skull jewelry, and wigs at the outdoor vendors.
Top photo: Enjoy egg creams at the Gem Spa. Photo by the author. Photos courtesy of the venues unless otherwise noted.