The Adventures of Tortoise & Hare The Next Generation
The Sheen Center

The Very Hungry Caterpillar Show
DR2 Theatre

NYC Easter Brunch Cruise 2023
Event Cruises NYC
Sign up for our free newsletters.
A Nerdy Day Out in Japantown NYC Tweens Will Absolutely Love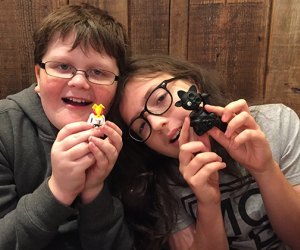 3/7/16
- By
Anna Fader
It can be hard to find things to do with tweens in New York City. They're too old for little kid activities, but not really into the culture that older teens tend to favor. Our tween only begrudgingly participates in most family outings, so I decided to design a day totally focused on his interests, which, not surprisingly, are pretty much limited to video games, computers and comic books. What was surprising was how much fun we had.
Within a few blocks of the Astor Place 6 train stop, in a section of the East Village dubbed Japantown or Little Tokyo, are a number of over-the-top fun spots for kids. Packed with funky Japanese-themed collectible stores and awesome eateries, plus some old-school video game and comic spots, we found tween utopia all within a few blocks. We rounded the day out with Japanese snacks for an itinerary that had our usually picky kids over the moon and was just as much fun for the grown-ups.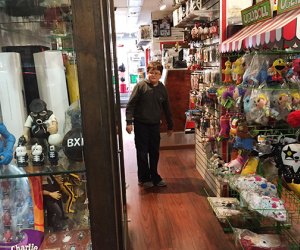 Toy Tokyo lets everyone tap in to that inner kid as you ogle silly collectibles or stick a dollar in the gum ball machine.
Toy Tokyo
When you step into Toy Tokyo with a child, be prepared to be there a while. Packed with every object of their desire, kids will want to explore, ponder and expound on the contents of the collectibles and toy emporium. Cabinets filled with expensive collectibles and figurines are fun to check out, but the front of the store is full of more affordable pleasures such as mystery mini-figure boxes, stickers and erasers kids love. There are even fun gum ball machines with small toys for a buck or two.
RELATED: See The Totally Revamped Nintendo NYC Store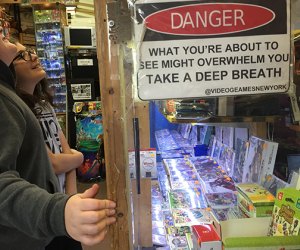 At VIDEOGAMESNEWYORK, gamers browse new videos, trade in games and reminisce.
VIDEOGAMESNEWYORK
What's a joystick? Video game nostalgia abounds in this shop selling new and used consoles and cartridges. While I reminisced over old Ataris, it was hilarious to see kids equally nostalgic for their old Game Boy games. Get as geeky as you like talking to the guys behind the counter about Zelda; trade in old stuff for new or just browse what's practically a museum of gaming.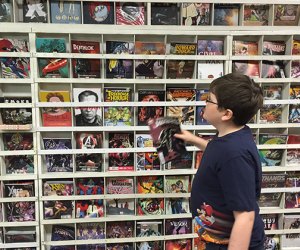 Browsing the shelves of the storied St. Mark's Comics.
St. Mark's Comics
Video games and comic books are twin pillars of kids fun, so what's better than making your next stop to check out the huge selection of comic books at St. Mark's Comics? If you head to the back of the store, make sure to steer left for the collection of vintage toys, games and action figures because the right side is adult comics. If you haven't run out of steam, head to the bigger Forbidden Planet, a few blocks away.
RELATED: Teen Spirit: 13 NYC Activities Even a Teen Will Call On Point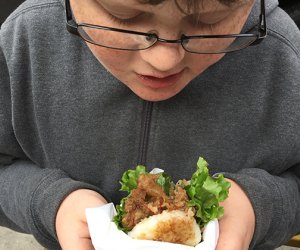 Sushi rice "buns" create the yummy sandwich of Yonekichi's burger found on St. Mark's Place.
Yonekichi
St. Mark's Place is chock-a-block with fun eateries, but sticking to our Japanese pop theme we chose to chow down on yummy rice burgers at Yonekichi. These flavorful Japanese-style sandwiches are served on sushi rice "buns" through a storefront window. Don't miss the Furi Furi fries.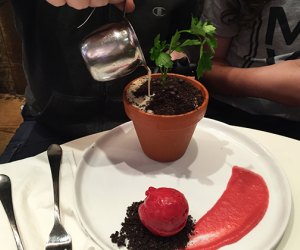 Layers of berries and cheesecake make up the Spot Dessert bar's take on "Dirt Dessert."
Spot Dessert Bar
Although a traditional Japanese tea ceremony would have been interesting, we opted for a more modern, and sugary, incarnation: Spot Dessert Bar. Known best for its Green Tea Chocolate Lava Cake, we went in search of another popular Tokyo treat, Golden Toast, a thick chunk of fried bread drenched in honey and served with strawberries. We couldn't resist trying its take on a "dirt dessert" with its layers of cheesecake-like filling and cookie crumb "dirt." Yum!
Sunrise Mart
Almost as much fun as exploring the geeky stores is trolling the aisles of Sunrise Mart, a Japanese specialty market. We love the rice balls from the prepared food section. You can pick up some fun Japanese chips, candies, ramen and other treats to bring home.
All photos by the author.