A Chocolate Birthday Party at Max Brenner's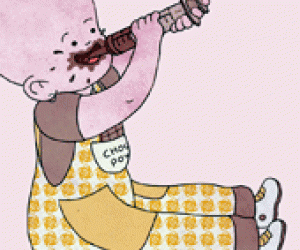 Last week I wrote about last minute birthday party ideas, inspired by perhaps my most slacker mom moment—not having a party planned on the actual morning of my daughter's 10th birthday (Who am I kidding? Probably not even top 10). I wasn't stressed though, this is New York, limitless possibilities lay at my fingertips. I couched my guilt and got on the internet, where all life's problems are solved.
Our plan was to take a few of her friends out to dinner. I wanted to find a place that would be fun and was a real experience. My daughter's favorite, Ninja, was nixed as too expensive, Serendipity had no room. We settled on Max Brenner's Chocolate by the Bald Man off Union Square.
Max Brenner's didn't take reservations back then (now you can make a reservation through their link to open table on their website). No reservations meant we had an equal chance to get in as anyone, all we had to do was wait. I told everyone to get there around 5, I got there 15 minutes early and put us on the list. There was a pretty big crowd, but since the waiting area is also a chocolate store the girls were happily occupied looking at the chocolates and just being together. Because it was early, we only waited for about half an hour. I don't think the girls even noticed.
Max Brenner's is a pretty fun experience. There are tubes of chocolate running through the restaurant and the whole place just smells divine. They make absolutely ridiculous chocolate dishes, like the chocolate pizza and other concoctions that would lead to a slow, but very happy death if you ate them more than once in a blue moon.
I was pleasantly surprised by their children's menu which is divided up into "yummy food" (burgers, mac and cheese, chicken fingers, the usual), "too sweet to be true" desserts, and "chocolate potions" hot chocolates. For $12.95 you can order the Ultimate Treat which includes either a food or dessert entree and one of their hot cocoas, a pretty good deal.
We got some real food, which everyone enjoyed. They know how to make even real food fun with touches like the paint brushes that come with your burger and fries for painting on your catsup. After dinner, the birthday girl was brought a complimentary chocolate truffle with a candle, but, of course, we also ordered dessert.
The favorite with the kids, by far, was the chocolate syringe, which is an enormous syringe basically filled with Nutella-like chocolate that you can squirt directly into your mouth. Don't think about it too much, just look at the giddy faces of your children and wish that it would always be so easy to make them that happy.
The birthday girl ordered the chocolate crepe which was crazy good, but I got my buzz just from seeing those kids being that happy. (And the fact that the whole thing came out to less than $100 for the 6 of us--which would be slightly more now, but still a great deal).
This turned out to be a great birthday party. The kids had a fabulous time. It was easy, relatively inexpensive and no prep or clean-up. Slacker moms unite!


For more great birthday party ideas, check out our Party Guide.