The Very Hungry Caterpillar Show
DR2 Theatre

NYC Easter Brunch Cruise 2023
Event Cruises NYC

Easter Fun Cruise with Egg Hunt 2023
Event Cruises NYC
Sign up for our free newsletters.
Five Last-Minute Birthday Party Ideas for Kids in New York City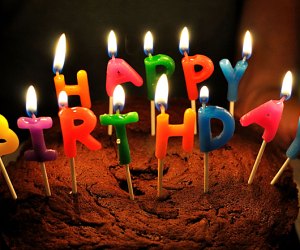 1/25/16
- By
Anna Fader
Lest you harbor a notion that I, as "Mommy Poppins," am some uber-organized, type-A, helicopter mom, let me dispel that myth for you right now with this story about my daughter's 10th birthday party. Yes, double digits, big deal birthday...and the morning of the party, what had I prepared? Nothing.
It's not that I don't get into planning birthday parties. Planning birthday parties is one of my joys. It's a chance for me to get creative and make a little kiddo magic. I've written about a few of my kid's birthday parties in our Party Guide. No, I definitely enjoy kids parties, this year I just got a little side-railed which is how it came to pass that on the morning of my daughter's 10th birthday party we had nothing planned. And this is where my true Mommy Poppins' superpowers kick into action, 'cause the challenge of creating a totally awesome birthday party in less than 12 hours is right up my alley.
So what do you do when you need a last minute kids birthday party in NYC? Here are some ideas:
Bowling Party: Last-minute afternoon reservations are easy to get at a number of local bowling alleys and food is usually served on site. I called Bowlmor and the friendly employee said I could even book a party for the next day and they even had openings for this coming Saturday. There are several bowling alleys in NYC so you can check out which one has the best deal and convenience for your party.
Movie Party: A movie party can literally be planning just hours in advance. Buy tickets to the latest kiddie cult flick and make a reservation at a nearby pizza joint for afterward. Make sure to ask the theater if you can get a discount for buying 10 or more tickets. You can surely pick up some trinkets in the theme of the film to give as party favors on the way there.
Party in the Park: If the weather is fine, a party in a neighborhood park or playground can be a great last-minute plan. Although you need to reserve gazebos and other structures in advance, anyone can plop themselves down in a grassy spot for an informal gathering. Did you know that you can even get pizza delivered in a park? That seemed odd to me the first time I saw the pizza boy strolling up in his uniform, but how convenient. The options for entertainment are endless; organize some classic yard games or just buy a bunch of different types of balls, Frisbees, bubbles, or kites and let the kids go. They can take them home as party favors.
Ice Skating Party: In the winter months an ice skating party is always fun; you can even party indoors during warmer weather. I shared my experience with an on-the-fly party in our ice skating party post. We went to a rink then out for hot cocoa and cake at a nearby diner. It certainly wasn't as easy as just showing up at the rink for a reserved party, but I would do it again in a pinch. I think this time I would just bring cupcakes and hot chocolate with me. Choosing a rink with some seating would definitely make it easier.
Arcade Party: Love it or hate it (and boy do the kids love it) a party at Chuck E Cheese or Dave and Busters is easy to throw together. Chuck E Cheese actually allows you to order your party online a day in advance. With the online interface, you can customize the food order and all the details. Parties start at about $18 per kid including tokens, food and drinks, party supplies and the site will even send out your invites. It doesn't get much easier than that. You could also just show up, buy some tokens, food and let 'em rip, but it will cost a lot more.
Find more party ideas in our Birthday Party Guide.
Top photo by Will Clayton via Flickr.
This post originally published in March 2012.