5 Family-Friendly Pool Halls in New York City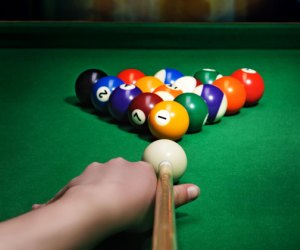 Playing pool isn't just a pastime for hipster barflies. Kids love it, too—just without the copious amounts of alcohol and ironic retro mustaches. In New York City, there are lots of places to play pool besides the backroom at your local watering hole. Like NYC bowling alleys, most NYC pool halls welcome minors during daytime hours as long as they're supervised. But to find the truly kid-friendly billiards spots, we turned to the experts: local parents who've actually been there. Here are five pool halls in Brooklyn and Manhattan endorsed by NYC families.
Ocean's 8 at Brownstone Billiards – Prospect Heights
308 Flatbush Avenue between Park and Sterling Places
Children are allowed at this Brooklyn billiards lounge until 9pm daily as long as they're accompanied by an adult over age 21. In fact, on weekend afternoons, you'll see families in abundance (after all, it is right near Park Slope). In addition to 30 pool tables, there are six ping-pong tables, three air-hockey tables, two mini-bowling lanes and a variety of video games. Ocean's 8 also offers kids' party packages.

Fat Cat – West Village
75 Christopher Street between Seventh Avenue South and Bleecker Streets
A long-time family favorite, this old-school no-frills pool hall/jazz club welcomes children at all times except for Fridays and Saturdays after 10pm. Live music usually starts around 6pm so you can get cool jazz as well as game play. Plus there's ping-pong and shuffleboard.

Eastside Billiards – Upper East Side
163 East 86th Street between Third Avenue and Lexington Avenue
Since 1991, this popular Upper East Side spot has offered pool, ping-pong, Foosball and Skeeball for fun lovers of all ages. Kids are allowed until 8pm, and only those under age 12 need to be supervised, which means well-behaved teens can visit on their own. Worried your novice may accidentally rip the felt? Sign your child up for lessons for all ages.

Amsterdam Billiards – East Village
110 East 11th Street between Third and Fourth Avenues
During daytime hours you'll see lots of families in this East Village favorite. Children are allowed until 6pm and you can even request small cues that are easier for small hands to handle. In addition to pool there is ping-pong, Foosball and a pair of pinball machines. Kids' party packages are also available.

Society Billiards + Bar – Flatiron
10 East 21st Street between Fifth Avenue and Broadway
The most upscale of these pool halls, Society welcomes children before 9pm as long as they bring a grown-up. There are 19 tables and flat screen TVs everywhere you turn, usually turned to sports. In the late afternoons, it attracts an adult after-work crowd so weekend afternoons are probably your best bet.

These are just five of NYC's myriad pools halls and most allow kids before evening hours. If you decide to try a different billiards spot with your children, call ahead to make sure it truly welcomes families.

Kids more into table tennis? Read about family-friendly places to play ping-pong in NYC.
This post originally published in August 2013.