Table Tennis in NYC: Where to Play Ping-Pong with Kids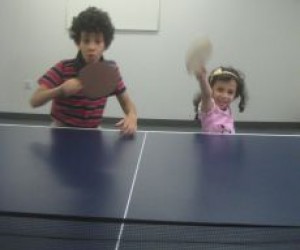 When kids say they want to play something with their parents, they usually mean they want to beat them at something. But when it comes to sports, there are few activities where a parent can honestly be bested by a person half their size and strength without resorting to throwing the game.

The exception: table tennis, better known as Ping-Pong. Forget size and strength; Ping-Pong is all about focus, aim and perseverance—qualities your kids have probably mastered in front of the Wii or Xbox. Here are our favorite kid-friendly New York City Ping-Pong spots where your little ones can whip you fair and square using a tiny paddle and ball.
Wang Chen's Table Tennis Club – Upper West Side
250 West 100th Street between Broadway and West End Avenue
Open after school Monday through Friday and all day on weekends, this spot boasts seven tables and professional-grade rackets and balls. Former Chinese Olympian turned head coach Chen oversees the after-school program, which runs throughout the academic year, and the summer camp. The regular Thursday night tournaments are open to the public and feature a Junior division. If you just want to drop in and play, the cost is $8 per hour per person or you can buy a monthly membership for $20 per person.

AACCT Table Tennis Club – Lower East Side and Flushing
292 Henry Street between Pitt and Grand Streets
133-31 39th Avenue between College Point Boulevard and Prince Street, second floor
Formerly known as the New York Table Tennis Federation, the Asian Cultural Center of Tribeca Table Tennis Club has two NYC sites, one on the Lower East Side which opened this past May, the other in Flushing, Queens. Although the club is open to players of all ages, it's particularly attractive for junior members: $55 a month or $530 a year gets kids under 18 access to both locations. Group lessons are available on Saturdays for $15 per hour per person for members, and $20 for nonmembers. Kids are trained and encouraged to compete in local tournaments against other clubs to improve their skills.

Brooklyn Table Tennis Club – Midwood
1100 Coney Island Avenue between Foster Avenue and Avenue H
Owner Nison Aronov is a former Soviet champion who also holds titles in Tajikistan and the U.S. His club, which is located in a basement behind a parking garage, hosts league tournaments for adults and kids on Sundays with an entry fee of $12 for nonmembers and $6 for members. Private lessons are available for children and the cost is a sliding scale thanks to Aronov, who swears that table tennis helped keep him off the streets and out of trouble.

New York International Table Tennis Center – Flushing
134-32 35 Avenue between Prince and Farrington Streets
A 5,000-square-foot facility featuring 10 tables, NYITTC is the United States Table Tennis Association's official North Eastern region training center and aims to produce athletes capable of representing the U.S. on the Olympic level. To that end, NYITTC offers a free teen program. For others, a family membership is $180 a month, $1,500 a year, maximum of three members. Table rental is $14 an hour, and $8 per person on top of that.

SPiN New York – Flatiron
48 East 23rd Street between Madison Avenue and Park Avenue South
Co-founded by Oscar winner and super-cool NYC mom Susan Sarandon, SPiN isn't just a place to knock the ball around. It's a members-only social club with 17 tables that also plays music and serves food and alcoholic beverages, which means it straddles the line between adult hip and family friendly. A monthly family membership is $90 while an annual one sets you back $900. Still, games cost extra: Members get one complimentary hour of play per month, with all subsequent court rentals at 50% off regular rates. Kids are allowed every day until 9pm when the club becomes 21 and over.

As with any sport, if you intend to participate regularly, the fees can add up. But for families looking to play casually, New York City offers several low cost and even free options.

YMCAs are a good bet. Locations in Chinatown, Harlem and the Bronx all offer tables and family game nights.

And when the weather cooperates, families can play for free in select city parks.

Bryant Park – Midtown West
40th to 42nd Streets between Fifth and Sixth Avenues
The tables, paddles and balls are free but you need to sign up for a slot, so prepare to wait. Luckily, there are lots of things to do in the area, like taking a spin on Le Carrousel or visiting the Children's Center at 42nd Street in the main branch of the New York Public Library.

Luther Gulick Playground – Lower East Side
Delancey Street between Bialystoker Place and Abraham Kazan Street
This playground features a single table, but it's a concrete Henge version to keep it from being stolen. While it's regulation size, it has a slightly different bounce than most are used to and is fitted with a metal net. Bring your own rackets and balls! While everyone is welcome to play, like Bryant Park you may have to wait. Fortunately, there's climbing equipment, sprinklers and a roller-skating area nearby.

Tompkins Square Park – East Village
7th to 10th Streets between Avenues A and B
The Ping-Pong table here is a relatively new addition. Another Henge, it's located close to the dog run. Bring your own equipment or see if you can buy paddles at the Avenue A Flea Market on the weekend. If the table is busy, you can always walk a few feet and try another sport where size doesn't matter: chess!