Greenpoint, Brooklyn Food Crawl: Best Polish Restaurants and Fun Spots
If you've been itching to try to decipher signage in a foreign language, step into a market that smells like 15 kinds of sausage, and stuff your face with foods from the Old World, then all you and the kids need to do is hop on over to Greenpoint, Brooklyn.
Somehow, despite the fact that neighboring Williamsburg has become the poster child for rampant development and gentrification, Greenpoint has managed to maintain its charm and Polish flavor. That's not to say that the neighborhood hasn't changed or that skyrocketing rents haven't impacted local families, but many of the shops along Greenpoint's main drag, Manhattan Avenue, are still locally owned markets and restaurants often specialize in Polish foods. If you have Eastern European roots, locals might even address you in Polish. All this makes a day in Greenpoint feel like a trip to the Old Country.
Greenpoint is just one of many ethnic foodie thoroughfares in the city. We aim to help you travel the world airfare-free with the Mommy Poppins Passport Series. We'll spotlight the best international streets in all five boroughs. Introduce kids to the diverse food and fun that immigrants have brought to New York City's streets, including in Astoria, Manhattan's Chinatown, and even at a Queens mall.
A day in Greenpoint isn't all about the pierogies. The influx of young new residents means a 60-year-old donut shop is just a skip away from one of New York's hippest ice cream spots. A traditional Polish market, selling a dizzying array of pickles and sausages, sits next to a secret pinball speakeasy hidden behind a laundromat. There's enough packed onto Greenpoint's main artery, Manhattan Avenue, to fill an afternoon. While we're focusing mostly on Polish Greenpoint here, once there you'll discover lots more family-friendly restaurants and things to do in this Brooklyn neighborhood.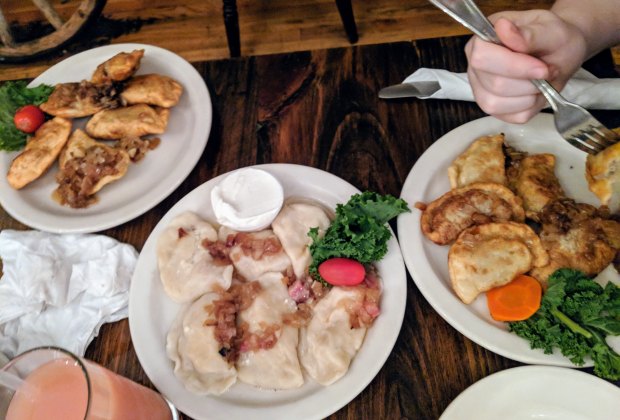 Pierogi overload at Karczma Polish Restaurant.
Polish Restaurants: Greenpoint's Best Pierogi Spots
You don't have to be a super adventurous eater to enjoy Polish food. Staples like pierogi (dumplings filled with potatoes and cheese, cabbage, meat or other fillings) can be served boiled or fried and are sure to please even picky eaters. A hearty plate of kielbasa might be served with sauerkraut, french fries, ketchup, and mustard. On the other hand, it's fun to explore different salads, often pickled vegetables like beets, cabbage, or cucumbers. Borscht is a soup made from beets and other vegetables, but many restaurants also serve white borscht, which is a creamy potato-based soup with thick slices of sausage. We got ours in a bread bowl! Stuffed cabbage is kind of like meatloaf wrapped in a sweet cabbage leaf. If you want to get even more adventurous, try a ham hock, tripe soup, or peasant-style lard.
Królewskie Jadło
You can't miss this Polish dining establishment, thanks to the suits of armor standing guard outside. Inside, kids will enjoy more medieval-inspired decor while noshing on traditional dishes. Or try some elevated game dishes like stuffed wild boar, quail, or venison-walnut meatballs.
Christina's
Perhaps the most old-school of the local Polish spots, Christina's hasn't changed much since it opened 25 years ago. Especially popular for weekend brunch, this neighborhood fixture serves all the traditional polish fare. The pierogies are especially good here, and the blintzes will put a smile on any child's face.
Karczma Polish Restaurant
We veered a few steps off Manhattan Avenue for lunch at Karczma. Between the Polish countryside decor, friendly waitresses decked out in traditional garb, and the superb food, the only thing you might not love about Karczma will be the wait if you go on a weekend midday.
RELATED: Global Eats at the New Dekalb Food Market in Brooklyn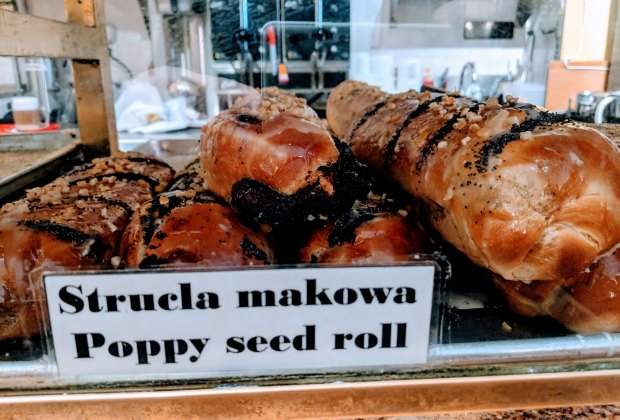 Pastry with a side of Polish lesson.
Sweets: Polish Cafes and Bakeries
If you are worried about not finding any sweets to fuel your Greenpoint adventure, you needn't. There's pretty much a bakery on every block selling hearty breads, fluffy cakes, and more. Much, much, much more! Beware that these traditional bakeries sell fresh goods baked on location each day, so by afternoon many items may be sold out.
Cafe Riviera
The only traditional bakery with seating, Cafe Riviera has a definitive old-world feel so, assuming it's not completely packed, it's a great place to enjoy an espresso and sweet. The glass displays are packed with an overwhelming number of pastry choices. Polish favorites like poppy seed roll, Polish style cheesecake, and apple cake sit below croissants and macaron.
Peter Pan Donuts
You don't even have to love donuts to love Peter Pan Donuts. You'll first be charmed by the curving counter that harkens back to the days some of us remember when donut counters like this dominated the city. The pink and green uniforms, handwritten menu boards and, oh yeah, the best donuts ever, make Peter Pan alone worth a trip to Greenpoint.
Old Poland Bakery
If you're looking to take some traditional Polish bread home with you, stop by Old Polish Bakery where you'll find several varieties of rye and country style breads, as well as traditional pastries. Polish bread is so good with soup or just smeared with butter!
Rzeszowska Bakery
This tiny little corner spot is known for its babka and traditional Polish pastries. No frills, but fabulous sweets.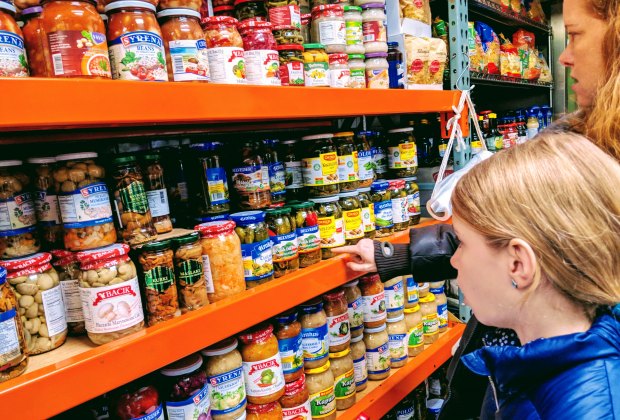 Contemplating a plethora of pickles at Polam International.
Polish Markets: Take A Little Poland Home with You
You absolutely cannot come to Greenpoint without popping into one of the Polish meat markets, which act not only as groceries for locals to pick up their dinner ingredients, but all the delicacies folks miss from home. Pick up some kielbasa, sauerkraut, Polish-style mustard, and store-made pierogi for an easy at-home meal. Find things you never knew could be pickled. One of my favorite old spots, Slodycze Wedel—the wonderful old candy store—closed recently (tear), but you can find Polish candies, chips, and other fun snacks at these spots, too.
Polka Dot
Part café and part deli, Polka Dot is an adorable spot for a quick bite or to pick up some of the store-made pierogi, soups, and other prepared meals. It also has a meat counter and a small selection of pastries.
Polam International
This small deli is packed with a full range of Polish kielbasa and meats, prepared food, pickles, candies, and lots more.
W-Nassau Meat Market – Kiszka
Nobody takes meat more seriously than the butchers at W-Nassau Meat Market. Who even knew there were this many kinds of sausages and smoked meats?
RELATED: 12 NYC Food Courts and Markets That Make Family Mealtime Easy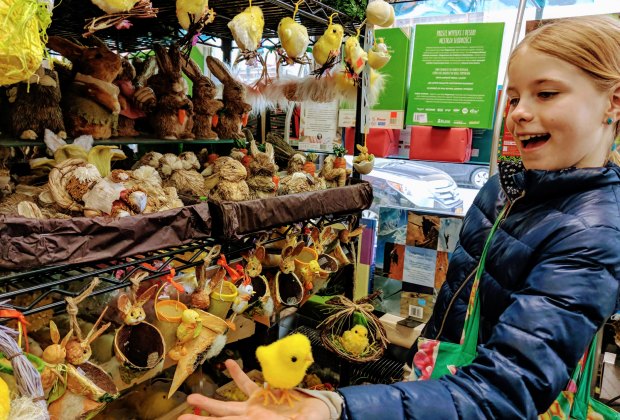 Delightful Easter decorations at Polonia Bookstore.
Just for Fun
You need to take some breaks between all the eating to digest, so here are a few fun spots to explore.
Polonia Bookstore
If your Polish is a little rusty, it can still be fun to browse this bookstore where you'll find some traditional style crafts and knick-knacks. We visited right before Easter and were delighted by traditional eggs and decorations.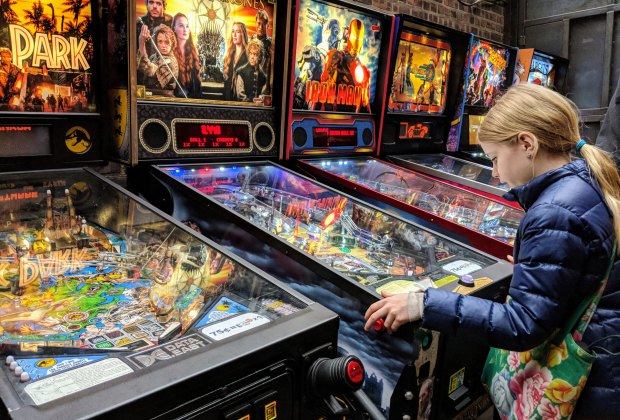 Pinball awaits behind a secret door at Sunshine Laundromat and Pinball.
Sunshine Laundromat
Open the fake dryers in the back of this seemingly traditional laundromat and you'll find an entire bar and dozens of pinball machines—it's one of our favorite old-school arcades around NYC! Kids are welcome. There are board games, too, if you feel like sticking around a while.
McCarren Park
One of my favorite neighborhood parks, a walk over to McCarren park is the perfect way to run off all those carbs. Note: The track and field section is about to undergo a big construction project, so that area will be closed for about a year.
Find more family-friendly areas to explore in our Brooklyn Neighborhood Guide.