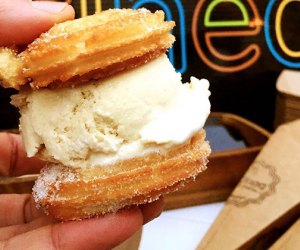 Brooklyn's City Point and DeKalb Market: Best Kid Eats and Shops
The City Point complex, Brooklyn's new shopping center downtown, has so much to offer families. Parents will appreciate the Target and Trader Joe's, and the whole family will enjoy the sleek new movie theater and vast DeKalb Market Hall with delicious offerings from dozens of vendors. And this ain't no ordinary food court—you won't find stale bagels and bland Chinese food here. Instead, think fried chicken on a stick and make-your-own cake pops.
Find our favorite picks below and return often for updated offerings there and around the neighborhood. Before you know it, you'll be raising certified Brooklyn foodies.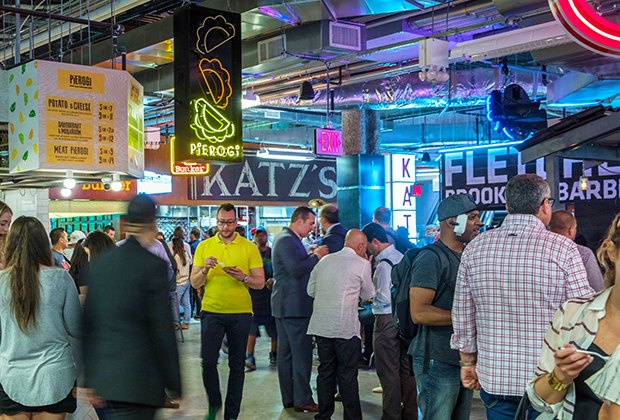 There are plenty of food options to choose from at DeKalb Market Hall.
Best Eats
Even the pickiest little eaters will find something they can enjoy at the DeKalb Market Hall on the bottom floor of the complex, which is located at Flatbush Avenue and Albee Square West. More than 30 vendors fill the space, which has ample seating and restrooms.
Here are some of the best eats for little ones:
Hard Times Sundaes
You can't go wrong with burgers, fries, grilled cheese, egg creams, and milkshakes. Bonus: This is one of the few vendors that serve breakfast, including pancakes, waffles, and omelettes, starting at 7 a.m.
RELATED: 35 Things to Do with Kids in Fort Greene and Clinton Hill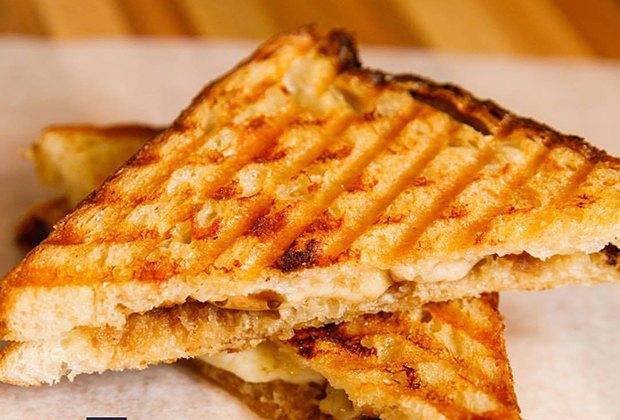 Don't miss the grilled cheese at Belle Cheese. Add tomato for a grown-up sandwich.
Belle Cheese
Belle Cheese is a cheese vendor. A cheese vendor who will make you a grilled cheese. You can get a classic cheddar, or add tomato, meat, chutney, or jam. The downside is that you may never trust anyone else to make you a grilled cheese.
Forcella
Mozzarella sticks, croquettes, arancini, and pizza. While you're waiting for your food, you can check out the line at Trader Joe's to see if it's worth making a stop after you eat.
Wilma Jean
The fried chicken on a stick is perfect for little hands to hold, but you can't go wrong with the chicken sandwich or mac-n-cheese either.
RELATED: Gotham Market: Brooklyn Families Flock to New Food Hall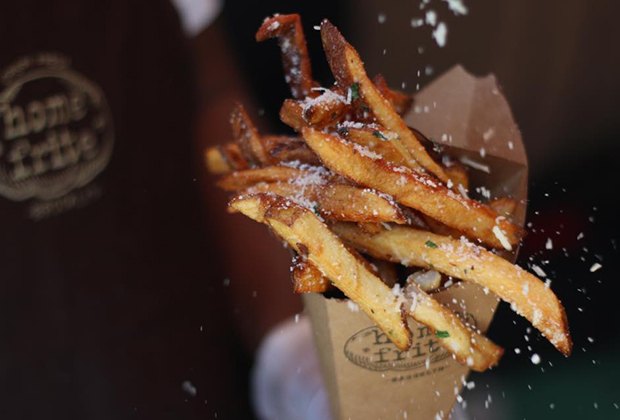 Classic fries to cheese fries can be found at Home Frite.
Home Frite
What better way to introduce your kid to cheese fries?
Fletcher's Brooklyn Barbecue
If your kid wants fries and you want a pulled pork sandwich, this is your spot.
Best Sweets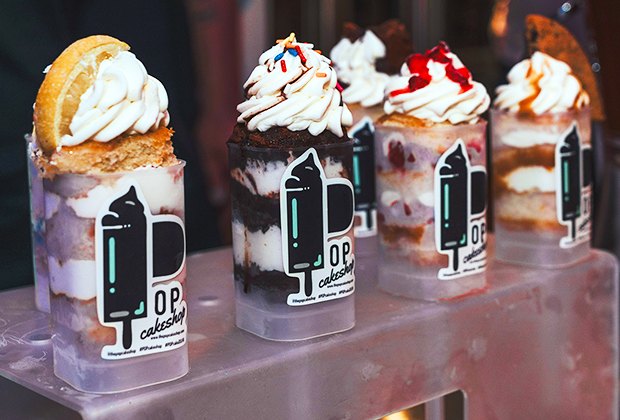 Pick a cake, toppings, and frosting to create your personalized dessert at P.O.P. Cake Shop.
P.O.P. Cake Shop
Pop Cake Shop is a child's dream. Step 1: Choose your cake. Step 2: Select your toppings. Step 3: Pick your frosting. Step 4: Congratulate yourself for being such a fun parent.
Steve's Key Lime
Now you don't need to schlep the kids to Red Hook to enjoy a swingle—a single-serve key lime pie dipped in chocolate, served on a stick.
Eight Turn Crepe
Nutella, peanut butter, and apple pie crepes are just a few of the offerings here.
Dulcinea
Stuffed, dipped, and coated churros, with choices that include Nutella and dulce de leche. The menu also features another Spanish treat, belinas, which are a filled brioche.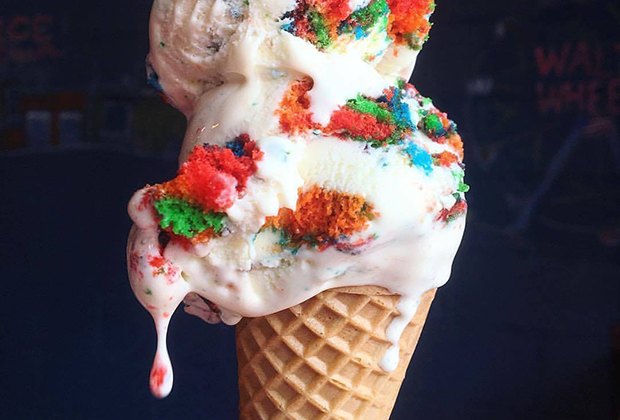 The food hall even has an Ample Hills.
Ample Hills Creamery
If you haven't yet tried this ice cream chain's salted crack caramel or chocolate milk and cookies, now you have no excuse.
Cuzin's Duzin
Hot mini-doughnuts, with choice of regular or cinnamon powder, and chocolate or caramel drizzle.
Other Top Sites for Families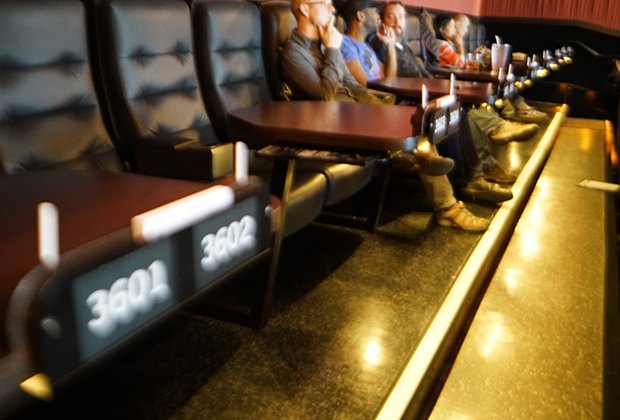 Alamo Drafthouse
Watch a movie in a comfy seat while someone brings you and your kid a burger and a milkshake. The menu also includes warm soft pretzels, mac and cheese, ice cream, cookies, and of course, popcorn and candy.
Torly & Tooby
Torly Kid and Toobydoo bring their unique kid clothes, accessories, and decor to Brooklyn.
Little Giants Giant Shorties
Kids' clothing and accessories inspired by streetwear are available here, with t-shirts and hoodies in kid sizes aplenty.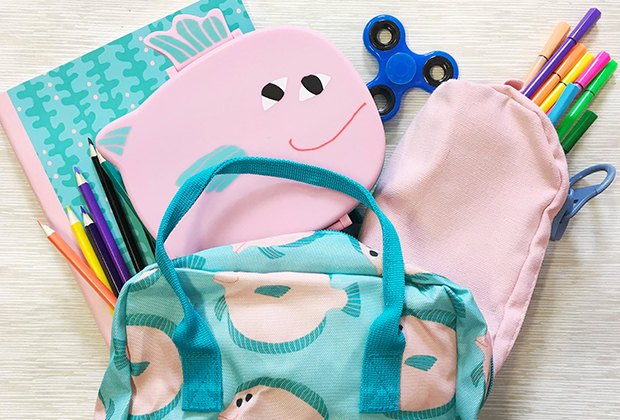 Flying Tiger offers some of the cutest back-to-school supplies.
Flying Tiger Copenhagen
This design-centric boutique offers cute gifts for all ages, from puzzles to pottery.
City Point is located at 445 Albee Square. The shops keep their own hours (Target opens at 7am, for example), but the food hall opens daily at 11am (some vendors as early as 7am). You can reach the shopping center and market directly from the DeKalb Avenue subway stop, which includes the B/D/N and Q/R trains.
Top photo: Dulcinea. Photos courtesy of the shops/venues