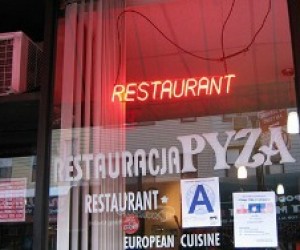 Family-Friendly Greenpoint Restaurants: Where to Eat with Kids in Brooklyn
We wrap up our month-long focus on Greenpoint, Brooklyn with a roundup of our favorite kid-friendly places to eat in the area. As we noted in our list of things to do in Greenpoint, the neighborhood has a large Polish population, so we could probably do an entire post about all of the old-school restaurants offering goulash, stuffed cabbage, pierogies and other ethnic comfort food. But those aren't the only eateries in the nabe. As Greenpoint becomes a more diverse community, new spots are popping up serving everything from pizza to organic fare, artisanal ice cream to drool-worthy doughnuts. Here are our top 11 places to eat with kids in Greenpoint.
Polonia Restaurant - CLOSED
631 Manhattan Avenue between Bedford and Nassau Avenues
Hearty eats, a casual atmosphere and cheap prices make Polonia a favorite with local families. An old-fashioned Polish "milk bar" (a.k.a. cafeteria), this spot seems like a throwback to another era. The homemade food isn't fancy, but it is delicious and the portions are massive. The TV perpetually tuned to a Polish station and the friendly Polish staff add to the authentic feel.

Pyza
118 Nassau Avenue near Eckford Street
More of the same fabulous cafeteria-style Polish food. Favorites include pickle soup, meatloaf, and cheese and blueberry blintzes. Like Polonia, the portions are large, so it's another great place to share.

Karczma Polish Restaurant
136 Greenpoint Avenue between Manhattan Avenue and Franklin Street
The last Polish eatery on our list, Karczma is the next best thing to hopping a plane to Warsaw. The dining room looks like an old wooden farmhouse, the food is served by waitresses decked out in traditional dresses and live folk music accompanies every meal. In addition to staples like pierogies and potato pancakes, you'll find more exotic fare like blood sausage and roasted hocks in beer. Definitely an enriching (as well as filling) experience!

Paulie Gee's
60 Greenpoint Avenue between Franklin and West Streets
This isn't your ordinary pizza joint. Paulie Gee's boasts exposed brick walls, an open kitchen and quite a diverse menu, including vegan pies like Red, White and Greenpeace (baby arugula, olive oil and pickled red onions) and Vegan Grapeful Dead (baby spinach, olive oil and pickled grapes). There are creative options for meal lovers, too, toppings like bacon marmalade or sweet Italian fennel sausage. Warning: Paulie Gee's only sells whole pies, no slices, and doesn't accept reservations. If it's packed when you arrive, grab a pie to go and head to the recently renovated waterfront Transmitter Park, which is just a few blocks away.

Five Leaves
18 Bedford Avenue at Nassau Avenue
Foodies flock to this cozy shabby-chic eatery, which has a fairly varied menu. Five Leaves serves breakfast, lunch and dinner, and even has a dedicated in between menu of dishes like fries, burgers, salads, cheese and meat plates. Dinner is on the pricey and fancy side—we doubt your toddler (or tween!) wants the lemongrass braised rabbit for $22—so visit during the day for baked goods, sandwiches, organic omelets and egg dishes, and fruity stacks of ricotta pancakes. Space is limited so leave the stroller at home!

Enids
560 Manhattan Avenue at Driggs Avenue
Another relative newbie, Enids' menu may be less adventurous than Five Leaves', but that may actually be a boon for parents of picky eaters. Mac and cheese, burgers and pulled pork sandwiches are just some of the comfort food on offer at this family-run spot, which is spacious with a low-key vibe.
And for dessert...
Greenpoint may not yet be a foodie haven, but it's a sweet tooth's paradise.

Van Leeuwen Artisan Ice Cream
632 Manhattan Avenue near Nassau Avenue
We're longtime fans of Van Leeuwen's upscale ice-cream, which is usually sold from trucks but is also available at this brick-and-mortar shop. Adventurous kids go gaga for flavors like red currant, ginger and gianduja (like Nutella, only better). Our mouths water just writing about it!

Brooklyn Ice Cream Factory
97 Commercial Street near Manhattan Avenue
If your brood will only go traditional, the Greenpoint outpost of this legendary local chain serves vanilla, chocolate, strawberry, butter pecan and a handful of other old-school flavors. Note: This outpost is only open Wednesday through Sunday afternoons and just accepts cash!

Cookie Road Cafe & Bakery
94 Franklin Street near Oak Street
659 Manhattan Avenue between Norman and Nassau Avenues
The homemade, hand-decorated sugar cookies really are as yummy as they look, but there's much more to nosh on at these popular spots. The wide selection of baked goods includes brownies, bars, pastries, cakes and shortbread, and there's even a small breakfast and lunch menu, with seriously cheap $5 sandwiches.

Peter Pan Donut and Pastry Shop
727 Manhattan Avenue between Norman and Meserole Avenues
We love the doughnuts at this legendary bakery. Peter Pan uses 100% vegetable shortening for its fried creations, and you can really taste the difference. Plus the flavors are quite creative, like like honey-dipped, red velvet and sour cream. Lines are always out the door, which might be tough for antsy kids. So give 'em a job: Tell them to go up front and look at the menu to figure out which ones they want.

Slodycze Wedel - CLOSED
772 Manhattan Avenue near Meserole Avenue
Sample the marzipan, chocolate truffles, or chocolate-covered fruits and nuts at this ethnic sweet shop. Most of the candies are in Polish candy packing, so you may not be able to decipher what's inside, but the surprise is a big part of the fun. Note: Like many of the businesses in Greenpoint, this shop only accepts cash.

Find out about other kid-friendly restaurants in NYC or read all of our posts about Greenpoint.