Free Doughnuts Friday, June 6 and Our Favorite NYC Doughnut Shops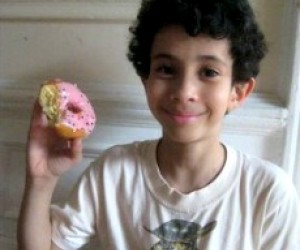 5/15/14
- By
Alina Adams
Ever since I learned that a doughnut has less fat and fewer calories than a muffin (as long as they stick to one), my kids have had an easier time convincing me to buy them these treats. And since Dunkin' Donuts, Krispy Kreme and a few other treat spots will be handing out FREE doughnuts this Friday, June 6 in honor of National Doughnut Day (no, I am not making that up), I'm sure we'll be indulging in a few.

But while the rest of America may run on Dunkin', in NYC we don't have to settle for mass-produced doughnuts. There are many local spots that serve delicious homemade doughnuts in a variety of exotic flavors. While we'll let the foodies argue about which NYC doughnut shops are truly the best, we've highlighted seven of our favorites. Read on for our picks and the scoop on how to snag your FREE doughnuts on Friday, June 6.
National Doughnut Day
No it's not just a marketing ploy! National Doughnut Day was first launched as a fundraiser by the Salvation Army in 1938 in honor of the female volunteers of World War I, who served doughnuts to soldiers behind the front lines. Now doughnut shops carry on the tradition by handing out FREE doughnuts on the first Friday in June. Here's where you can snag your FREE treat, along with the fine print.
All freebies are only while supplies last, so go early!

Our Favorite NYC Doughnut Shops
While you won't get freebies at these ma-and-pa establishments, you will get great doughnuts and the satisfaction of knowing you're supporting small local businesses!

Mike's Donuts & Coffee – Bay Ridge
6822 Fifth Avenue at 69th Street
Opened in 1976, this shop continues to draw crowds for its wide selection of doughnuts like Boston creme, apple and cherry, jelly pom-pom, sugar twist and chocolate French cruller. Not only are these treats made the old-fashioned way—fried in oil and served fresh— the prices are retro, too. Be sure to arrive early: Popular flavors sell out long before the end of the school day.

Peter Pan Donut and Pastry Shop – Greenpoint
727 Manhattan Avenue between Norman and Meserole Avenues
We love the melt-in-your-mouth doughnuts at this legendary bakery, and apparently we're in famous company. Peter Pan uses 100% vegetable shortening for its fried creations, with flavors like honey-dipped, red velvet and sour cream. Although the shop's official website doesn't have a menu, do some googling (there are tons of reviews) so you can figure out what you want before you arrive. The inevitable long lines make it difficult to see the options until it's your turn to order.

Dun-Well Doughnuts – Williamsburg
222 Montrose Avenue between Bushwick Avenue and Homboldt Street
Are you a vegan? Then this spot's for you. Opened by a pair of pals in 2011, the shop was inspired by a Simpsons' episode. (Brooklyn is clearly Homer's favorite borough.) Dun-Well's vegan treats come in more than 200 rotating flavors like blue rose, Cookie Monster, root beer, maple blueberry, raspberry pistachio and s'mores. And you can snag a freebie if you buy an espresso beverage.

Doughnut Plant – Lower East Side & Chelsea
379 Grand Street at Norfolk Street
220 West 23rd Street between Seventh and Eighth Avenues
We've raved about the Chelsea outpost of this famed doughnut shop in the past. The distinctive recipe was invented by the owner's grandfather almost a century ago in a family bakery. Of course today the doughnuts have a contemporary twist: lots of outrageous flavors including creme brule, banana creme, tres leche, and peanut butter and jelly. Both locations are perennially packed, so be prepared to stand and wait (seating is minimal). (A third outpost is slated to open in Brooklyn in fall 2014.) Also, bring cash to the LES location as credit cards aren't accepted.

Alpha Donuts – Sunnyside
45-16 Queens Boulevard between 45th and 46th Streets
Tucked under the 7 train, this 24-hour, old-school greasy spoon features decor that looks like it hasn't changed since the 1950s, with 15 seats at the counter that are usually filled by neighborhood regulars who know that 3pm is when the fresh doughnuts are made. Go for the jelly—Alpha is very generous with it. The glazed crullers are also legendary, but they're usually sold out by sunup.

Conti's Pastry Shoppe – the Bronx
786 Morris Park Avenue between Barnes and Wallace Avenues
Fried fresh daily, doughnuts are just one of the treats on offer. Drop by this Bronx sweet spot for pound cake, turnovers, muffins, croissants, danishes, cheese puffs and crumb buns. Snack on the bench outside or hit the cozy couch inside and enjoy the old-world charm of hand-stapled tin ceilings, wooden walls, terrazzo floors and the original marble soda fountain installed in the 1920s.

Moretti Bakery – Staten Island
640 Forest Avenue between Oakland and Bement Avenues
Here deep-fried doughnuts are individually inflated with Bavarian cream, butter cream or black raspberry. The menu also includes crullers, both the old-fashioned and French twist varieties.
This post was originally published in June 2012.