Great Ethnic Eats at Queens Crossing Mall: Ramen, Dumplings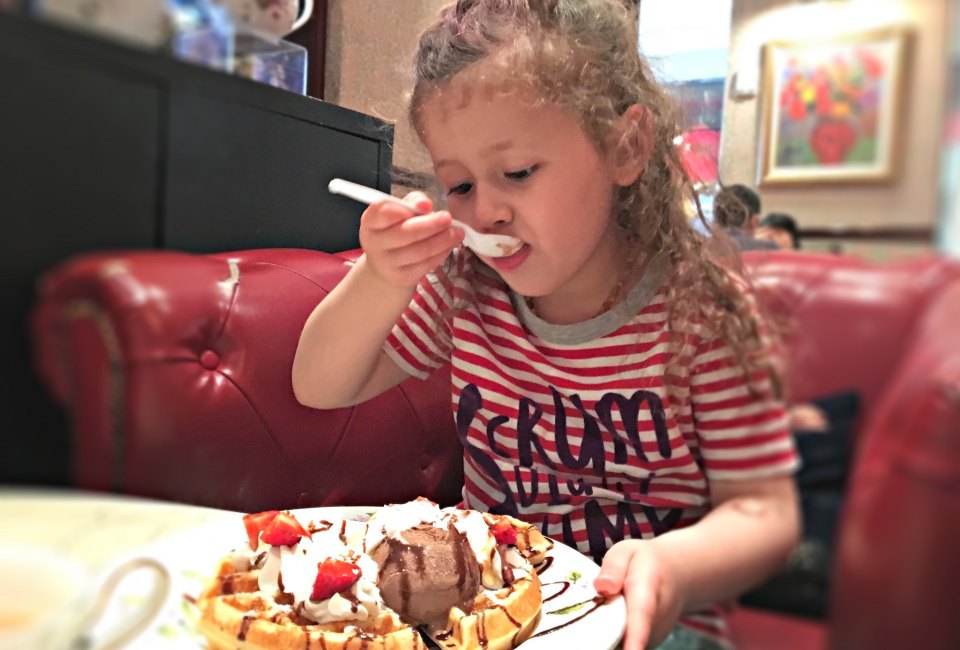 4/12/17
- By
Sydney Ng
Curry, dim sum, ramen, tofu, ice cream, bubble tea—sometimes you have to head to a place that satisfies everyone's appetite. My family and I always vote for a trip to the Queens Crossing Mall–a gem in the center of bustling Flushing that offers a diverse selection of Asian foods and pretty shops.
Queens Crossing is a little mall that packs a punch when it comes to Asian comfort food dining. There's a huge parking lot (fees apply) across the street and it's within walking distance of the 7 train's Flushing-Main Street station. Don't forget to hit up the ATM on the way because many of our picks are cash only.
Quick Bites
Ajisen Ramen
This chain ramen house has all the staples to satisfy that noodle craving. Spicy Miso is a family favorite.
Curry Bo
Japanese curry is not very popular in the U.S. but is one of my all-time favorite comfort foods. Sophisticated and mild with a slight amount of heat, Japanese curry (compared with Indian) is a great gateway food for kids into spices. Try the Tonkatsu—breaded and fried pork cutlet.
RELATED: Best Indoor Play Spaces in Queens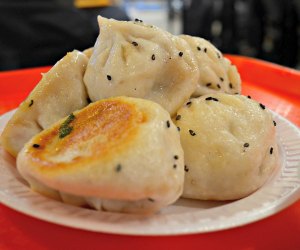 Try the always-in-demand Shanghai buns at Old Street Dimsum.
Old Street Dimsum
​Look out, because the sign for this restaurant stall is in Chinese only. Being the largest of the food stalls, it's hard to miss, with steaming trays of dumplings, buns and fried creations. The Shanghai Buns (aka Shanghai dumplings) are definitely worth trying.
RELATED: 30 Things to Do in Queens with Toddlers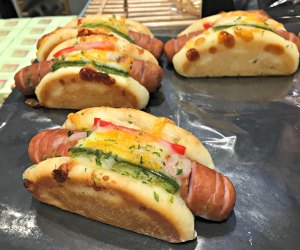 Tasty pastry wrapped hot dogs from Paris Baguette are a tempting treat.
Paris Baguette
Adjacent to the food court is Paris Baguette, an Asian-Meets-French bakery and coffee house. Where else can you find pastry-wrapped hot dogs, loaves of sweet and soft milk bread, and green tea sponge cake?
Young Street Poke
This cute and tasty spot is new to the food court and follows in line with the poke trend. Hawaiian poke bowls are made to order and offer some of the lightest options in the food court.
Other offerings include home-style dishes from the Korean Wonjo Tofu House and the soon-to-open Singaporean OK Lah.
Sit Down
Mulan Restaurant
Scheduled to reopen after renovations in May 2017, Mulan Restaurant offers modern Chinese dishes with contemporary decor. It's great for big groups and parties.
Rose House
High tea with an Asian twist: This colonial-inspired tea house has delicious (and nontraditional) selections from waffles with ice cream to decadent tiers of pastries and mini-pizzas.
Sweets
Happy Lemon
Salty cheese on my iced tea? Yes, it's the new Taiwanese trend and is rumored to be delicious.
Kung Fu Tea
I've always considered bubble teas and iced drinks more desserts and snacks than beverages. Kung Fu Tea offers fan favorites such as Taro milk tea.
10Below Ice Cream
New York's first in rolled ice cream, these creamy and icy concoctions come in fun flavors, including Ain't Got No Thai Fo' Dat–a house brewed Thai iced tea with sweet condensed milk. Yum.
Shopping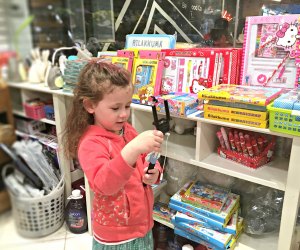 Banzai Living and Beauty is a popular destination for shoppers of all ages.
Although shopping is limited at Queens Crossing, we always find ourselves exploring Banzai Living and Beauty right off the food court. My son goes straight for the Pokémon balls; I make a beeline to the kitschy dishware and bento boxes. There are also a few luxury jewelry shops and furniture stores to stroll about after a heavy lunch.
And if you're in Flushing for a while, try out some of these favorite eateries for dinner.
Top photo: Treats at the Rose House. All photos by the author.
Places featured in this article:
Click Here to Sign Up!
i