The Tastiest Ice Cream Shops in Queens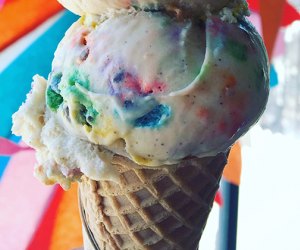 Craft ice cream is all the rage across NYC, including in Queens, where new independent ice cream shops have opened and old favorites test out new ingredients like pretzel cones and exotic flavors. In the diverse borough of Queens, you'll find Peruvian-inspired cones at Creme & Sugar, all the fixings at NYC-fave Ample Hills, vintage appeal at Eddie's Sweet Shop, and even the trendy Thai-style rolled ice cream at the brand-new Snow Story shop.
So check out some of these Queens hot spots—or, shall we say, cold spots—to satisfy your sweet teeth before summer winds down.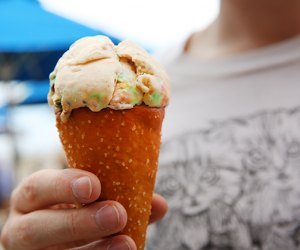 Enjoy handmade ice cream treats at Ample Hills at Riis Park. Photo by Shira Kronzon.
Ample Hills — Far Rockaway
Ample Hills has locations in Brooklyn, Manhattan, and even Disney World. You also can purchase its handmade ice cream at the Riis Park Beach Bazaar, right on the Queens boardwalk. Signature flavors include caramel, butter cake, and snap mallow pop. The ice cream is made from hormone-free milk, cream from grass-fed cows, and organic cane sugar. The newest flavor at Ample Hills Queens is Cherry Lime Rickey: cherry puree with fresh lime juice and a splash of vodka. Sorry, kids, that one's not for you. (Seasonal only)
Creme & Sugar — Ridgewood
The newly opened Creme & Sugar sells traditional ice cream flavors like cookie dough and milkshakes but also Peruvian faves such as Chirimoya (bubblegum), Lucuma (butterscotch), and Fresa (strawberry). This cute shop, which opened in early 2016, is also known for its Peruvian-inspired pastries and delicacies, such as alfajores (powdered cookies). Inside you'll find board games such as Connect Four and Jenga, and large M&M statues. The store also sells the newly trendy rainbow bagels, Peruvian coffee, and a series of rotating delicious desserts.
RELATED: 10 Queens Restaurants with Backyards for Kid-Friendly Dining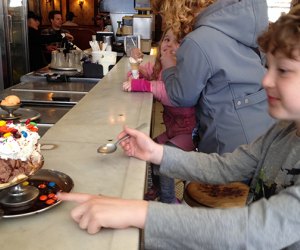 Eddie's Sweet Shop serves up over-the-top sundaes in an old-school ice cream parlor setting. Photo by barrrry joseph via Flickr.
Eddie's Sweet Shop — Forest Hills
This famous Queens parlor opened in 1909 and patrons continue to love the vintage, old-time feel. Its appearance has more or less remained the same since it opened, conjuring up images of soda shops of yesteryear. Patrons love the homemade ice cream, including flavors such as peach and blueberry. The whipped cream is homemade and toppings include marshmallow, walnuts, and M&Ms. It's also the go-to place in Forest Hills for milkshakes and sundaes. Guests can sit at the long counter or at a table in back. Eddie's sells classic and current candies, too.
Jahn's — Jackson Heights
Another old-timer (opened in 1959), Jahn's was once a thriving NYC chain, but lucky for Queens, the sole remaining shop lives on in our borough. The beloved neighborhood staple offers more than 25 flavors and is known for its yummy and huge sundaes. All ice cream is made on site and toppings include hot fudge, pineapple, and marshmallow. There's also a full diner menu. Want to be adventurous? Come in with a group of eight or more and order the "Kitchen Sink."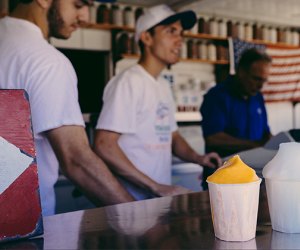 Try one of the dozens of Italian ice flavors at the Lemon Ice King of Corona for a lighter treat. Photo by David F. Panno via Flickr.
Lemon Ice King of Corona — Corona
Family-owned and operated since 1944, "The King" offers 52 flavors of Italian ices made with pieces of fresh fruit, including sugar-free options. There are traditional faves as well, including pistachio, fruit cocktail and watermelon. Newer ice flavors include spumoni, blue raspberry and sour apple.There is no seating area and mixing of flavors is not allowed, but many patrons bring their ice treats to nearby Flushing Meadows Corona Park and savor the flavor.
Maggie Moo's — Bayside
Maggie Moo's thick, homemade, creamy ice cream comes with optional mix-ins including Heath Bar, Pop, Rocks and Butterfinger. Unique flavors include eggnog, tiramisu, and Key lime. Waffle cones are available. It also sells ice cream cakes that can be pre-ordered online, cupcakes, sundaes, smoothies, and ice cream pies.
RELATED: 8 Cool Water Playgrounds in Queens Where Kids Splash for Free

Kosher ice cream at Max & Mina's comes in traditional and funky flavors like Cookie Monster. Photo courtesy of Bistate Foods.
Max & Mina's — Flushing
Founded in 1997 by brothers who named the Kosher shop after their ice-cream-loving grandparents, this parlor—decorated wall to ceiling with old-fashioned candy and cereal boxes, as well as sports memorabilia—has an impressive 6,000 ice cream flavors that rotate frequently. New ones include Sponge Bob, Cookie Monster, rainbow, circus, Chips Ahoy, Cap'n Crunch, and Froot Loops. The store carries ices as well, in traditional flavors. There are no toppings except for sprinkles occasionally because such yummy add-ons are already included in the eclectic flavors. You can also find Max & Mina's ice cream at Dylan's Candy Bar locations. Indoor seating is available.
Pesso's — Bayside
When the Pesso family took over this business in 2004, it renovated the inside but kept it as an ices and ice cream shop. So same location, new vibe. A hotspot for local kids, Pesso's sells homemade creamy Italian ices, ice cream, and gelato (with ingredients imported from Italy) in more than 100 flavors, including ice flavors Malibu breeze, sour blue and pomegranate. No-fat and low-fat yogurt are also available, along with "punch cards" for frequent guests: After 10 purchases enjoy a free treat.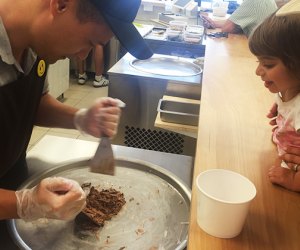 Mixing Thai-style ice cream at the new Snow Story in Forest Hills. Photo by the author.
Snow Story — Forest Hills
At this new shop, your Thai-style ice cream comes in flat, thin rolls as opposed to scoops. Select your flavor, from traditional to funky, including Bettigan's Unicorn, which contains Froot Loops, and watch the staff spread your treat on a cold tray. Add-ons, if you want them, are then mashed into the ice cream, which is hand-pressed flat and neatly rolled with a spatula before being placed in a cup. You can add extra toppings such as Kit-Kat or animal crackers if you wish to top off your treat. Kids will love watching the making of their creation, and the eating of it, of course!
Sweet Janes — Astoria
This shop offers dairy-free and traditional ice creams and other frozen novelties. Owner Jane McGinn makes most of the ice cream and all of the dairy-free and Italian ices in-house, using fresh ingredients like coconut milk; much of it is locally sourced and non-GMO whenever possible. Popular flavors to beat the heat include orange blossom (apricot flavored dairy-free ice cream), blueberry lavender (coconut based, dairy-free ice cream), and salted caramel pretzel (vanilla, chocolate covered pretzels and caramel swirl). New sorbet flavors include melon and berry.
Tornado Crepes — Ridgewood
To some New Yorkers, crepes are wrapped and enjoyed. Tornado Crepes does have a food menu with teriyaki shrimp and more. However, you can also order a homemade ice cream crepe rolled into a funnel cone. Here, your Japanese-style crepe is made by hand, and ice cream flavors include green tea, red bean, ginger chai latte and fortune cookie. Another popular option is the Mojollia, which is fresh strawberry, banana, raspberry, Nutella, and a cookie-flavored ice cream. You can customize your scrumptious crepe as well, and finish the meal off with a bubble tea.
Top image: Ample Hills ice cream. Photo courtesy of the shop.
This article was first published in 2013 but has since been revised.