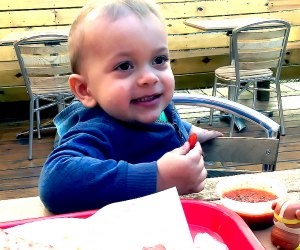 10 Queens Restaurants with Backyards for Kid Friendly Outdoor Dining
Nothing beats outdoor dining in warmer months, especially with kids in tow, and in family-friendly Queens, there are plenty of spots where you can enjoy alfresco eats. We don't mean a sidewalk table or two—we're talking an actual yard with ample seating and room for families to enjoy a meal. Outdoor dining often provides a more relaxed atmosphere, where kids can be entertained by simple pleasures like a passing butterfly or flowers on a nearby plant, and city noises offer cover for little ones who may forget to use their indoor voices.

We've highlighted several NYC eateries with outdoor seating options in the past (including a whole slew of outdoor eating options in Brooklyn), as well as exceptional spots where kids and families can eat and play. Read on to take a closer look at restaurants in Queens with backyards for dining.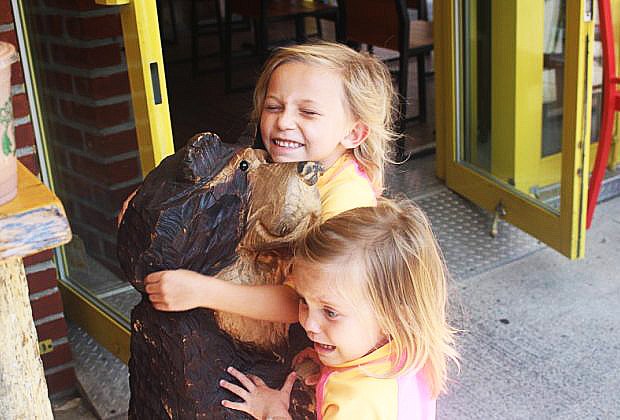 Hugging the bear at Bareburger. Photo by Kelly O
Bareburger — Astoria
33-21 31st Avenue
This local chain offers plenty of organic options, including vegetarian dishes, salads, and the star: a dizzying number of burgers and toppings. There's also a kids' meal that comes with a main dish, a juice or milk, and a side of fries and apple sticks. Many moms go here after classes with their kids to meet up for a yummy lunch. This location is spacious and has a lush backyard seating area. My girls love the wooden statue of a bear in the front of the restaurant, and all the other bear decor.
Slice Astoria – Astoria
37-08 30th Avenue
With kids, you can never go wrong with pizza, and even in a city full of great pizza options, Slice Astoria is a winner. For pizza-wary parents, there are lots of great alternatives on the menu; the eggplant parm hero and polenta fries are particular highlights. It took me a few visits before I realized that hidden out back is a giant, beautiful patio, which immediately moved Slice to the top of my family's pizza night out list. The wooden patio is lined with bench seating and tables, leaving the middle area open for kids to run a little wild while you finish your craft beer or San Pellegrino.
The Strand Smokehouse — Astoria
25-27 Broadway between Crescent and 29th Streets
The Strand is one of our longtime favorites. Inside, you'll find a huge communal wooden table and bench seating. Outdoor options include a seating area in the front of the restaurant, as well as a backyard. I still have not made it to the brunch with live music, but it is on my list! Brunch is the only time there is table service. Otherwise, check out the blackboard for menu options. My girls have always loved the pulled pork, chicken, and the various sides that rotate.
RELATED: 12 NYC Restaurants with Kid-Friendly Backyards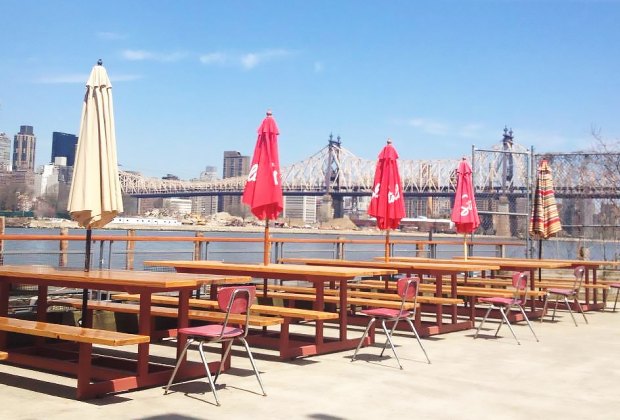 There are plenty of tables to accommodate families (without waiting) at Anable Basin.
Anable Basin Sailing Bar & Grill — Long Island City
4-40 44th Drive
My family just discovered this spot tucked away in an industrial area of Long Island City right across the way from The Water's Edge. My girls loved watching the wildlife on the water—ducklings, a mama duck, and geese—and we all enjoyed the colorful sunset. Anable is only open during summer months as its entire seating area is outdoors. There are picnic tables right next to the water with a stunning view of the Manhattan skyline. This eatery is also dog-friendly—quite entertaining for little ones. Overall, expect a relaxed ambiance, a lovely view, and good food. Kid-friendly staples include sausages, hamburgers, hot dogs, and corn on the cob.

Lovely outdoor seating at John Brown Smokehouse is great for kids.
John Brown Smokehouse — Long Island City
10-43 44th Drive
This BBQ spot has a cute backyard with picnic tables and umbrellas, and graffiti murals adorn the walls. The great selection of meats can be ordered in a sandwich or in different amounts according to how hungry you or your kids are. The cornbread (more of a pudding), hand-cut fries, baked beans, and mac and cheese are good side options for kids.
Quaint — Sunnyside
46-10 Skillman Avenue
Families frequent this spot for its yummy brunch and Monday night mussels special—a flat fee per person gets all-you-can-eat from 5-7pm. Quaint easily accommodates kids with high chairs and a warm and friendly staff. Kid-friendly fare includes mac and cheese, burgers, steak, and fries. The backyard area is small, so plan on an early dinner to beat the crowd and snag a table.
Juanita's Café – East Elmhurst
84-15 Northern Blvd
Sitting on the back patio at Juanita's, under the shade of tall leafy trees, you'll swear you're far, far away from the hustle of the city. This East Elmhurst/Jackson Heights favorite serves delicious traditional Peruvian sandwiches like the lomo saltado and chicharon, in a festive, casual atmosphere. Juanita's is all about family; take one look at their Facebook page and you'll see picture after picture of happy family gatherings. Even your least adventurous eater will find something to love here; after all, Peruvian staple salchipapa is sliced hotdogs and French fries.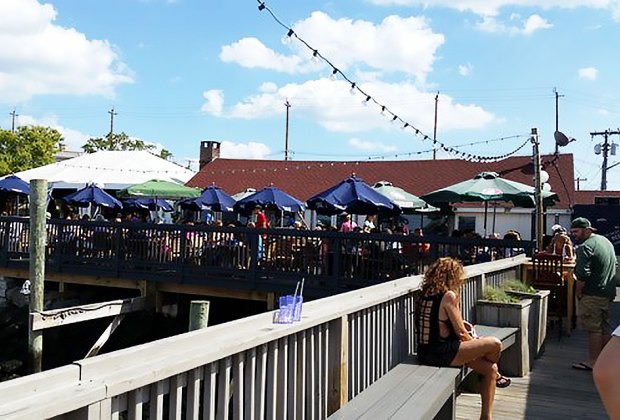 Great views and a huge deck make Bungalow Bar a great family restaurant.
Bungalow Bar – Rockaway Beach
377 Beach 92nd Street
Every Queens family should hit Rockaway Beach at least once a summer, and no Rockaway trip would be complete without a stop at a surf-themed bar. Bungalow Bar, right on Jamaica Bay just over the bridge from Broad Channel, offers classic beach fare with phenomenal views. With its big deck overlooking the water (with a new retractable roof to provide some shade), various seafood offerings, fun cocktails, and live music, Bungalow is the quintessential beach bar. The deck can get crowded but service is attentive even when the bar is packed.
Veranda — Bayside
208-01 Northern Boulevard
True to its name, this eatery features a beautiful veranda with major West coast vibes. The Mediterranean-American restaurant is kid-friendly, has stroller parking and high chairs, and the staff will whip up all the typical mini-meals for kids on request.
Bohemian Beer Hall and Garden — Astoria
29-19 24th Avenue
While this one isn't your traditional restaurant, we'd be remiss if we didn't mention this beloved beer garden, one of the largest in the city, and the perfect place for families to kick back (kids are welcome before 9pm). Grownups can enjoy a cold beer while the whole family tucks into a selection of Czech favorites from the traditional-leaning menu. There is seating inside and outside, and plenty of it! Trees and umbrellas provide shade in the warmer months.

Check out our other family-friendly Queens dining picks, or for more dining options throughout NYC, be sure to read through the Mommy Poppins Restaurant Guide.
Photos courtesy of the restaurants, unless noted.
A version of this story was published in 2015; it has since been updated. Katie Nave Freeman contributed additional reporting.