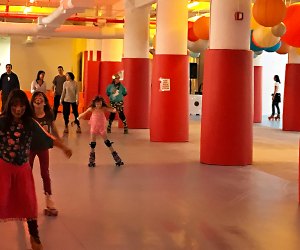 New Roller Rink at Industry City Hosts Family Skate Weekends
NYC has a brand-new indoor roller skating rink, just in time to skate out those rainy winter afternoon crazies. Lola Starr, longtime host of roller skate parties for grownups at the LeFrak Center in Prospect Park, debuted a 15,000 square-foot indoor roller skating space on December 8 in Industry City, Brooklyn, which will host family skating parties every Saturday and Sunday all winter long. We recently visited for a satisfying afternoon skate, and had a chance to talk with Starr about upcoming plans for NYC's newest roller rink. For a peek inside the colorful new space, read on.
As an under-the-radar family fun destination, Industry City in Brooklyn was already pretty hard to top, with its weekly family dance parties, retro game room (where the Brooklyn-themed mini golf course has moved), giant "hygge" tents filled with cozy lanterns, Japanese food hall, plenty of open space to run around, and an actual chocolate factory. With the addition of the new roller skating rink, IC might be the ultimate destination for stir-crazy local families in search of indoor fun.
RELATED: Where to Roller Skate with Kids in NYC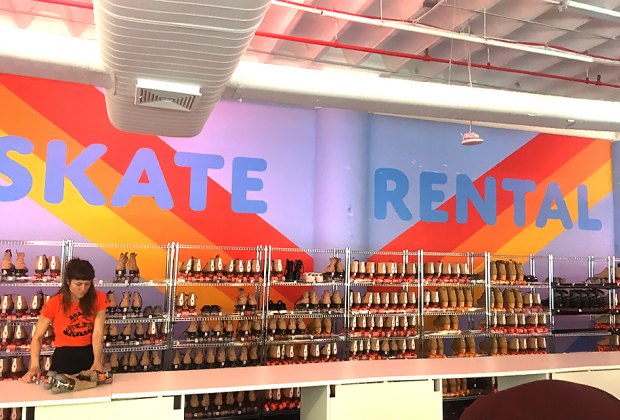 The cheery space sets the mood for a rollin' good time.
The roller rink is located on the Second Avenue side of Building 1 at Industry City. The window-lined space has a cheery, disco-meets-industrial vibe, from the retro atomic-pattern carpeting to the orange and pink stripes along the walls. Brightly-colored paper lanterns and a genuine-article disco ball decorate the ceiling, and bright red padding protects skaters from the space's giant concrete pillars.
Trained skate marshals in full roller derby regalia cruise the floor keeping skaters safe—there are some tight turns where novice skaters may need a little extra help. Meanwhile, a DJ plays boogie-down favorites from Michael Jackson to Ariana Grande (seriously, the music is great).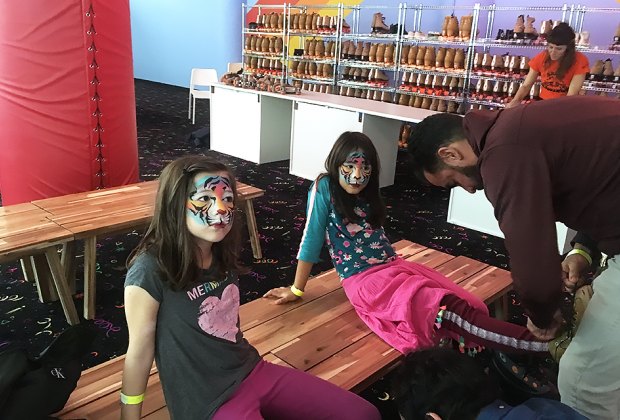 To make the day even better visitors might get a lucky pair of skates with light-up wheels.

When we visited on the roller rink's second weekend, the skates still had that elusive "new skate" smell, and Lola Starr herself was working the door (we recognized her by her awesome glasses). Starr says that the roller rink will host family costume contests and special events over the next months, including special appearances by....well, there's no other way to put this: a giant roller skating pizza slice. If that alone isn't worth the trip to Sunset Park, some of the kids' rental skates even feature light-up wheels.
A small selection of drinks and snacks is available from the snack bar located at the rental counter, or at the grown-ups' bar, which offers beer, wine, and cocktails for those brave enough (or coordinated enough) to drink and glide. But when all the skating works up your appetitie, your best best is to head to the giant food hall in Building 2 for burgers, ice cream, tacos, or pizza, or the brand-new Japan Village in Building 3 for noodles, sushi, and delicious sweets.
RELATED: Vintage Arcades for Retro Family Fun in NYC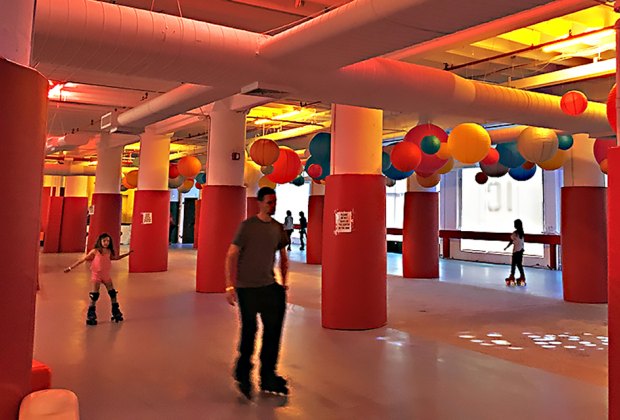 Helpful staff, big windows and colorful space make this roller rink a destination spot for a family-friendly activity.
Admission includes skate rental as well as coat and bag check. Family skate hours are Saturdays from 1pm-4pm for kids age 7 and up, and there's also a dress-up disco skating party every Sunday from 1pm-4pm, at which kids age 7 and up are welcome. Tickets can be bought on-site for $18 per person or in advance online for $15 per person.
Photos by the author