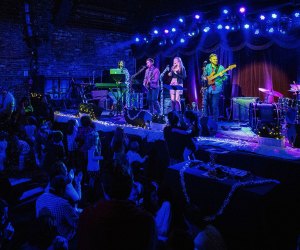 Best Dance Parties for Kids in NYC
Who doesn't love a good family dance party for shaking off the rainy day blahs? While you could always ask Alexa to crank up the tunes in your living room, it's even more fun to hit the dance floor with kids at a venue that caters to tail-shakers of all ages. You will be dancing the day or night away with a great family fun vibe. Who can resist that?
Read on for a list of venues in Manhattan and Brooklyn where families can get their groove on.
CirKiz – Midtown West
637 W. 50th Street
Ages 7-13, $25 per person
This cutting-edge monthly electronic dance music party caters to kids as young as 7, in a venue that feels like an exclusive nightclub. Families can come together and dance and listen to DJs or live performances. Best of all, events happen during daytime hours, so no need to panic about missing bedtime.
RELATED: Bowling, Pinball, Rock Climbing, and More: Best Places for Family Play in NYC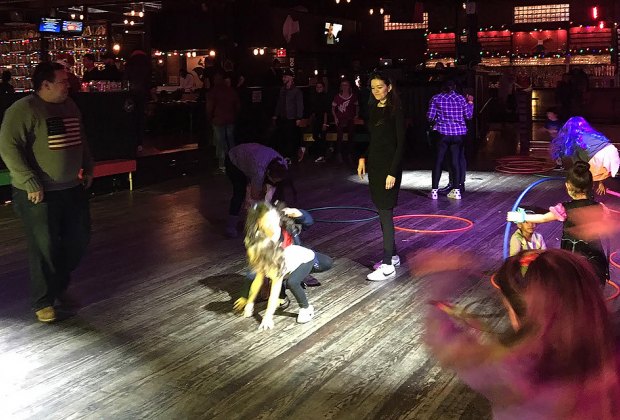 Kids can get their groove on at the weekly dance party Rock & Roll Playhouse. Photo by Siobhan Adcock
Rock & Roll Playhouse – Williamsburg and Sunset Park, Brooklyn
Brooklyn Bowl, 61 Wythe Avenue, Brooklyn
Industry City, 274 36th Street, Brooklyn
All ages, $12 per person
Brooklyn's weekly dancefest brings an old-school dance party vibe for the younger set. Music from Aretha Franklin, Springsteen, Michael Jackson, and so many other classics are sure to bring your family to the dance floor. Event organizers keep the joint jumping by passing out hula hoops and other dance props. During warm weather months, the dance party expands to Industry City for monthly get-downs in the courtyard. Questlove occasionally joins the fun with a special guest DJ set for kids, so be sure to check their schedule.
Kids' Night Out — Midtown West
Broadway Dance Center, 37 West 65th Street
Ages 3-11, $40 per child
After dance classes are over, this venue hosts fun dance parties for kids the third Friday of every month from 6-8:30pm. These Kids' Night Out events let kids showcase their moves, join in on some fun arts and crafts projects, and sample some tasty snacks. Please note, this is a drop off party and there are plenty of staff on hand to make you feel comfortable while you step out for a few.
Jalopy Jr. — Columbia Waterfront District, Brooklyn
Jalopy Theatre and School of Music, 315 Columbia Street, Brooklyn
All ages, $25 per family, $10 per adult, $5 per child ages 3-9
Jalopy is one of those irresistibly only-in-NYC combinations: it's a tavern, restaurant, music school, instrument store, and event space, with a long-running weekly Sunday morning concert series for little kids that invariably turns into a hoppin' dance party. Performers have included local favorites Suzi Shelton and Rollie Polie Guacamole. Get your groove on and then get your brunch on—the tavern serves a kids' menu as well as tasty beignets for sharing.
RELATED: 10 Rocking Roller Skate Rinks in NYC and Beyond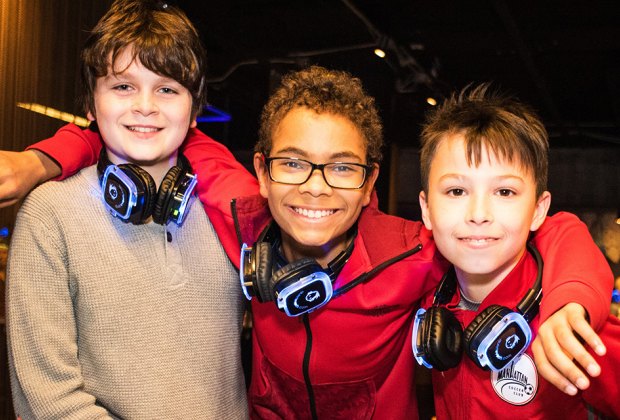 Quiet Events dance parties include headphones, live DJs, and glow sticks galore. Photo courtesy of Quiet Events
Quiet Events — Various Locations
All ages, $10-$24 per person
Who doesn't love the novelty of a silent disco party? These headphones-only events are taking over the city, and their website features kid-friendly and just-for-teens events year round. These events are perfect for families because they offer multiple channels of family-friendly music with three live DJs, but are usually held at venues that offer other fun things to do as well. This November you can head to Spin NYC to dance and play ping pong, and in December the fun heads over to the Brooklyn Museum's Winterfest.
PJ Parties — Citywide
NY Kids Club locations citywide
Ages 2.5-8, included with club membership
You've probably been to a birthday party at a NY Kids Club location, or hit one of their indoor play spaces on a rainy day. But you might not know about the PJ Parties hosted at locations citywide every weekend, most of which start out with crafts and activities related to a kid-friendly theme—the circus, Moana, sports—and culminate in a full-blown dance party. PJ Parties are free with club membership, which at most locations costs $145 per month and also includes classes and open play sessions.
Family Dance Brooklyn — Bedford-Stuyvesant, Brooklyn
C'mon, Everybody, 325 Franklin Avenue, Brooklyn
All ages, $20 per family
Family Dance Brooklyn is a real-deal NYC dance party experience just for families. Their schedule is a bit unpredictable, and the location has bopped around over the past year, but the event organizers recently kicked off their sixth season at friendly neighborhood event space and lounge C'mon Everybody, where the vibe is inclusive, silly, and festive.