The Adventures of Tortoise & Hare The Next Generation
The Sheen Center

The Very Hungry Caterpillar Show
DR2 Theatre

NYC Easter Brunch Cruise 2023
Event Cruises NYC
Sign up for our free newsletters.
Where to Find Teen-Friendly Dance Parties in NYC
6/4/18
- By
Angela Johnson
Music-loving teens in New York City are in luck. All the big musicians come through the city, and there are plenty of quirky, off-the-radar music venues, too.
Yet, not everything is open to the under-18 crowd. Many shows, especially if held at a bar, and a number of clubs, ban those under the legal drinking age of 21. Luckily, there are a handful of places that open up their doors to teens for dancing, concerts, and club nights, so NYC teenagers don't have to miss a beat.
Read on for a list of clubs where they won't have to worry about getting carded—and you won't have to worry about them sneaking into someplace they shouldn't be.
7eventytwo — Tribeca
The Church Street School of Music and Art created 7eventytwo as a safe space for teens to connect. In addition to monthly live music performances, the space hosts art exhibitions and movie screenings for teens ages 14 to 18. It attracts a diverse crowd. But in case you were thinking about joining your teen for one of the events, forget it. No one over 18 is allowed inside.
Bowery Ballroom — Lower East Side
Since 1997, this historic Lower East Side music venue has hosted live shows for music lovers. No matter what your teen's musical tastes are, they're sure to find something there that makes them want to dance. While many of the shows are limited to 18+, or 21+, there are shows available for ages 16 and up. Be sure to check the website, before grabbing tickets. It also helps to buy your tickets online in advance to avoid having to pay cash at the door. The venue maintains a policy that everyone must show a government-issued photo ID to enter.
Terminal 5 — Midtown West
From the owners of Mercury Lounge and Bowery Ballroom comes this multilevel live music venue located in Hell's Kitchen. Terminal 5 serves up all-ages shows most weekends and has just about all genres covered. The 40,000 square-foot space has three levels, so all concertgoers have a good view of the performers on stage. Keep in mind, some shows are ages 18+, so be sure to check before you go.
Nuyorican Poets Cafe — Lower East Side
The Nuyorican Poets Cafe was founded in 1973 as a place for poets and musicians of color to showcase their talents. Today, the cafe attracts artists and audiences as diverse as the city itself. Teens can dance at the monthly all-ages concerts, and come back for the regular poetry slams and open mic nights.
RELATED: 16 NYC Activities Cool Enough for Your Teen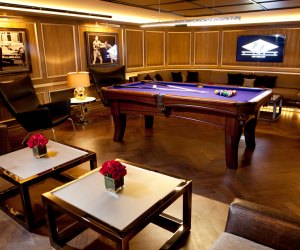 Special birthday coming up? Splurge on the teen package at the Elit Lounge in the 40/40 Club. Photo courtesy of the venue
40/40 Club — Chelsea
For a teen, there's nothing cooler than hanging out at Jay-Z's club. The 40/40 Club allows teenagers to enjoy their Corzo and Elit Lounges for private birthday parties and other events. Teens can dance the night away to the hottest hip-hop and R&B tracks in a private suite equipped with a pool table, flat-screen television, virgin open bar, and waitstaff...if you're willing to fork over the money to rent it for them! When they get hungry, they can enjoy snacks, cupcakes, and non-alcoholic beverages. At the end of the night, everyone goes home with a gift bag that includes a 40/40 Club t-shirt and a baseball cap.
Brooklyn Dance and Music Clubs
BAMcafé Live — Fort Greene, Brooklyn
While it's technically not a club, the BAMcafé is a great place for music. BAMcafé Live is a series of FREE live music performances and even dance nights in the Brooklyn Academy of Music's Peter Jay Sharp Building. All genres are represented, including rock, jazz, R&B, and world music. And in case all of the dancing makes your teen hungry, light snacks and non-alcoholic beverages are available for purchase in the cafe.
Music Hall of Williamsburg — Williamsburg, Brooklyn
If you ever rocked out at the Williamsburg music venue, Northsix, the Music Hall of Williamsburg will be familiar. The multilevel live music hall took over the space that the popular rock club once occupied. For teens who love indie rock, the Music Hall of Williamsburg is the place to be. Many of the shows are 16+, but as always, it's best to check the website before making plans.