LIC Welcomes Playday, an Art Center for Kid Creators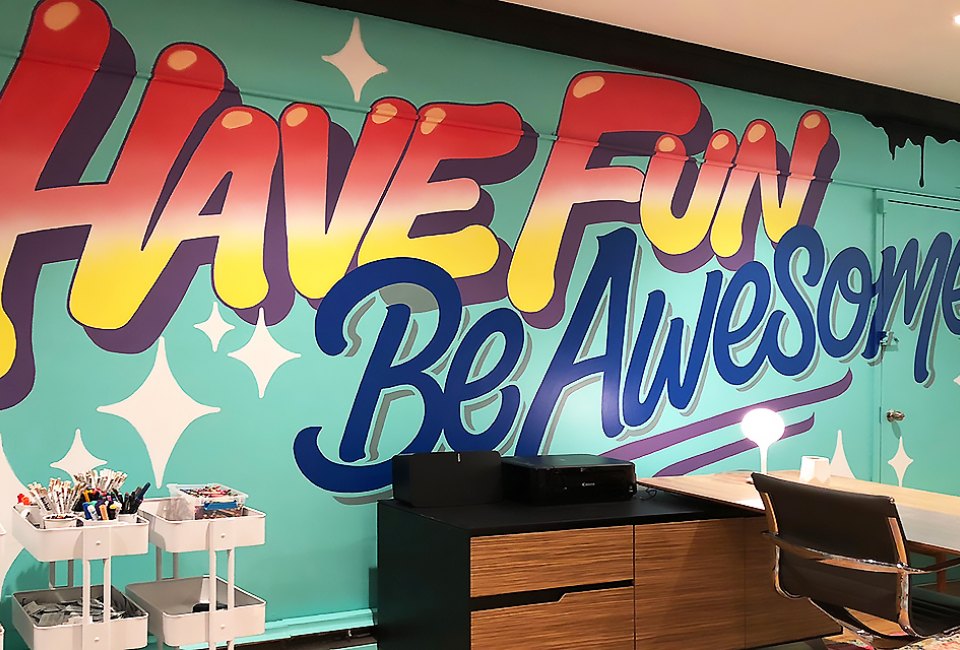 1/11/18
- By
Sydney Ng
Once just a neighborhood of sprawling factories and warehouses, Long Island City, Queens, has transformed into a hot spot for young professionals and families. New things seem to open every day. We love the outdoor thrills at Gantry Plaza State Park and the rest of the waterfront to indoor romps at the Noguchi Museum and play spaces like City Owlets.
But now there's a brand-new, distinctly unique creative environment in LIC: Playday. Is it an education center? Is it an art school? Is it a kids' crafting club? It's all those things and more.
Architect and father of two Gregory Okshteyn founded Playday to fill what he saw as the missing link in the otherwise satisfying local public-school curriculum: art.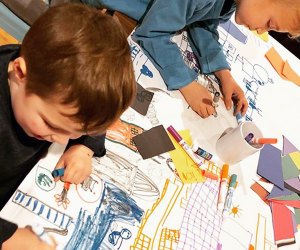 Playday brings community and creativity to all its classes. Photo courtesy of Playday
So he did what any New Yorker would do. He did it himself. Four months later, on January 2, 2018, Gregory opened the doors to Playday.
As a parent-operated establishment, Playday's main rule of thumb is to make life easier for parents. There are no semesters, no memberships—it's pay-as-you-go, drop-in play that you can reserve online or in-person when you arrive. As long as there is space, your kids can hop in. There are also trial packages and other options to save a few bucks.
RELATED: Long Island City with Kids: 45 Things to Do for NYC Families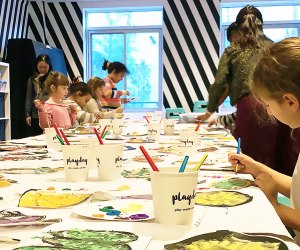 Playday offers a variety of classes on a drop-in schedule. Photo courtesy of Playday
Less concerned with teaching traditional fine arts, Playday's mission is to explore multicultural creative activities that inspire kids to problem solve in the future. Classes are taught by a set of passionate educators, who individually develop curriculum, which is constantly evolving.
Examples of current classes:
Mommy & Me – (babies & tots) painting, crafting, yoga, and storytelling with your little one
Little Architects – (all ages) construct models of dream homes or dream farms or other dream creations
Keith Haring – (4+) learn about the late pop and graffiti artist who helped change our perception of street art
Chess Strategy – (6+) introduces children to the board, pieces, and strategy, setting you up for long-term love of the game
Manga Drawing – (8+) learn the techniques and styles of this iconic Japanese illustration art form
Other surprises will be "5 Minute Bragging Sessions" where children can interact with working artists via video calls. When summer rolls round, the backyard will turn into an outdoor adventure with bubble art, graffiti classes, and splatter paint.
Playday also does birthday parties. A two-hour block gets you exclusive use of the space: 60 minutes of creative activities, 30 minutes of open play and 30 minutes of pizza and cake. Check out the website for suggested themes and prices.
RELATED: Shastye Play Space and Art Center Opens for Kids in Astoria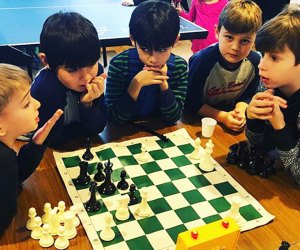 Kids come together to learn chess strategy. Photo courtesy of Playday
Good to Know Before You Go
Classes are $35 per single drop-in, but there are also bulk packages and new student deals.
Siblings are half price.
Drop-off and enjoy a coffee and cookie next door at 51st Bakery and Café.
There are always two instructors and one staff member present.
Snacks are allowed during open play.
Stroller parking available.
Curb side drop-off/pickup.
Just one block away from Vernon Blvd and an abundance of kid-friendly lunch options.
Closest subway is the 7 train to Vernon Blvd. Jackson Avenue stop. There is also metered street parking available.
Playday is open seven days a week, including many school holidays. It is located at 5-37 51st Avenue, Long Island City.
If you're looking to explore the rest of Queens, check out our local guide for trips, tips, and other events.
Playday's "Have Fun Be Awesome Wall" was personally drawn and painted by graphic and graffiti artist Queen Andrea. Photo courtesy of Playday
Places featured in this article:
Click Here to Sign Up!
i