Harry Potter: A History of Magic Opens at New-York Historical Society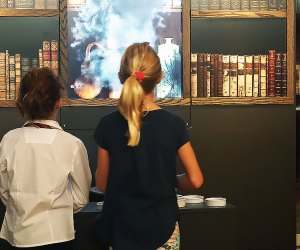 Harry Potter fans, grab your brooms: The long-awaited Harry Potter: A History of Magic exhibition is now open at the New-York Historical Society, with plenty of magical lore, historical artifacts, original manuscripts and drawings, and family-friendly programming to rekindle your love affair with the blockbuster books in whole new way.
On view now, the exhibition runs through Sunday, January 27, 2019, and timed admission tickets are selling out faster than a Fizzing Whizbee. Read on for a peek inside the much-anticipated exhibit.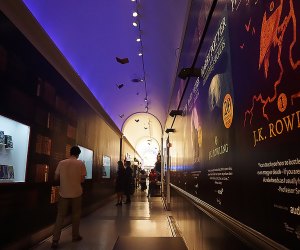 From the entrance, you're transported to the halls of Hogwarts.
The facade of a castle greets you upon entry to the exhibit, with the Jim Kay phoenix painting (familiar to all subway-riding New Yorkers thanks to the exhibit's ubiquitous marketing campaign), luring you inside. The castle halls are dim and dark, and it's easy to feel as if you've been transported to Hogwarts. First, you'll meet familiar faces from the award-winning books as you're greeted by the stern-faced portraits of Professors Dumbledore and McGonagall, before stepping into the eerie hallway leading to Professor Snape's potions class.
RELATED: How to Get Tickets to NYC's New Harry Potter Exhibit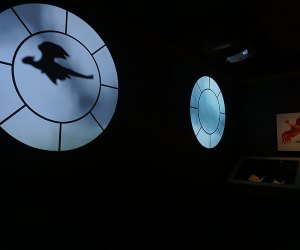 At the end of their second year at Hogwarts, students may choose to study Care of Magical Creatures.
Throughout, the exhibition is designed to feel like an fast-tracked education at the famed fictional wizarding world institution, with galleries dedicated to each of its principal courses of study, from potions and alchemy to herbology, divination, charms, astronomy, defense against the dark arts, and, of course, the care of magical creatures.
While you'll see plenty of tokens from the books, many on loan from author J.K. Rowling herself, true to the mission of the New-York Historical Society the focus of the exhibit really is on the history of magic, and how it's brought to life in Rowling's books.
RELATED: Family-Friendly Restaurants Near the AMNH and New-York Historical Society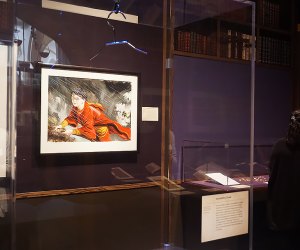 Here hangs the invisibility cloak.
While young Potter fans might get a kick out of seeing (or not seeing) the invisibility cloak hanging in a crystal-clear case in one gallery, they might be less enchanted by the gravestone of Nicholas Flamel, a real-life medieval Parisian alchemist and reported colleague of Professor Dumbledore, or seeing Leonardo Da Vinci's astronomy sketches circa 1506.
There are interactive, kid-friendly elements here and there, like the cauldrons of (virtual) bubbling potions where you can pull up instructions to make your own brew, a table that tells your fortune, and a crystal ball that's mesmerizing to stare into as it conjures up smoke-filled images. The exhibition manages to walk a fine line between entertainment and education, but I'd still say its best for tweens and older.
Items unique to this exhibition include Rowling's hand-written first drafts of The Philosopher's Stone, as the first book was initially titled, and Deathly Hallows, plus her own sketches of some of the characters and the Hogwarts grounds. A magnificent time line of the story illustrates Rowling's long-term planning of the series, years before it ever became the blockbuster fans have adored for two decades.

Browse the collection of international Harry Potter art to see how he has been depicted by cover artists around the world.
A display of artwork shows Harry in all his various forms as depicted by the artists who have brought him to life for Scholastic, Rowling's stateside publisher, over the years. You'll see the original edition artwork by Mary GrandPre; 15th anniversary edition artwork by Kazu Kibuishi; and the brand new, 20th anniversary artwork from NY-based artist Brian Selznick. These pieces are all on display just inside the main entrance to the museum and do not require a special timed ticket for entry, so younger Potter fans may get enough of a taste of the exhibition here and in the rotunda, where costumes from the Broadway production of Harry Potter and the Cursed Child are displayed.

Quidditch brooms float above visitors.
What the exhibition lacks in hands-on experiences for younger kids, it more than makes up for in its supplemental events programming. On the calendar are a ton of History of Magic Family Days, plus family book clubs, family trivia nights, and even a Historical Halloween Family Party—see below for a sampling of dates and events. Grown ups won't be left out, either: Plenty of adults-only programs are planned, too. But, much like tickets for the exhibition, events are selling out fast, so book your tickets today.
Harry Potter: A History of Magic is on view through Sunday, January 27. Timed-entry tickets are required; so plan in advance. Tickets are $21 for adults; $13 for students; $6 for ages 5-13 and FREE for children ages 4 and under. Tickets include same-day admission to the rest of the museum.

Upcoming Events
Harry Potter Trivia for Families
Sunday, October 14
Historical Hallowe'en
Sunday, October 28
History of Magic Family Day
Sunday, November 18
History of Magic Family Day
Sunday, December 9
All photos by the author