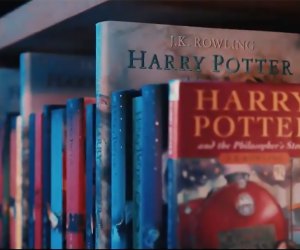 How to Get Tickets to NYC's New Harry Potter Exhibit
It's a busy year for Harry Potter fans. Harry Potter and the Cursed Child is already setting ticket records on Broadway (if you can't get a ticket, see our other theater recommendations). Another of the Potter-prequel flicks hits theaters this fall, Fantastic Beasts 2: The Crimes of Grindelwald, and New York City is getting a brand-new museum exhibit dedicated to all things Harry Potter and his magical world of wizards and magic.
As every wizard knows, this year marks the 20th anniversary of the U.S. publication of Harry Potter and the Sorcerer's Stone. To celebrate, the New-York Historical Society (NYHS) brings the British Library's exhibit Harry Potter: A History of Magic to the Upper West Side in October. Tickets go on sale to the general public on Thursday, April 26, and it might be a good idea to buy them sooner rather than later as the museum expects the same Potter-happy crowds experienced last year at the British Library.
Find out what exactly is included in the upcoming exhibition.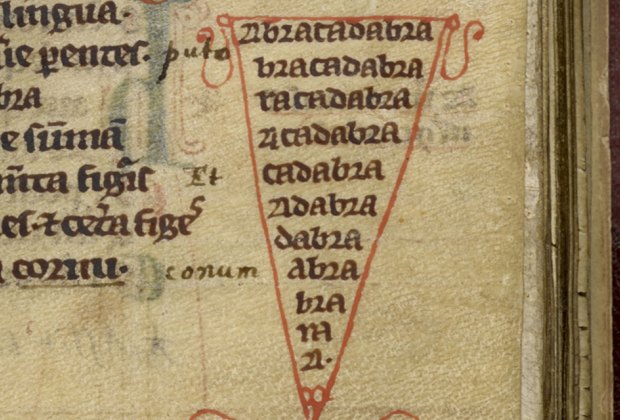 See the first recorded mention of "abracadabra," as a cure for malaria, in Quintus Serenus, Liber medicinals. Courtesy the British Library Board
So what is Harry Potter: A History of Magic, exactly? According to the Guardian, the 2017 British Library exhibit included "an early draft in which Voldemort is described as a snort-worthy 'red-eyed dwarf,'" as well as a "deleted part from The Chamber of Secrets, where the Weasleys' flying car is rescued by merpeople after landing in the lake instead of the Whomping Willow." The British Library and the NYHS will complement the Quidditch snitches with non-Potter but magic-related (and no less interesting) objects from their own treasure troves of rare books and objects. It's a deep dive into Potter artifacts, from JK Rowling's original manuscripts (she writes everything in pen) to her drawings, as well as illustrations by Mary GrandPré and Jim Kay.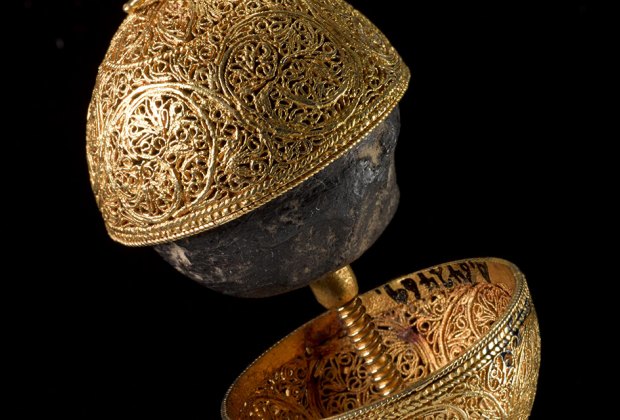 This gold filigree case contains a bezoar, a stone-like mass taken from the stomach of a goat that acts as an antidote to most poisons. Courtesy the Wellcome Collection/Science Museum
The NYHS also plans a number of Harry Potter-themed family activities and interactive events, which should please younger kids, and kids under age 4, who are admitted FREE to the exhibit. For older kids and adults, tickets to Harry Potter-themed trivia nights will also become available starting April 26.
Meanwhile, the NYHS's permanent DiMenna Children's Museum remains an excellent option for all kids under 10 (although it can get crowded quickly on weekends and school vacations). Best of all, the NYHS is literally a block from the American Museum of Natural History, making it easy to swing through two of NYC's best museums in a single day, and there's plenty of kid-friendly food joints nearby, too.
RELATED: Why Every Harry Potter Fan Should See Puffs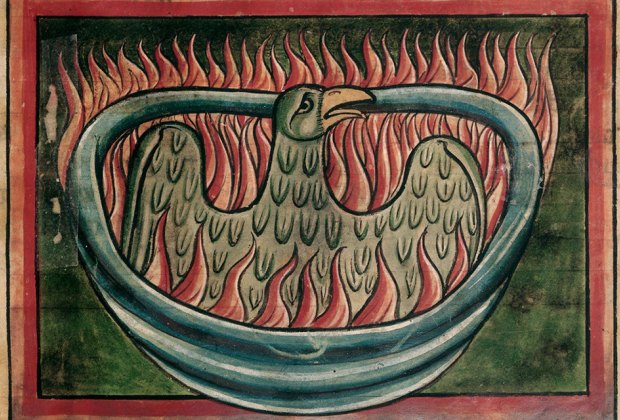 See a phoenix rising from the ashes in a 13th-century bestiary. Courtesy the British Library via NYHS

Harry Potter: A History of Magic runs Tuesdays, Wednesdays, Thursdays, and Saturdays from 10am to 6pm; Fridays 10am to 9pm, and Sundays 10am to 5pm. Access ends 45 minutes before closing. See the NYHS calendar for schedule exceptions.
Admission is $21 for adults, $16 for seniors (65+), $13 for students, $6 for kids ages 5–13. Tickets for children ages 0–4 are free, but must be booked in advance. Purchase allows a maximum of six (6) timed-entry tickets. Under-16 must be accompanied by an adult. Tickets are not transferable, and purchasers' ID will be required upon arrival.
The New York Historical Society
170 Central Park West
New York, NY