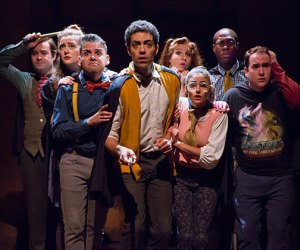 Why Every Harry Potter Fan Should See Puffs
My 10-year-old daughter is a Harry Potter fanatic. She's read the series six times, watched all the movies, and still sincerely hopes for an acceptance letter from Hogwarts when she turns 11. We've both taken online quizzes to figure out which Hogwarts house we'd belong to. (She got Gryffindor, and I got Ravenclaw.) When I heard about Puffs, a play that recounts the Harry Potter story from the perspective of the Hufflepuffs, who were mostly background characters in the Harry Potter saga, I knew we had to see it.
Puffs is charming, entertaining, and fast-paced. The premise is simple: No one really wants to be a Puff, not even the Hufflepuffs. When the characters receive their house assignments, the new Puffs feel a little bewildered. What is being a Puff really about?
Read on for our full review, or check out our NYC Theater Guide for more family shows playing now, and coming soon, such as Frozen and SpongeBob.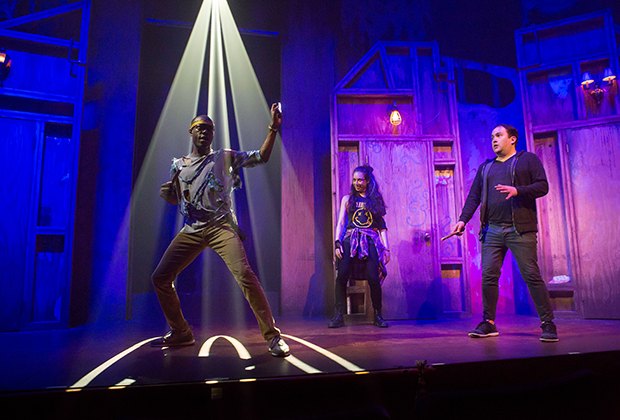 The starring trio are just your average teenage wizards, but plenty talented on the stage.
This story echoes the themes from the original Harry Potter stories. It's ultimately about finding your purpose and your place in the world. How does one become the hero of one's own life? It's not easy even when you're Harry, Hermione, or Ron—and the Huffs are just average teenager wizards. Sure, they're well-meaning, nice, and reasonably smart, but they're no Chosen Ones. Main characters Wayne, Megan, and Oliver have to discover their own paths, which don't necessarily echo that of the other fabled trio.
Wayne (Zac Moon) longs to be seen as special as he enters Hogwarts for his first year. He hero-worships Cedric Diggory, perhaps the only cool Puff to ever exist. Oliver (Langston Belton) is a math whiz, and Megan (Julie Ann Earls) is an aspiring bad girl who sounds and looks like a magical April Ludgate from Parks and Rec.
RELATED: Best Family Theater in NYC this Fall: Paw Patrol to Shakespeare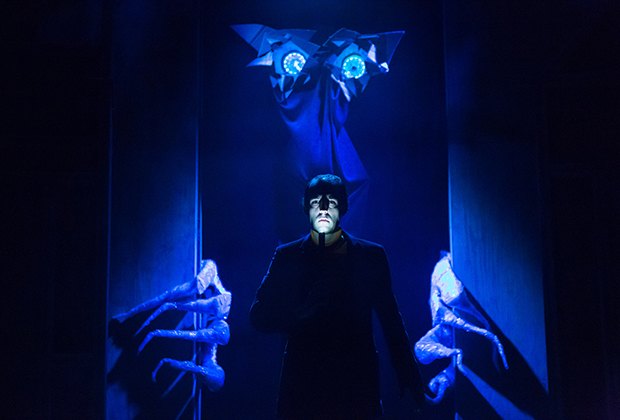 Here come the "Dementors!"
In this fast-paced play, and the dialogue moves quickly, too—the characters speak at a pace that makes the cast of The Gilmore Girls look under-caffeinated. If you don't have a pretty good grasp of the plot and characters, you will probably be confused—especially because all the actors are playing multiple roles. All of this isn't helped by the fact that the references to Harry Potter are sometimes oblique, probably because of copyright infringement laws. For example, Voldemort becomes Mr. Voldy. (I guess there's only so much you can do with that name.) Anyone familiar with the Harry Potter stories through either books or movies will probably be fine; anyone not familiar will probably have fun, but will miss the vast majority of the inside jokes.
The success of this piece hinges on the talent of the ensemble, and the actors deliver. The three leads all did an excellent job, as did a number of other cast members. For example, Andy Miller did a fantastic job swiftly and cleanly switching characters ranging from peppy uber-dork Leanne to sophisticated Fleur to flirtatious Ginny. Anna Dart also played a number of different characters, including professors and ghosts, to great effect. The actors are having fun onstage, and it shows.
Interestingly, although we attended the matinee, the audience was packed with adults who were probably kids back when the books came out. That's not an issue, but you may want to reserve a seat near the front or ask for a booster for children. Although our matinee was billed as "family-friendly," it was perhaps truly PG-13. (That's totally fine, because I don't think kids under age 9 would really be able to follow along with the plot anyway.) The only things my 10-year-old disliked were the kissing scenes, and there were a few very over-the-top embraces. Considering she still covers her eyes when she sees movies with kissing scenes, she thought these parts were "gross." As a parent, I thought they were generally pretty mild, although there is a joking reference to the year Hogwarts became "sex-crazed" (or similar phrasing) that made my daughter grimace.
Puffs is showing at New World Stages, located at 340 W 50th Street. The performance schedule is Mondays, Thursdays, and Fridays at 8pm; Saturdays at 2pm (and 8pm), and Sundays at 3pm. The Saturday and Sunday matinee shows are special "family friendly" performances for audiences of all ages. Tickets, which are on sale at Telecharge.com, are $67. Premium seats are $87.
Top photo: The Hufflepuffs are not the Chosen Ones, so they must plot their own course. All images courtesy the production.
New World Stages
340 W 50th Street
New York , NY 10019