SpongeBob SquarePants Aims for a Broadway Splash This Fall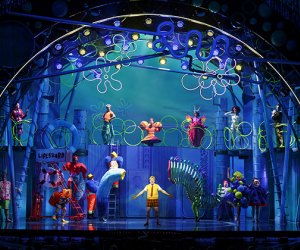 Although you'll have to wait until spring to catch the highly anticipated stage adaptations of Frozen and Harry Potter on Broadway, there's another popular kids' character hitting the boards this fall. After a well-reviewed Chicago run, Nickelodeon's SpongeBob SquarePants musical sails into town this November featuring all the beloved Bikini Bottom denizens including Patrick, Squidward, and the endlessly optimistic title character who lives in a pineapple under the sea.
While I realize this production may sound like a soulless cash grab by Nickelodeon, which has long been interested in getting into the theater biz like its rival Disney, there are actually several reasons I expect this production to make a splash on Broadway. In fact, I think this may be one of those rare family shows that works on multiple levels, thrilling the brand's young fans while also winning over grown-ups with its stunning design, quirky humor, and songs by some of the biggest rock stars of all time—including the late David Bowie.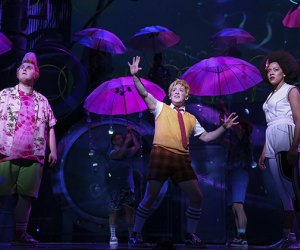 SpongeBob SquarePants played by Ethan Slater (center) works with friends to save Bikini Bottom from environmental ruin.
One of the most promising aspects of the SpongeBob SquarePants musical is that it was conceived and directed by Tina Landau, a cutting-edge theater maker known for her large-scale, ensemble-driven work. This isn't a show made by corporate committee. It's similar to when Disney hired Julie Taymor to transform the animated movie The Lion King into a unique live stage experience. Based on SpongeBob's out-of-town reviews, it sounds like Landau and her design team use clever, low-tech stagecraft to conjure the fantastical undersea world and other locales instead of high-tech razzle-dazzle. Same thing with the costumes: If you want a big felt SpongeBob head you're going to have to go to Times Square. You can actually see the actors' faces, and their outfits only suggest their cartoon forbears while their performances put across the personalities.
And the cast sure has talent. Though none are Broadway stars, Wesley Taylor, who plays Sheldon Plankton, was hilarious in Rock of Ages and a fan favorite on NBC's Smash, and Gavin Lee, who portrays Squidward, earned a Tony nomination for taking on the Dick Van Dyke role in Mary Poppins.
It's all tied together with a story about SpongeBob and his pals trying to save their home from an environmental disaster, so it's got a timely moral about climate change, too. A ready-to-blow volcano creates drama among the oceanic pals. "The show is full of wildly energetic performers and playful, imaginative stagecraft that might best be described as one part lavish Dollar Store ingenuity, one part Cirque du Soleil and one part childlike invention," wrote the Chicago Sun-Times reviewer, who caught its out-of-town run. The paper also cited the show's theme of working together (familiar to anyone who watches children's shows) and a "predictable" outcome.
RELATED: Best Fall Theater for NYC Kids: Paw Patrol to Shakespeare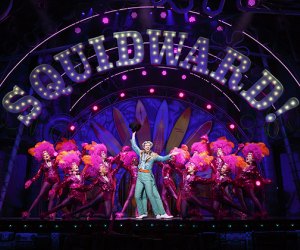 Gavin Lee plays Squidward Tentacles who gets a big tap-dance number in the musical.
But the score is what theater insiders are really buzzing about. Most musicals feature tunes written by the same person or songwriting team. Bucking convention, SpongeBob enlisted a slew of rock and roll icons to pen one number each, including Steven Tyler and Joe Perry from Aerosmith, Sara Bareilles, The Flaming Lips, Lady Antebellum, Cyndi Lauper, John Legend, Panic! At the Disco, They Might Be Giants, and yes, even Bowie. (The original cast recording is streaming now on NPR if you want to get an early preview before the show.)
Best of all, unlike Frozen and Harry Potter, tickets to SpongeBob are fairly easy to get (for now at least). All audience members require a ticket, and the recommended minimum age is 5. (Note that children under 4 aren't allowed in the theater.) No discounts are currently available for SpongeBob, but come November be sure to check Broadwaybox.com and Goldstar.com for possible codes.
Although my jaded tween is still skeptical (perhaps that's just her normal state of being), I'm really looking forward to this musical, and I can't even say I'm much of a SpongeBob fan. I suspect that you don't need to be to enjoy this whimsical family show.
SpongeBob SquarePants the Broadway Musical begins performances on Monday, November 6 at the Palace Theatre, 1564 Broadway at 47th Street. Tickets range from $49 to $225 and are already on sale.
Top photo: Ethan Slater as SpongeBob. Photos by Joan Marcus/courtesy of the production