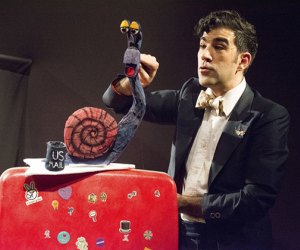 Best Family Theater in NYC this Fall: Paw Patrol to Shakespeare
Autumn marks the start of a new theater season, but you don't need to shell out big bucks on Broadway shows to give your kids a memorable live entertainment experience in NYC. In fact, this fall boasts more high-quality productions for young audiences than in recent years—so many in fact, we have a whopping 22 picks, and that's after whittling down the contenders!
Preschoolers will go gaga for return engagements of popular stage incarnations of The Very Hungry Caterpillar, Pete the Cat, and Paw Patrol. Older kids can get schooled in the classics with creative, kid-centric adaptations of Shakespeare and Oscar Wilde. There's funky fare for tweens at Lincoln Center and BAM, plus everyone in your family can cheer the highly anticipated return of the Big Apple Circus. Best of all, most of our picks are $25 or less per ticket.
Sign up for our FREE newsletters to get posts like this delivered to your inbox.
Click through to our listings for all the details, including times and locations.
Addy & Uno — East Village
Through Sunday, September 24
Ages 4 and older
Based on the Realabilities Educational Comic Book Curriculum, this new musical focuses on Uno, a boy with autism who wants to join his school's math team. Though he struggles at first, he soon learns to count on his friends, all played by Muppets-style puppets with disabilities such as ADHD, hearing and sight impairments, and paraplegia. Although children's theater has become much more culturally diverse in recent years, characters with disabilities are still rare, so this show is truly groundbreaking. Save money on tickets via Broadwaybox.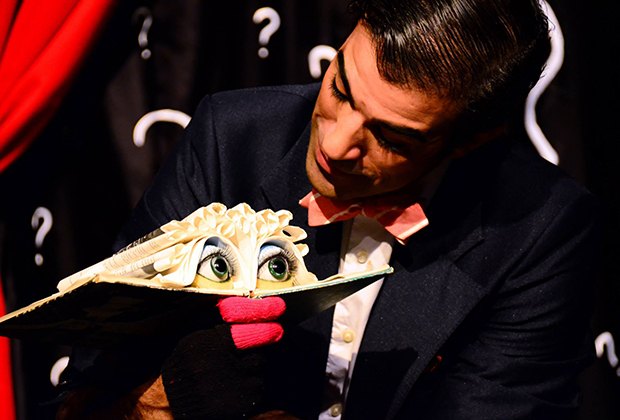 The Joshua Show: Episode 2 performs a quirky puppet show at the HERE Arts Center. Photo by Josiah Shelton
The Joshua Show: Episode 2 — Soho
Through Saturday, September 30
Ages 6 and older
With his quirky handcrafted puppets and vaudevillian style, performer Joshua Holden feels like a throwback to another era. The self-declared Ambassador of Joy's new family show aims to be an anecdote to our troubles times by celebrating individuality and friendship. As you can see from the show's trailer, there's singing, dancing, and a whole lot of old-school charm.
Polkadots: The Cool Kids Musical — Chelsea
Saturday, September 16–Sunday, October 8
Ages 7 and older
Atlantic for Kids—the family theater arm of the famed Atlantic Theater Company—consistently mounts some of the best children's shows in town. This new musical inspired by the Little Rock 9, who helped desegregate an Arkansas high school in 1957, sounds particularly timely. Eight-year-old Lily Polkadot is the first of her kind in an all-Square school and faces terrible taunting, including constant bullying and separate drinking fountains. But just when Lily feels like she can't go on, she meets Sky, a shy Square boy intrigued by her polka-dot skin. With its catchy pop-R&B numbers and insightful story, this musical is an entertaining and age-appropriate history lesson.
Cereals — Tribeca
Saturday, September 16–Sunday, September 24; Saturday, November 11–Sunday, November 19
Ages 5 and older
For more than 20 years, the Flea has mounted offbeat and edgy theater for adults; now the company is branching out to the juice-box set in its brand-new arts complex. Each weekend matinee features a series of 10-minute multicultural shorts based on folk tales, and every audience member gets a mini-box of cereal to snack on during the show.
Please Bring Balloons — Lower East Side
Sunday, September 17–Sunday, December 10
Ages 2–5
We loved New York City Children's Theater's interactive show for preschoolers when we saw it earlier this year, so we're thrilled the company is bringing it back for an encore run at University Settlement. Inspired by Lindsay Ward's picture book of the same name, Please Bring Balloons follows the adventures of Emma, a carousel-loving little girl who's particularly enamored of the polar bear ride. Tots join the friends in a variety of activities including dancing, maraca shaking, and even a virtual snowball fight. This engaging, 30-minute experience is ideal for first-time theatergoers.
Pluto Is Missing! — Gramercy
Sunday, September 17–Sunday, December 17
Ages 5 and up
For those of us who grew up believing that Pluto was the ninth planet from the sun, its 2006 downgrade to dwarf planet was a tad depressing. But don't cry for Pluto. In this new family comedy at the Peoples Improv Theater, Pluto leaves the Solar System on a celestial journey, meeting a wide variety of cool cosmic characters on its quest to become a planet again. The show fuses music, puppets, and fantasy with science and space exploration history, and has a timeless moral: You don't need a fancy label to be out of this world.
RELATED: Best Events This Fall for NYC Preschoolers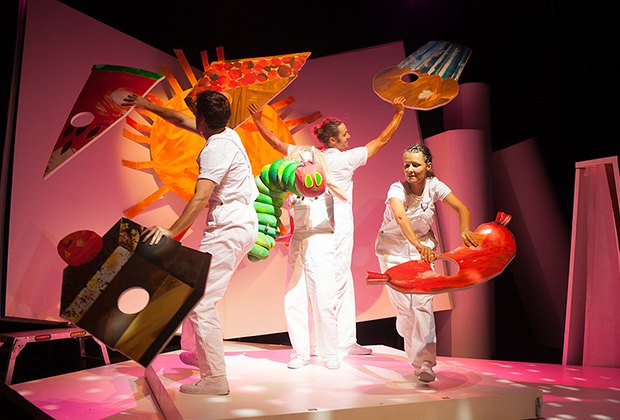 The Very Hungry Caterpillar returns to NYC with new stories. Photo by Carol Rosegg
The Very Hungry Caterpillar — Union Square
Thursday, September 28–Sunday, February 4, 2018
Ages 1–6
Last year we raved about this interactive, hour-long show based on four of Eric Carle's popular picture books. Now it's back for an encore run with new adapted stories, so it's practically a brand-new show! This time around, Brown Bear, Brown Bear; The Very Lonely Firefly; 10 Little Rubber Ducks, and the title tale leap from the page to the stage courtesy of four performers and more than 75 larger-than-life puppets. While there have been other shows based on the legendary author-illustrator's tales, this version boasts high production values, including lively visuals that capture Carle's unique artistic style. A perfect first-time theatergoing experience. Save money on tickets via Broadwaybox.
Kid Frankenstein the Musical — Upper West Side
Friday, Oct 6–Sunday, November 5
Ages 7-11
It's October and prodigy Frankie Steiner is hard at work on his entry for the annual robotics competition. But even Frankie can't believe what he comes up with...and he can't control it either. What's a boy genius to do? This new musical from Vital Children's Theatre is a Halloween treat (not a trick) for the elementary-school set.
The Young King — Midtown West
Friday, October 13–Sunday, October 22
Ages 8 and older
The New Victory Theater kicks off its season with an immersive show inspired by Oscar Wilde's short story of the same name about a newly crowned king who has a crisis of conscience. In order to stage this environmental production from Australian theater company Slingsby, the entire venue has been transformed so you don't just sit and watch; you meet the king and explore his realm while enjoying clever stagecraft, puppetry, and live music.
RELATED: Fall Fun Guide for Families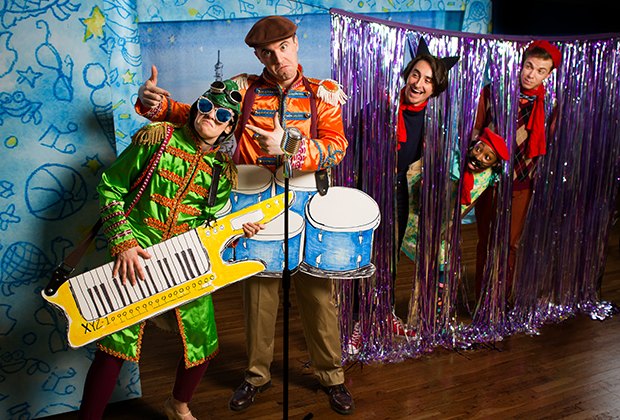 Pete the Cat brings his cool feline 'tude to the Upper West Side this fall. Photo by Jeremy Daniel
Pete the Cat — Upper West Side
Saturday, October 14
Ages 5–9
If you missed Theatreworks USA's production of Pete the Cat this past summer, you have another chance to catch it at the Calhoun School. Inspired by the popular picture book series of the same name, Pete the Cat tells how the cool title feline shakes up his new owners' lives—for the better of course! Read our full review for additional details.
Big Apple Circus — Lincoln Center
Friday, October 27–Sunday, January 7, 2018
Ages 2 and older
After temporarily shutting down, NYC's homegrown circus rises once again with its first show in two years. Although the troupe has new owners, they promise the same awesome thrills in an intimate tent. In fact, beloved Big Apple clown Grandma is back and legendary high-wire daredevil Nik Wallenda is headlining. Read more about Big Apple's resurrection.
The Village of Vale — Lincoln Center
Saturday, October 28–Saturday, November 4
Ages 8 and older
Just in time for Halloween, Lincoln Center Kids presents this atmospheric and dark musical fairy tale about a traveler who stumbles upon the mysterious village of Vale where secrets and curses lurk around every corner. Six performers and a live band bring a variety of spooky characters to life including an obsessed bookkeeper, a cursed woodsman, and the nameless roaming stranger.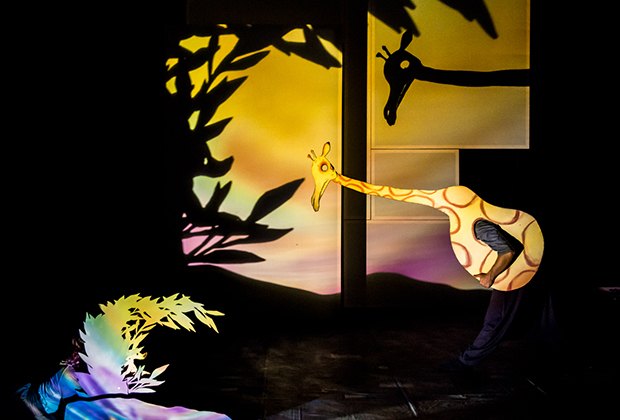 A Sky for the Bears at New Victory Theater is a nearly wordless, sweet tale for preschoolers. Photo by Serena Groppelli
A Sky for the Bears — Midtown West
Saturday, October 28–November 5
Ages 4–7
A heartwarming tale aimed at the preschool set, this New Victory show follows the adventures of two bears: a grown-up who wants to become a dad, and a cub who longs to reunite with his deceased grandfather. They look to the sky to fulfill their dreams in this almost wordless exploration of loneliness and love told through shadow puppetry and movement.
The History Mystery — Chelsea
Friday, November 3–Sunday, November 19
Ages 5 and older
After a hit run last year, TADA! Youth Theater brings back this politically minded musical for an encore run. When three modern-day kids decide history is boring, they're magically transported back in time to meet iconic figures including Eleanor Roosevelt, Martin Luther King, Jr, and Ben Franklin when they too were children. Find out what inspired these boys and girls to grow up to make a difference while enjoying some toe-tapping original tunes in this little-kid-friendly, hourlong production performed by the talented members of TADA!'s Resident Youth Ensemble. Read our full review for additional details.
The Stowaway — East Village
Friday, November 10–Sunday, November 19
Ages 5 and up
Venerable grown-up troupe Classic Stage Company presents Trusty Sidekick's world premiere show which uses elements of Shakespeare's plays and poetry to create a brand-new work. The Island of Hockey Puck is changing. The new Duke is a despot, the old Duke vanished mysteriously, and a stowaway named Dull is trying to escape back to her homeland of Illyria. One of the most inventive theaters for young audiences in NYC, Trusty Sidekick is known for its clever stagecraft, interactivity, and accessibility, so don't worry that the Bard is beyond your tyke. I bet they'll surprise you.
Marmalade — Midtown West
Friday, November 10–Sunday, November 19
Ages 18 months to 4 years
Direct from Sweden and aimed at toddlers, this half-hour show is a circus for the senses as a juggler and a dancer invite tots to explore the props and set, and watch a few low-key tricks. An interactive experience, Marmalade is performed in an intimate space at New 42nd Street Studios, with families sitting on floor mats and children allowed to roam.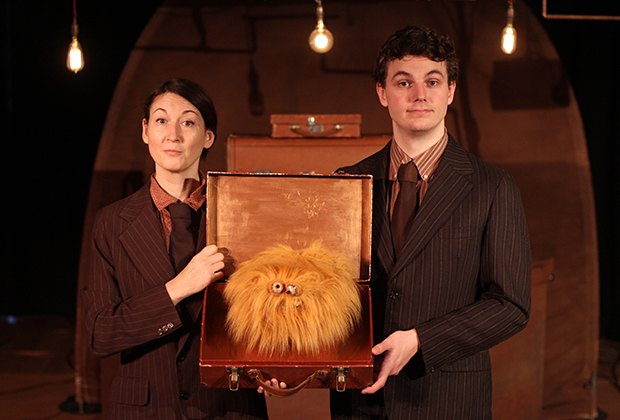 The Secret Life of Suitcases at Lincoln Center Kids. Photo courtesy of Ailie Cohen
The Secret Life of Suitcases — Lincoln Center
Saturday, November 11–Sunday, November 19
Ages 6 and older
Oh Larry. He's one of those people who can't stand chaos—everything has its proper place. So he's flummoxed when a magical flying suitcase comes crashing into his home and whisks him away on a life-changing journey. Learn to embrace the unknown with Larry in this hour-long adventure at Lincoln Center Kids.
Bindlestiff Cavalcade of Youth — Coney Island, Brooklyn
Sunday, November 12
Ages 3 and up
Kids can run away and join the circus (or just watch) at the Bindlestiff Family Cirkus' biannual youth variety show at Coney Island USA. All of the performers in this one-day-only showcase are younger than age 21, and children love seeing their peers on stage juggling, hula hooping, tumbling, clowning, plate spinning, and even snake charming. Is your kid more interested in being in the spotlight than sitting on the sidelines? Find out how your kid can apply to be part of the show.
A Billion Nights on Earth — Fort Greene, Brooklyn
Saturday, November 18
Ages 6 and up
Inspired by pop-up books, Kabuki, and parent-child relationships, this cutting-edge work is equal parts show and installation. A father and son go searching for a missing heirloom in this hour-long BAMkids production, which takes audiences on a fantastical quest through space and time conjured by sleight-of-hand stagecraft, lush music, and good old imagination.
Interstellar Cinderella — Midtown West
Saturday, November 18–Sunday, December 17
Ages 4–8
The queen of little-kid rock, Laurie Berkner, wrote the songs for this new musical from New York City Children's Theater. Based on Deborah Underwood's picture book of the same name, this is a feminist take on the old fairy tale with Cinderella as an engineer hoping to revolutionize space travel and impress her prince with her new invention: a hyper warp speed engine. But when Cinderella is undermined by her evil stepmother, she realizes she has to save herself.
Paw Patrol Live! — Flatbush, Brooklyn
Friday, November 24–Sunday, November 26
Ages 2 and older
The musical stage adaptation of the preschooler TV sensation about perky puppy heroes returns to NYC for a Thanksgiving weekend run. Expect plenty of singing and dancing as the Paw Patrol gang works together to solve the mysterious disappearance of the town mayor. The touring show plays at Brooklyn's glorious Kings Theatre with live actors in costume mixed with Bunraku-style puppetry. Read our full review for additional details.
RELATED: 7 Spots to Explore the Immigrant Experience with City Kids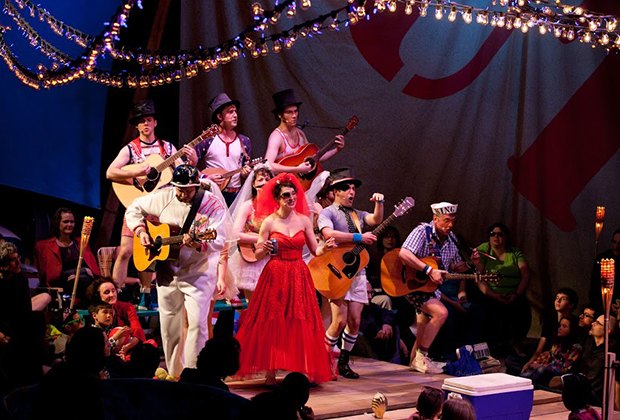 Pirates of the Penzance takes kids on a rollicking tale of pirates and beach parties. Photo by Evgenia Eliseeva
Pirates of Penzance — Greenwich Village
Wednesday, November 29–Sunday, December 10
Ages 5 and older
Although the Skirball Performing Arts Center has done away with its Big Red Family Chair Series, the venue still plans to present kid-friendly shows starting with this immersive incarnation of the classic Gilbert and Sullivan operetta by Chicago-based company The Hypocrites. Expect to be drafted into the action as the tale of pirates and lovers is reimagined as an over-the-top beach party with twinkly lights and a well-stocked Tiki Bar.
And if you're looking to splurge on a Broadway outing, there are two new shows debuting this fall for families: the SpongeBob SquarePants musical, which got amazing out-of-town reviews, and a revival of the Caribbean-set fairy tale tuner Once on This Island. Also, note that some of our favorite long-running Broadway shows for families are closing soon: Cats (through December 30) and The Play That Goes Wrong (through December 31).
Top photo: The Joshua Show: Episode 2 at the HERE Arts Center. Photo by Josiah Shelton. Photos courtesy of the productions/venues