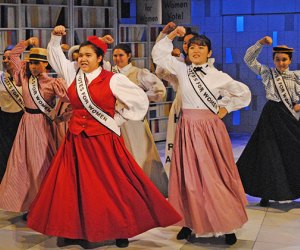 History Mystery Review: A Family Musical with Timely Politics
In TADA! Youth Theater's The History Mystery, an hourlong musical, a trio of history-hating teens is magically transported back in time to meet Martin Luther King, Jr., Eleanor Roosevelt, and others when they were adolescents. Not only do they learn about the experiences that helped shape these iconic figures, they also see how the past impacts our present. For school-age kids living in today's difficult political climate, it's a fun but fact-packed look at how every person, even a child, has the ability to affect positive change.
The History Mystery stars members of TADA! Youth Theater's talented Resident Youth Ensemble, so every part is played by an age-appropriate actor, no grown-ups pretending to be kids. Children find it much easier to relate to Martin Luther King, Jr. (charming 10-year-old Hakiem Porter and, later, 16-year-old Seymour Shaw) and Eleanor Roosevelt (adorable 9-year-old Anya Eder at the performance attended) when watching them struggle with typical adolescent difficulties like bullying and insecurity, along with more insidious challenges such as racism and sexism.
After the opening, when the three teens are shocked to discover they can travel through history, the show settles into an episodic structure with each one choosing to visit a particular idol. It results in a series of self-contained scenes and songs. Musical highlights include the Gospel-tinged "You've Got the Right," the Andrew Sisters-style "Freedom," and the inspirational anthem "Be the Story." But some of the most powerful moments are dramatic, like when a young MLK tries to retrieve his ball from white children who insult him and refuse to return it.
RELATED: Best Winter Theater for NYC Kids

A modern-day teen meets with the adolescent-age Wright Brothers in The History Mystery.
Although the show doesn't shy away from our nation's difficult past, it's serious without being scary, and powerful but not preachy. It's no secret that we're living through a contentious period right now, and the arts, including theater, can offer much needed context to kids.
We should note that the production wears its progressive politics on its sleeve—make that lapel. Toni, the feminist, sports a Hillary Clinton button; Marty, who is African-American, talks about fearing for his safety under the new President; and Japanese-American Jenny's story line delves into the U.S. internment of her ancestors during World War II.
If your kids are in school, it's likely they're already hearing or discussing such subjects with peers, and The History Mystery is a great way to further that conversation, or get it going within your core family. While TADA! tends to attract a lot of families with preschoolers, this show is best enjoyed by first to fifth graders who'll better grasp the complex issues being examined. That said, tots can still enjoy the catchy songs and bouncy choreography, though they most likely won't be able to follow the narrative.
The History Mystery, which features songs by Eric Rockwell and Margaret Rose, and a book and direction by TADA! cofounder Janine Nina Trevens, was originally commissioned by the company in 1995. A lot has changed since then, and Trevens has judiciously updated the script to address the state of the nation. Families looking for pure escapism should pass, but those who've been marching in the streets with their children will likely leave invigorated.
The History Mystery is playing through Monday, February 20 at TADA! Youth Theater, 15 West 28th Street between Broadway and Fifth Avenue. Tickets are $25 for adults and $15 for children.
Top image: Suffragettes march for the right to vote. All photos by Kaila Mackenzie.