Camp Kappawanna: Get Psyched for Summer at Lisa Loeb's Charming Family Musical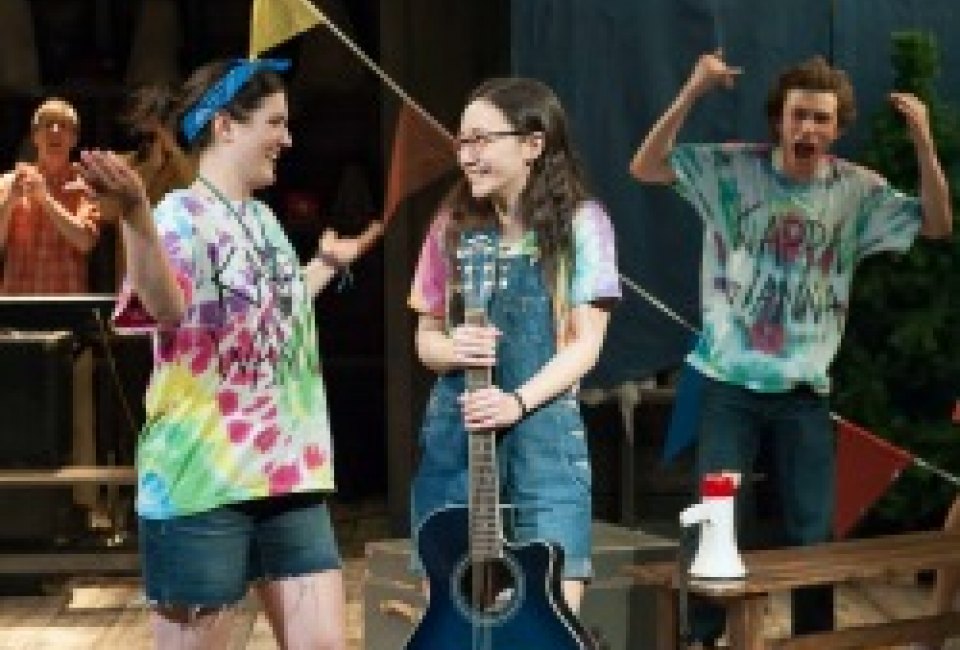 3/29/15
- By
Raven Snook
While we cover family theater quite a bit, many shows that fit into this category are really created to please kids, not grown-ups. So when my theater-loving daughter and I see a production that makes both of us smile, laugh and (I admit it!) shed a tear or two, I want to sing its praises and its catchy tunes to all the families I know. Camp Kappawanna by Atlantic for Kids is one of those shows. Cowritten by '90s indie rock diva Lisa Loeb (of "Stay" fame) and loosely inspired by her own summer camp experiences when she was a geeky, guitar-playing girl, Camp Kappawanna has lovely songs, a wonderful sense of humor and a familiar message about being brave that's delivered in a fresh and engaging way.
Camp Kappawanna is produced by Atlantic for Kids, the family wing of the decidedly adult Atlantic Theater Company. The show opens with the rousing, folk-rock ditty "Going Away" as the main characters prepare for sleepaway camp. Each one is an archetype: Nick (Wesley Zurick), a hardcore gamer, Veronica (Faye Rex), a princess, and Jenny Jenkins (Mara Measor), Loeb's alter ego—a shy, bespectacled songwriter who never goes anywhere without her guitar, yet refuses to perform publicly. The trio end up at Camp Kappawanna, a no-frills program run by the goofy yet enthusiastic Gina (Lydian Blossom) who's embroiled in an ongoing feud with the high-end, hyper-competitive Camp Bankston across the way. Overgrown jock Chad (a very funny Anthony Ritosa) runs Bankston with an iron fist; his campers may have an infinity pool, but they don't seem to have much fun.

The rest of the plot unfolds predictably: the camps end up agreeing to a high-stakes contest that may mean the end of Kappawanna. But under Gina's ever-optimistic guidance, her motley crew of campers become friends, go outside their comfort zones and use their unique talents to best the bad guys. What makes Camp Kappawanna better than your average kids' show is its inventive staging (director Alison Beatty is the artistic director of the Atlantic Acting School), clever jokes and infectious songs. Jenny's big ballad, "What Perfect Looks Like," sounds like classic Loeb with insightful lyrics about how it feels to not belong. Meanwhile, the other numbers, co-written by Michelle Lewis and Dan Petty, run the gamut from folk to show tunes to rock to rap, and are played by an onstage trio (guitar, percussion, and alternating banjo and piano) that's integrated into the action. While there's plenty of humor for kids, there are punch lines for adults, too (listen for the one about egg whites). Though I knew where it was going, I found myself very moved as the "loser" Kappawanna campers came into their own. That's a testament to the material and the performers, who were never condescending to the kids in the audience.

Although there's nothing inappropriate in Camp Kappawanna, I do think it's best enjoyed by school-age kids, ideally between ages five and 12. Most of the preschoolers in the audience when we attended seemed restless. Even if they do follow the story, they probably won't relate to teenage angst. The show runs a little over an hour, and kids can meet the cast and ask for autographs in the lobby after the performance. Sometimes Lisa Loeb is even there, too!

Camp Kappawanna is playing at the Linda Gross Theater at 336 West 20th Street between 8th and 9th Avenues through Sunday, April 12. See our listing for the complete schedule. Tickets are $20 for adults, $15 for children.
Read about other great things to do with kids in Chelsea, including the best family-friendly restaurants in the neighborhood.
Photos by Ahron R. Foster.
Places featured in this article:

Sign up for our free
newsletters.
Mommy Poppins is a family activity website that helps people find things to do with kids.
©
2023
MommyPoppins. All Rights Reserved.
mp-prod4-v4.32.99
We use cookies and other data collection technologies to provide the best experience for our customers.
Learn More