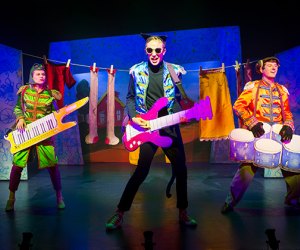 Pete the Cat Comes to Life in Free Off-Broadway Musical
Kids love music. And most of them love Pete the Cat. And pretty much every parent adores any FREE city activities. So my family was very excited to see the skateboard-riding, guitar-playing feline from the popular picture books come to life onstage in this year's show by Theatreworks USA as part of its FREE summer series.
The 45-minute musical, recommended for ages 5-8, is nonstop action, with lively singing and dancing throughout, and plenty of funny jokes and scenes guaranteed to make kids laugh.
Sign up for our FREE newsletters to get posts like this delivered to your inbox.
The show, directed by Tony-nominated Dan Knechtges, begins with alley cat Pete and his rock band making a little too much noise at night, attracting the attention of a cat-catcher.
OUR LATEST VIDEOS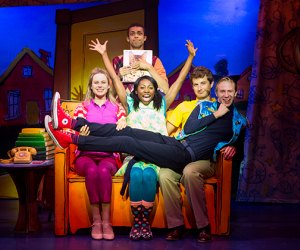 The cast sings and jokes throughout the performance.
As punishment for rocking out too loudly, Pete is sentenced to live with a family and be a house cat for a week. The free-spirited feline can't fathom living the life of a house cat, but accepts his fate with a good attitude, deciding it will be an adventure. "I'm still Pete; you can't make a pet out of me!"
But maybe someone can…
When Pete goes to live with the Biddle family, everyone is thrilled, except big brother Jimmy, an anxious and reserved second-grader who doesn't know what to make of Pete's wild ways. Little sister Olive immediately begins sneezing around Pete, so the cool cat is restricted to Jimmy's room. When Jimmy doesn't have the confidence in himself to make a painting for art class, it turns out that Pete's creative influence is the perfect muse.
RELATED: Best Broadway Shows for Kids and Families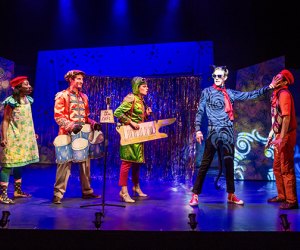 Parents should know there's nothing truly scary in this musical, but extremely sensitive kids might hide their faces during a 10-second scene when Pete is chased by the cat-catcher, and during the 30 seconds when Jimmy has trouble in art class and his teacher makes clear her disapproval. The one plot point that irked me was the little sister's infatuation with Pete. The cool cat casually tells Olive he loves her, which she takes to mean they are romantically involved and must get married. She pursues him for the rest of the musical.
All the characters are played by adults, and if your kids are fans of the book and expect to see Pete looking like himself, they may be disappointed at first. The actor playing Pete wears jeans, a T-shirt, and Converse sneakers throughout the show—the only cat features he has are pointy black ears and a long tail. But that means no one is distracted by big bobblehead costumes.
Theatreworks offers the tickets for FREE, but the only way to get them is in person, first-come first-served, at the Lucille Lortel Theatre Box Office at 121 Christopher Street on the day of the performance, beginning one hour before the first show of the day. Each person is limited to four tickets per day. Opening night was Wednesday, July 25, and the show runs through August 18. Shows are Monday through Friday at 10:30am and 1pm, and Sundays at 11am and 2pm. Weekday shows are often taken up in advance by camp groups, so Sundays might be your best bet to grab those day-of tickets.
No strollers are allowed at the theater, so leave them at home. The theater also has a policy of no babies in arms.
Photos courtesy of the production