The Adventures of Tortoise & Hare The Next Generation
The Sheen Center

The Very Hungry Caterpillar Show
DR2 Theatre

NYC Easter Brunch Cruise 2023
Event Cruises NYC
Sign up for our free newsletters.
Please Bring Balloons: A Show Full of Magic and Imagination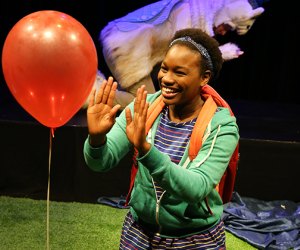 2/23/17
- By
Rose Gordon Sala
Kids are transported immediately upon entering the theater for a showing of Please Bring Balloons, a toddler-friendly production by New York City Children's Theater.
Whimsical animal cutouts hang from the ceiling: a tiger, a horse, a zebra. The floor is covered in turf, evoking the grass of the park you're entering. Carousel music and bird noises play in the background. Kids are invited to sit on a shared blanket on the floor, essentially putting them onstage and making them part of the play. An affable carousel operator, played by Brandon Schraml, comes around, crouching in front of kids to take their "tickets" to the merry-go-round, asking them questions and generally getting them relaxed.
Aimed at kids ages 2-5, Please Bring Balloons is one of our top picks for children's theater in NYC this winter, and among the best events for preschoolers this season.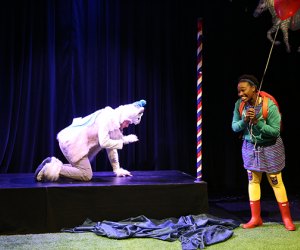 The polar bear carousel ride comes to life, and the adventure begins.
Based on the book of the same name by Lindsay Ward, Please Bring Balloons stars Emma, a young girl infatuated with the carousel at the nearby park, and the polar bear ride, in particular. Claire Simba, who plays Emma, does a marvelous job embodying that adventurous spirit of a kid who knows no fear.
At the outset, Emma pleads with the carousel operator to get the broken ride operating again. He sweetly suggests patience and that she "play" with her new friends, at which point he gestures to the audience, the floor full of tots, eyes shining up, like, what? And she does. She takes the whole audience on her adventure, as the friendly polar bear—also played by Schraml who now dons white fur patches and a bear headpiece—comes to life.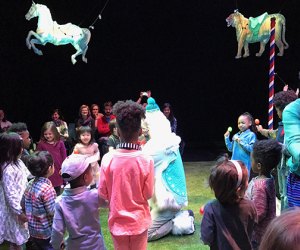 The interactive show brings kids directly into the action. Photo by Rose Gordon Sala.
The audience is invited to dance, shake maracas, fly, and create their own balloons during the show. We even had a snowball fight at one point. It's completely interactive, making it a great option for first-time and very young theatergoers. There were lots of giggles and smiles throughout, and even with just two actors and a small setting, the show builds the kids' anticipation about what will come next, keeping them guessing and engaged throughout. It's a sweet, magical adventure filled with animals, balloons, music, and twinkling lights–and easily my 4-year-old's favorite show in the last year.
The show runs just 30 minutes with no intermission, so there's hardly time for anyone to fidget or whine. Although the whole tone is gentle, upbeat, and soft, without any scary parts, my 2-year-old was feeling a bit timid and preferred to hang in the back with dad, while the 4-year-old braved the front floor seat and deftly handed off her balloon to Emma when asked. Don't worry if you have a shy kid. It's perfectly OK to sit toward the back. I suspect they'll enjoy it all the same from their more secluded perch.
Please Bring Balloons, created by David Kilpatrick and directed by Sara Morgulis, opened Tuesday, February 21 and runs through Sunday, March 5. The final weekend is almost already sold out. It's playing at the brand-new theater opened at 502 West 53rd Street by A.R.T./New York Theatres. It's a lovely, colorful modern space, set up perfectly for this interactive showing. Parents are invited to sit in chairs behind the kids, or even on the floor with a more timid tot.
Note: There's a small but nice playground just across 10th Avenue on 53rd Street at PS 111 if they need to burn off energy before or after the show.
All photos by Carol Rosegg/courtesy of the production, except where noted.