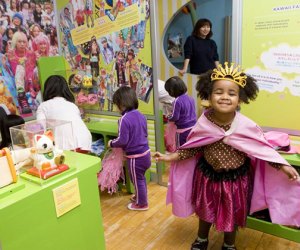 Preschooler Fun in NYC this Winter: 25 Top Events
Winter in the Big Apple can seem daunting when you have a preschooler in tow. Luckily, the winter season is full of tot-friendly fun throughout the city, from kid-friendly MLK celebrations, to museum exhibits, live concerts designed for young ears, loads of theater, and so much more.
To help make your planning easier—and curb that urban cabin fever—we've rounded up more than two dozen top event picks for outings with kids under the age of 5. For more ideas, be sure to check out Winter Fun Guide, January GoList, and daily Event Calendar.
January 2017
Lunar New Year Celebration: Year of the Rooster — Bronx
Saturday, January 14
Celebrate the Lunar New Year with an immersive celebration at the Bronx Museum of the Arts. Enjoy costumed folk dances, interactive workshops featuring traditional techniques of paper cutting and calligraphy, music, and more. FREE

MLK Jr. I Have a Dream Celebration — Crown Heights, Brooklyn
Sunday, January 15-Monday, January 16
Introduce your toddler to Dr. King's legacy and the American civil rights movement at the Brooklyn Children's Museum. Festivities include a myriad of special programs and performances from making your own protest poster using Civil Rights artwork to listening to musical performances by Brooklyn United Marching Band as they deliver a live musical performance that draws on the strength, courage and hope of historical Black leaders.

Cirque-tacular's Snowkus Pocus: Enchant The Spring — East Village
Thursday, January 19-Sunday, February 5
Embrace the wonder of the season and get whisked away into an enchanted winter wonderland as you follow the whimsical tale of a ballerina in her living snow globe. At 70 minutes, this magical journey features dazzling circus feats, ballet, and gravity-defying acrobatics sure to broaden your toddler's imagination.

Sandglass Theater: Punschi — Upper West Side
Saturday, January 21
Symphony Space brings preschoolers two adventurous puppet tales from Sandglass Theater. Kasper and the Surprise follows the title character as he and his pal go after a sneaky cow that stole his luggage. In Fritzi's Flea Circus, a tiny talent accomplishes great feats, inspiring imagination and heartwarming fun for young audiences.

Hello from Japan! Opening Weekend — Upper West Side
Saturday, January 21-Sunday, January 22
Transport your family to Tokyo at the Children's Museum of Manhattan's Hello from Japan! exhibit. Children can explore Japanese culture at Kawaii Central—inspired by Tokyo's bustling city districts—and let loose with karaoke, create their own mascot, and more. The Shinto shrine park part of the exhibit offers a glimpse into Japan's beautiful outdoors. Kids can crawl through a forest, make a wish at a wishing tree, and even build a bridge.
Elephant & Piggie's We Are in a Play — Midtown West
Saturday, January 28-Sunday, February 5, 2017
Little ones will delight in this hourlong page-to-stage musical adaptation that brings two of Mo Willems' most beloved characters to life at the New Victory Theater.

BAMkids Film Festival — Fort Greene, Brooklyn
Saturday, January 28-Sunday, January 29
BAM Rose Cinemas hosts its annual family film fest, featuring 56 shorts and full-length movies from around the world. Along with films, families can enjoy FREE activities in the Opera House Lobby, including face painters, balloon twisters, roving entertainers, and live performers. Buying tickets in advance is recommended.
Winter Jam — Central Park
Saturday, January 28
Brave the outdoors with the whole family and a guarantee of snow (that's right, they'll make snow if need be!) at Central Park's annual Winter Jam! Snow or not, you'll find a snowfield, where everyone can take part in wintery activities including sledding, snowshoeing, arctic golf, and even skiing and snowboarding lessons. FREE

Winter Spooktacular: BOO! York City — Corona, Queens
Saturday, January 28
Bring back Halloween fun at the Queens Museum's annual Spooktacular winter costume party. Galleries will be transformed into a supernatural cityscape featuring the Staten Island Ghost Ferry, Bronx Zoo Freaky Feather Balancing, Quaking Queens Photo Booth, and much more.

February 2016
The Berenstain Bears LIVE! Family Matters the Musical — Staten Island
Saturday, February 4
Experience this classic children's book collection come to life in perfect-for-tots musical adaptation at the Center for the Arts College of Staten Island. As always, Bear Country is not without its complications, which get resolved through upbeat song and the strong bond between the Berenstain family members.
RELATED: NYC Winter Fun List: 50 Things to Do Indoors with Kids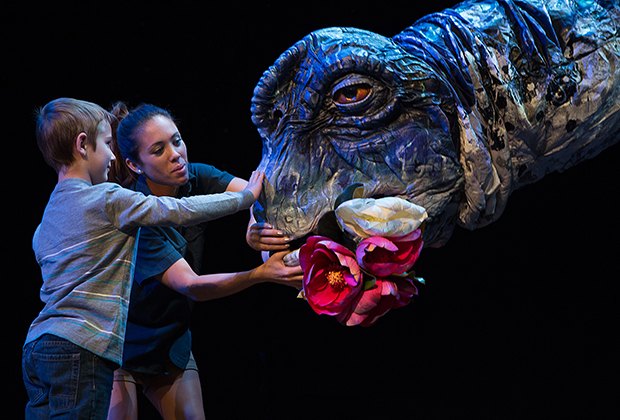 Dino fans will go gaga at Erth's Dinosaur Zoo Live. Photo by C Waits/courtesy of the production.

Erth's Dinosaur Zoo Live — Greenwich Village
Saturday, February 4-Sunday, February 5
Dinosaur-obsessed toddlers will be thrilled with this theatrical tour through prehistoric times. The kids will get to observe, meet, and interact with a collection of amazingly life-like dinosaurs and other creatures through the Australian outback set 65 million years ago.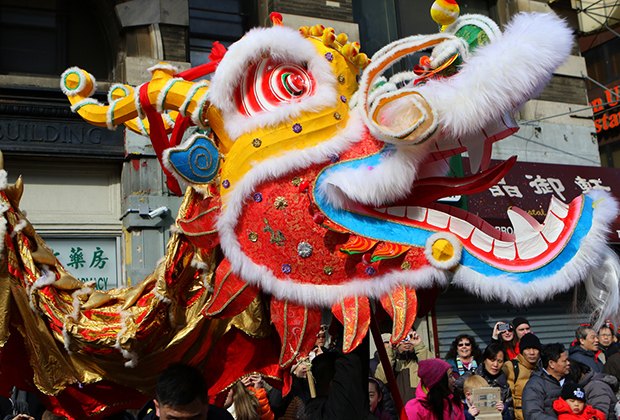 Celebrate the Lunar New Year with a colorful parade and festival through Chinatown. Photo by Bob Dea/courtesy of betterchinatown.com.
18th Annual New York City Lunar New Year Parade & Festival — Chinatown
Sunday, February 5
Bundle up the family and celebrate Chinese New Year at this fantastical parade featuring dragons, performers, and parade floats galore. The festivities starts at 1pm at Hester and Mott Street and twists and turns throughout Chinatown. FREE
Coyote's Dance — Fort Greene, Brooklyn
Saturday, February 11
Treehouse Shakers offers this Native American-influenced tale about Coyote and his journey, all set to percussive music. It's best for ages four and up, so not the toddlers.
Sesame Street Live: Make a New Friend — Midtown
Thursday, February 16-Sunday, February 26
The Sesame Street Live crew brings its Make a New Friend show to the Theater at Madison Garden for singing and dancing with all your favorites: Grover, Abby Cadabby, Cookie Monster, and a new friend from India.

Rock and Roll Playhouse: STEVENSTEVEN — Greenpoint, Brooklyn
Sunday, February 26
Brooklyn Bowl's well-known family concert series brings us the newest kindie band on the scene—the whimsical new rock duo for all ages, STEVENSTEVEN (as in Steven Drozd from the Flaming Lips and Steve Burns, the original host of Blue's Clues). Be one of the first to see this highly anticipated band and rock out to songs from their debut album.

Please Bring Balloons — Midtown
Saturday, February 18-Sunday, March 5
Another page-to-stage adaptation for preschoolers, Please Bring Balloons brings Lindsay Ward's picture book of the same name to the stage in an interactive experience for the youngest theatergoers.

Kids Week at the Intrepid — Hell's Kitchen
Monday, February 20-Saturday, February 25
Dive into STEM-land through this weeklong festival for families featuring state-of-the-art digital games, interactives, and even opportunities for kids to design their own games! Tinker, create, and play while learning about game design. Included with museum admission.

Ringling Bros. and Barnum & Bailey Presents Out of This World — Fort Greene, Brooklyn
Thursday, February 23-Friday March 3
You're never too young—or too old—for classic circus fun. This time-honored circus spectacular returns to the Barclays Center with its troop of awe-inspiring aerialists and acrobats, majestic animals, daredevils, and of course, clowns.
New York International Children's Film Festival 2017 — Manhattan (locations vary)
Friday, February 24-Sunday, March 19
NYC kids are lucky, indeed, with not one, but two not-to-be-missed film fests designed just for them this winter! Experience new films from around the world as the New York International Children's Film Festival descends on the Big Apple with screenings throughout NYC. There are always a small batch of shows just right for ages 3-5. Tickets went on sale in late January, so grab yours now!

Just Kidding: The Gustafer Yellowgold Show — Upper West Side
Saturday, February 25
Gustafer Yellowgold, a friendly creature who came to Earth from the sun, lands in NYC to delight preschoolers and families. Gustafer's concerts are always a fun-filled musical adventure featuring colored-pencil animations and storytelling.

Ear, Nose, and Tail — Park Slope
Saturday, February 25-Sunday, February 26
Brooklyn-based Spellbound Theatre mounts a heartwarming tale about a dog who doesn't feel like being a dog anymore, using shadow puppetry, projection, and animation to help tell the tale.
March 2017
Falu's Bazaar — Midtown
Sunday, March 4
Falu, an Indian vocalist and veteran in the global music scene, brings her family-friendly show, Falu's Bazaar to Lincoln Center's Artist at the Atrium series. Children and families will embark on a musical journey through South Asian culture and around the globe, celebrating the instruments, languages, sights, and humanity of a diverse world. FREE
Pop Ups Live — Upper East Side
Sunday, March 12
Watch local favorites, the Pop Ups, perform a family-friendly concert at the Jewish Museum. Dancing, singing, puppets, and more will entertain little music fans.
Treehouse Shakers' Olive & Pearl: A Magical Story of Home Family Show — Flushing, Queens
Saturday, March 18
This immersive piece at Flushing Town Hall invites young audiences into the home of a little girl named Olive and her loving grandmother, Pearl. Viewers will sit in the performance area, made of soft felts, crocheted squares, and colorful fabrics, a common perk of any production by Treehouse Shakers.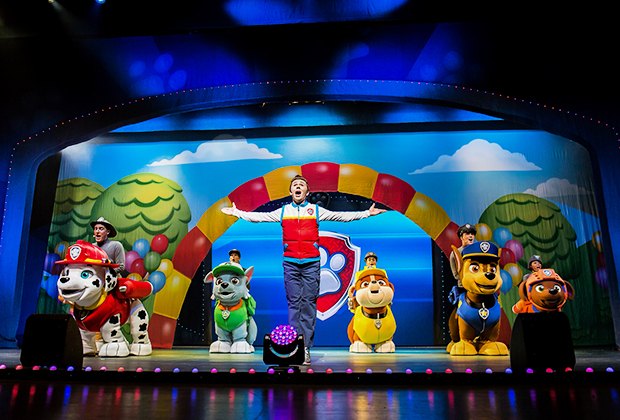 PAW Patrol takes to the stage for the first time. Photo courtesy of VStar Entertainment Group and Nickelodeon.
PAW Patrol Live! Race to the Rescue — Midtown West
Thursday, March 23-Sunday, March 26
Ages 2 and older
Paw Patrol, the preschooler TV sensation, arrives on the stage for the first time with this musical, featuring all those friendly, active pups eager to save the day. Expect plenty of singing and dancing as the Paw Patrol gang works together to solve the mysterious disappearance of the town mayor. Playing at the Theater at Madison Square Garden.
Top photo: Learn all about Japanese culture at CMOM's Hello from Japan! exhibit. Photo courtesy of the museum.