Big Apple Circus Readies Its Return to NYC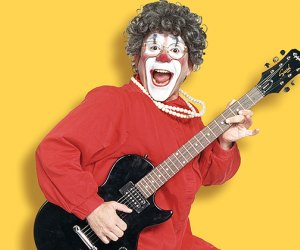 The past few years have been rough on circus lovers. After flying high since 1977, NYC's homegrown troupe, Big Apple Circus, announced last summer that it was folding up its tent and selling off its assets due to financial woes. And just last month, Ringling Bros. and Barnum & Bailey took its final bow after 146 years.
But this news should turn your sad clown frown upside down: Big Apple Circus is set to return this fall under new management, with a spectacle-studded show under the big top at Lincoln Center's Damrosch Park. And longtime fans should be particularly thrilled to hear that the company's veteran comic star, Grandma, who bid Big Apple adieu in 2012, is rejoining the circus. We've got the scoop on what to expect when you take a bite out of this overhauled Big Apple.
While you wait for the new show to debut, stay busy with our Summer Fun Guide.
This past February, Big Top Works became the new owners of Big Apple Circus and immediately began making plans to resurrect the company. Unlike Ringling, which always played massive stadiums, or Cirque du Soleil, which is as much performance art as circus, Big Apple has long been beloved by families because of its intimate nature (every seat is within 50 feet of the ring!) and unpretentious style. Although details about the as-yet-unnamed fall show are scarce, we can share a few exciting tidbits. Joining Grandma (played, as always, by the inimitable Barry Lubin, a member of the Clown Hall of Fame ) are a new emcee, Ringling alum Ty McFarlan, and headliner Nik Wallenda, a legendary daredevil celebrated throughout the circus world for his high-wire routines. The seventh-generation circus star and multiple Guinness World Record holder is set to perform a number of death-defying feats with his family members, including their renowned seven-man pyramid.
Although all three of these talented performers have decades of experience to pull material from, they promise to debut some new tricks alongside old favorites. As Lubin recently told the New York Daily News, he may try out some of his new bits wearing a fresh outfit, trading his signature red house dress for a bathing suit. We hope he's not joking because imagining Grandma in swimwear is already making us giggle.
In addition to relaunching the show, Big Top Works plans to maintain Big Apple Circus' cherished community outreach programs, including the Circus of the Senses and autism-friendly performances.
Big Apple Circus kicks off its 40th anniversary season at Lincoln Center's Damrosch Park on Friday, October 27 and plays through Sunday, January 7, 2018, after which it embarks on a national tour. Individual tickets for the NYC run go on sale in early July.
Got a news tip about something new opening in your NYC neighborhood? Email us at nyc@mommypoppins.com
Photo courtesy of Big Apple Circus.