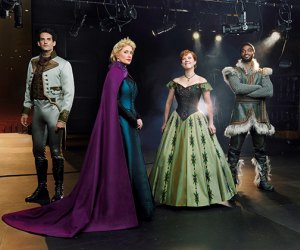 Frozen the Musical Heads for Broadway: What You Need to Know
This winter in NYC brings an extra dose of snow and ice, but of the magical Disney variety. One of the favorite princesses of the last decade and ice queen extraordinaire, Elsa, and her sister Anna, will make their Broadway debut in New York City this February. If you're familiar with the Let It Go-cult of Elsa, then you probably already knew a Frozen musical was en route, but we're here to give you the scoop on what to expect, including ticket prices and for which ages this show is best.
Joining family hits The Lion King and Aladdin, the buzz is strong for Disney's latest musical adaptation. The official opening night is set for March 22 (preview performances begin in February), but tickets for Frozen went on sale this month, and of course, are already going fast (hey, it's never too early to consider holiday gifts the whole family can enjoy).
We're pretty confident this Broadway production deserves a spot on your family's 2018 bucket list if you're willing and able to go for this extra special splurge.
Sign up for our FREE newsletters to get posts like this delivered to your inbox.
Based on the 2013 blockbuster hit—and now in previews at the Buell Theatre in the Denver Center for the Performing Arts—Frozen tells the tale of Anna and Elsa, two sisters searching for love and acceptance after being pulled apart by a magical secret. Reimagined for the stage with stunning visual effects, costume, stagecraft, and twice as many songs as the film—the show is said to have cost more than $25 million to produce, according to The New York Times—fans can expect the same story and characters they have grown to love.
The Broadway production brings many of the movie's original creators. Jennifer Lee, writer and co-director of the film, crafted the book. And husband-and-wife songwriting duo Robert Lopez and Kristen Anderson-Lopez, who wrote the songs for the movie, including Let It Go, are back with music and lyrics. All garnered Academy Awards for their work on Frozen—Best Animated Feature and Best Original Song, respectively.

Both leads have Broadway roots and hail from Broadway's Wicked (which my kids will be delighted to discover). Caissie Levy (Elsa) played Elphaba and Patti Murin (Anna) played Glinda. We can't wait to see their chemistry as they breathe life into Anna and Elsa on stage, not to mention lovable Olaf, Kristoff, and Sven's live antics.
The performance runs over two hours (with an intermission) and is recommended for kids ages 6 and up. Fans of the movie, and of musicals featuring strong female characters such as Wicked and Anastasia, will likely adore Frozen.
Frozen begins performances on Thursday, February 22, at the St. James Theatre. Tickets start at $99, but the frenzy has already begun: While tickets are still available, word is resale prices are getting steep. Tickets are currently available online, and the box office opens on Monday, November 13 to the public.
Frozen stars (l-r) John Riddle, Caissie Levy, Patti Murin and Jelani Alladin. Photo by Andrew Eccles/courtesy of the production
Places featured in this article:
---
Frozen the Musical at St. James Theatre