Restaurants for After Your Natural History Museum Visit in NYC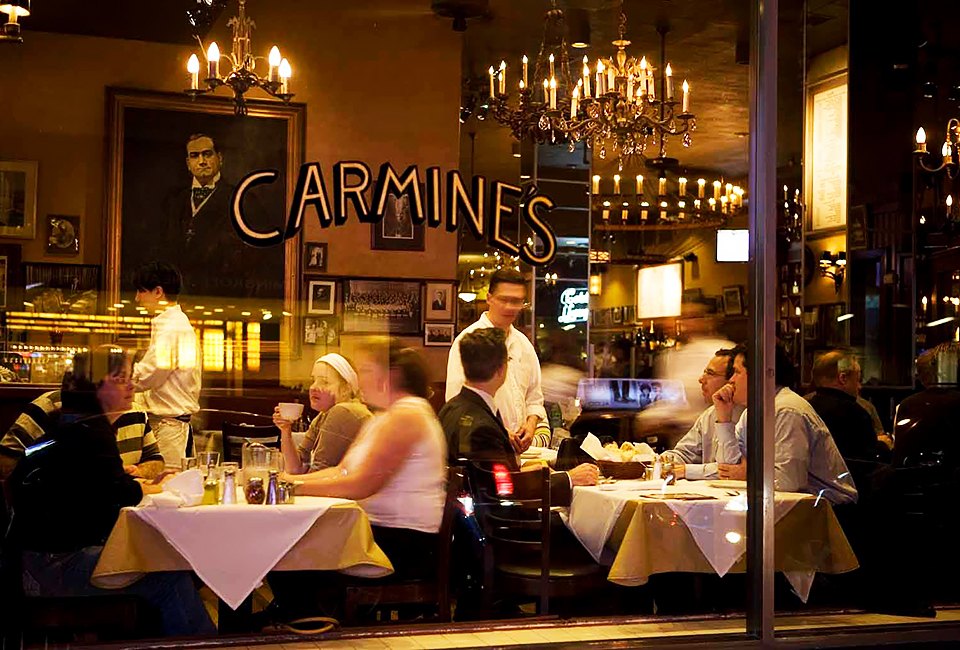 11/6/19
- By
Allison Tibaldi
Alice's Tea Cup
102 West 73rd Street near Columbus Avenue
The UWS location of this beloved Alice in Wonderland-themed mini-chain features lovely Lewis Carroll-inspired murals. Before you're seated, the staff sprinkles your kids with fairy dust and offers them fairy wings (although they're on loan, you can opt to buy a pair). The spot specializes in a British-style tea of scones, clotted cream, and jam, but also serves savory sandwiches and salads, perfect for a light meal. For kids, there's a Menu for the Small, or you can order The Wee Tee, which includes a scone, kids' menu item, dessert, and a beverage. Service is leisurely, so don't expect to be in and out. Also, it's best to make a reservation as the place is often packed, but still it remains one of our favorite spots for a fancy tea outing with the kids.
Carmine's
2450 Broadway between 90th and 91st
This family-style restaurant serves delicious Italian food in a relaxed atmosphere, perfect for post-museum dining. The extensive menu provides plenty of palate-pleasing options for the whole family, including spaghetti, meatballs, eggplant parmigiana, and a range of chicken and seafood options. For dessert, there's chocolate cannoli, tiramisu, and more.
Cafe Lalo
201 West 83rd Street between Amsterdam Avenue and Broadway
Located right across the street from CMOM, this crowded cafe serves sweet snacks for kids and a shot of caffeine for parents. In addition to yummy cakes, pies, and cookies, there are light meal options like grilled sandwiches and salads. Due to its small size, flight of steps, and lack of high chairs, it's not a great place for toddlers. However, Cafe Lalo offers brisk take-out so it's a good spot to grab a to-go snack. The artsy atmosphere, which includes jazz and classical music in the background, may look adult, but the staff welcomes families.
Fred's
476 Amsterdam Avenue at 83rd Street
Named after a seeing-eye dog, this beloved neighborhood spot is just around the corner from CMOM. A perfect spot for dinner, parents can sip on wine or beer while children color, then everyone can enjoy salads, finger foods, and burgers. This spot is popular with the brunch crowd, too.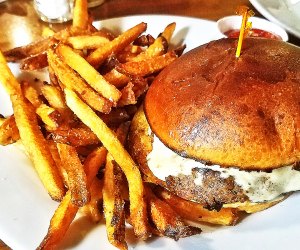 Can't beat a burger and fries at Good Enough to Eat.
Good Enough to Eat
520 Columbus Avenue at 85th Street
The staff here really goes out of its way to please families. The decor evokes a Vermont farmhouse, and the kids' menu offers mini burgers, macaroni and cheese, pasta, and pizza. The homemade desserts are uniformly delicious, and include American classics like pie, fruit crisp, and layer cakes. Beware: Even after moving from its Amsterdam Avenue location in early 2013, Good Enough to Eat is still as popular as ever, especially for brunch. Opt instead for lunch or dinner when things tend to quiet down.
Gray's Papaya
2090 Broadway at 72nd Street
Snappy hot dogs and an array of tropical fruit juices keep this take-out place packed. Its "Recession Special"—two dogs and a drink—costs about $5. Waiting for your grub is a quintessential New York experience. As you watch the franks sizzle on the grill, you rub shoulders with a veritable cross-section of the world, everyone from panhandlers to the rich and famous. Warning: Hot dogs are pretty much the only option here, so if your brood doesn't like 'em, skip it. The line often spills out onto Broadway and there is no seating, just counter space, so get your meal to go and eat in Verdi Square across the street.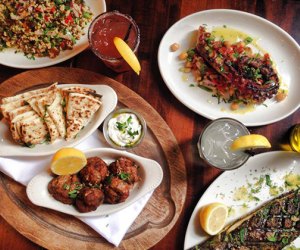 Kefi has delicious Greek food for kids and parents.
Kefi
222 West 79th Street between Broadway and Amsterdam
The homey Greek cuisine at this spot will warm your soul and the price point will be easy on your wallet. The soutzoukakia have been voted the best meatballs by New York Mag and just might be familiar enough to make your finicky toddler an adventurous eater. The portions are generous, as is the dining area, meaning you won't wait long or leave hungry—a definite plus after an afternoon of museum hopping.
Patsy's Pizzeria
61 West 74th Street between Central Park West and Columbus
This longstanding institution of pizza serves up the perfect NYC-style pie. Thin crust, fired to a crisp finish, with a few spots of flavorful char—definitely a crowd and kid pleaser! If you crave something more refined, there's all manner of Italian classics on the menu, too.
RELATED: Best Restaurants Near Rockefeller Center for Kids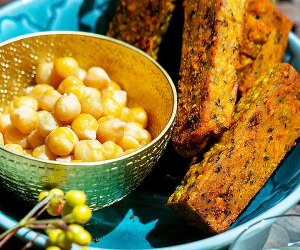 Peacefood Cafe's delicious (and famous) chickpea fries are a hit with kids.
Peacefood Cafe
460 Amsterdam Avenue at 82nd Street
This comfy vegan eatery is a great choice for a healthy snack or meal, especially if your family is looking for tasty gluten-free or vegetarian options. There are lots of kid-appropriate choices, including delectable baked goods like brownies and chocolate chip cookies with no refined sugar, dairy, or eggs, and a variety of smoothies. For more substantial fare, try a panini, pizza, or salad.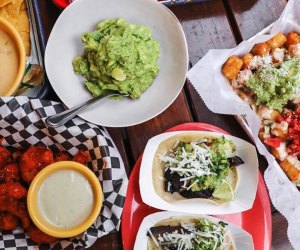 Kids don't have to be quiet at the lively Playa Betty's.
Playa Betty's
320 Amsterdam Avenue at 75th Street
The bright flavors of California's coastal scene, infused with plenty of Mexican influences, take center stage at this colorful, lively spot. Street tacos are the main draw here and come in a variety of styles. A kids menu includes quesadillas, a chicken finger taco, and veggie-forward brown rice bowl. There is ample sidewalk seating during the warmer months.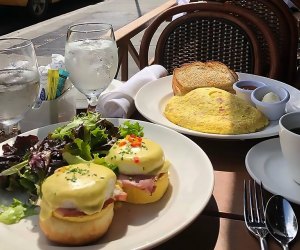 If you have a hungry clan dash over to Sarabeth's for a delicious brunch.
Sarabeth's
423 Amsterdam Avenue between 81st and 82nd Streets
Classic American fare is served in a casual, family-friendly atmosphere just steps from AMNH. Brunch is served until 4pm on weekends, so you can follow up a museum visit with a stack of fluffy pancakes and a side of crispy bacon. Outdoor cafe-style seating is a plus, too.
Shake Shack
366 Columbus Avenue at 77th Street
Sitting directly across the street from AMNH, this spot is as kid-friendly as they come. The chain's trademark burgers, hot dogs and crinkle-cut fries are kid pleasing in their own right, but you'll likely have a hard time turning down dessert, too. There is additional seating downstairs, but it's still a struggle to snag a seat at times.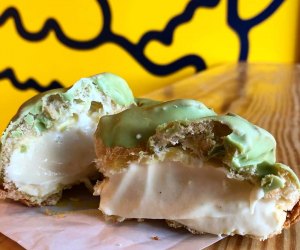 Choose your flavor combination for your gigantic cream puff at Beard Papa's.
And for dessert...
Beard Papa's
2167 Broadway between 76th and 77th Streets
An import from Japan, Beard Papa's specializes in one thing, and makes it well: cream puffs. These gigantic cream-filled pastries come in a variety of flavors from the classic to the crazy. Consider pairing a honey-butter shell with a pumpkin filling or green tea outside with a scoop of ice cream. The combinations are endless.
Levain Bakery
167 West 74th Street and 351 Amsterdam Avenue
Known for its ooey-gooey, decadent double chocolate-chip cookies, Levain Bakery has two locations easily walkable from our favorite favorite trio of neighborhood museums. Buyer beware: These cookies are gigantic and have a brownie-like texture; they're easily shareable!
Van Leeuwen Ice Cream
448 Amsterdam Avenue between 81st and 82nd Streets
The well-known artisan ice cream company (one of our favorite scoops in all of NYC) a perfect stop for a post museum scoop, especially on a hot day.
Photos courtesy of the restaurants
This article was first published in November 2011 but has been updated for 2019. Jody Mercier contributed additional reporting.
Click Here to Sign Up!
i