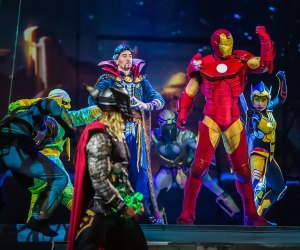 22 Fantastic Winter Theater Shows for NYC Kids
Winter 2018 in New York City is loaded with cool theater for families, including the debut of three super buzzed-about Broadway productions: Disney's Frozen the Musical, Tina Fey's musicalization of her hit movie Mean Girls, and the two-part Harry Potter and the Cursed Child from London. But you don't need to shell out big bucks to give your kids a memorable live entertainment experience in NYC—plenty of engaging family productions are playing off Broadway for a lot less.
This winter there are wonderful options for toddlers to teens, including interactive shows created specifically for the preschool set (A Book of Hours and Waves, All That Glows Sees ), stage adaptations of popular picture books such as A Sick Day for Morris McGee and Owen & Mzee the Musical, and eye-popping spectacles for the whole family (Bromance and Marvel Universe Live!).
Best of all, most of these nearly two dozen shows cost $25 or under, so you can take the whole family for less than the price of one Broadway ticket.
Click through to our listings for all the details, including prices, schedules, and locations.
Turning 15 on the Road to Freedom — Upper West Side
Wednesday, January 10-Sunday, January 21
Ages 10 and up
Celebrate Martin Luther King and his legacy with the real-life story of Lynda Blackmon Lowery, one of the youngest participants in the historic Selma to Montgomery Voting Rights March in 1965. Based on Lowery's memoir of the same name, this solo show (adapted and directed by Hollywood Brat Packer Ally Sheedy!) is filled with civil rights songs and chronicles the incredible life of the teen activist, who was jailed nine times before her 15th birthday. An inspiring story for politically minded tweens and teens. For an extra dose of jubilation, attend on weekends or MLK Day, when the Riverside Church Inspirational Choir will open the show with a joyful noise.
Journey to Oz: A Wizard of Oz Story — Upper West Side
Saturday, January 13
Ages 2–7
No sitting on the sidelines at Symphony Space. The Experiential Theater Company is behind this stage adaptation of Frank L. Baum's beloved stories, which is heavy on imagination and audience participation. The small cast conjures the fantastical characters but often requires assistance from kids in the audience, and they're always happy to oblige. Dorothy, the Scarecrow, the Tin Woodsman, and the Lion can't thwart the Wicked Witch without you!
RELATED: NYC Winter Fun List: 50 Things to Do Indoors with Kids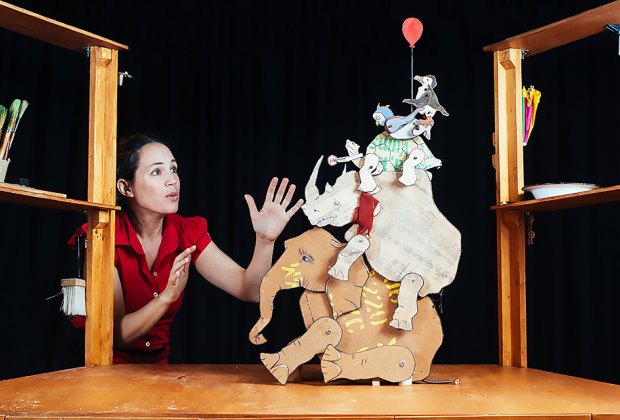 A Sick Day for Morris McGee is about a creature of habit and his kind-hearted coterie. Photo by Dor Kedmi, courtesy the New Victory Theater
A Sick Day for Morris McGee — Midtown West
Saturday, January 13–Sunday, January 28
Ages 2–5
Don't let the slight name change confuse you: This preschooler-aimed puppet show from Israel's Train Theater is indeed based on Philip C. and Erin E. Stead's Caldecott Medal-winning picture book A Sick Day for Amos McGee. At just an hour long, this charming performance centers on a creature-of-habit zookeeper and his doting animal friends, who come to his aid when he gets the sniffles. Two-dimensional tabletop puppets, original music, and a single puppeteer bring this simple tale to life at the New Vic's New 42nd Street Studios.
The Snowy Day Play (and Other Stories by Ezra Jack Keats) — Midtown West
Saturdays, January 13-March 31
Ages 3-8
Why should Eric Carle get all the theatrical glory? This hourlong music-and-puppet-filled production gives another beloved children's book author-illustrator his due. Four of Ezra Jack Keats' tales—Whistle for Willie, Goggles!, A Letter to Amy, and his iconic Snowy Day—are translated to the stage in this preschooler-friendly show that celebrates the joy of being a city kid.
Please Bring Balloons — Lower East Side
Sunday, January 14–Sunday, March 25
Ages 2–5
New York City Children's Theater presents an encore run of this multisensory romp for the sippy-cup set, which we just loved when we reviewed it last year. Inspired by Lindsay Ward's picture book of the same name, it's about a little girl and her special bond with a certain carousel animal. Throughout the 30-minute adventure, audiences are invited to dance, shake maracas, fly, create their own balloons, and even have a fake snowball fight. It's completely interactive, making it a great option for first-time and very young theatergoers.
RELATED: 50 Things to Do with Kids in Midtown Manhattan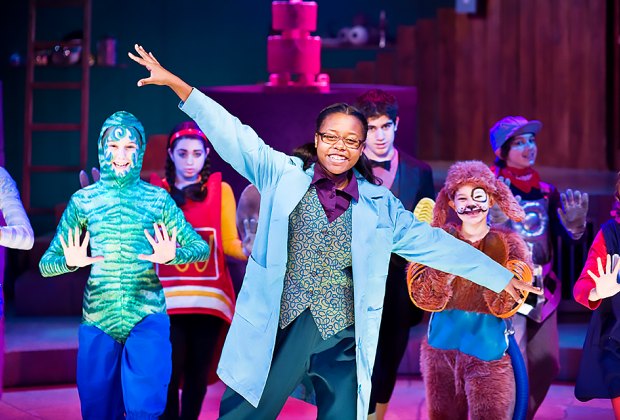 A Perfect Monster at TADA! Youth Theater has a relatable story line and catchy tunes. Photo courtesy of the theater
The Perfect Monster — Chelsea
Friday, January 19–Monday, February 19
Ages 5 and older
We've all fantasized about finding that ideal BFF who totally gets us. In the latest original musical from TADA! Youth Theater, young science geek Sybil takes that yearning to its logical conclusion: She decides to make her own perfect pal in her basement. But à la Frankenstein, not all goes smoothly. Whatever shall she do with this gang of flawed friends? As with all TADA! productions, The Perfect Monster stars talented NYC-area tykes ages 8 to 18, and features relatable themes, catchy tunes, and a positive, non-preachy story line.
A Book of Hours — Park Slope, Brooklyn
Saturday, January, 20
Ages 0–5
Brooklyn-based Spellbound Theatre specializes in shows for very young theatergoers, so if you've been meaning to introduce baby to the magic of live entertainment, this half-hour performance at the Old Stone House is a great bet. A honey-voiced hostess opens an oversize storybook and invites tots to gather round. Soon they're off on an imaginary adventure filled with sing-alongs, puppets, and nursery rhymes.
The Magic City — Fort Greene, Brooklyn
Friday, February 9–Sunday, February 11
Ages 8 and up
Edith Nesbit's century-old children's novel of the same name is brought to the stage by avant-garde multimedia darlings Manual Cinema at BAMkids. A nine-year-old coping with familial loss and change conjures a rich fantasy world of found objects, which is realized onstage via toy theater, shadow puppetry, music, and live actors in silhouette. Will she ever be able to face reality? Every performance includes a pre-show workshop, where kids can get a behind-the-scenes peek at this company's process, and a post-show Q&A.
Sesame Street Live! Let's Party! — Midtown West
Friday, February 9-Monday, February 19
Ages 18 months-5 years
The gang from Sesame Street is throwing a party, and you and your preschoolers are VIP guests! Families can sing and dance along with Elmo, Abby Cadabby, and Cookie Monster. Even Oscar the Grouch gets down at this shindig hosted by live emcees Casey and Caleb. But while everybody loves a party, people (and Muppets!) have different ways they like to celebrate. Can everyone cooperate to make this the best bash ever? Interactive bits abound in this brand-new show at the Theater at Madison Square Garden.
Bromance — Midtown West
Friday, February 9–Sunday, February 25
Ages 7 and older
Three gravity-defying acrobats take to the New Victory stage, drawing on their talents in parkour, martial arts, circus, and break-dancing to wow audiences with stunning feats and daring tricks. For children with sensory sensitivities, there's an autism-friendly performance on Saturday, February 10.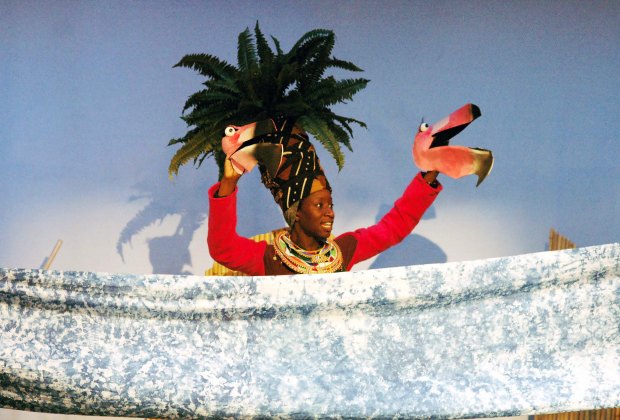 Vital Children's Theatre presents Owen and Mzee about a baby hippo and a giant tortoise. Photos by Sunpro, Inc
Owen & Mzee the Musical — Upper West Side
Through Sunday, February 11
Ages 2–7
Vital Children's Theatre's brand-new musical is based on the heartwarming true story of a baby hippo named Owen and a 130-year-old giant tortoise named Mzee. After surviving a tsunami in Kenya, Owen was rescued by villagers and brought to a nature park where he met Mzee. After some initial reluctance, the two formed an unbreakable bond. Filled with colorful costumes, charming puppets, and African-inflected music, Owen & Mzee reminds preschoolers that friendship can transcend superficial differences.
This Girl Laughs, This Girl Cries, This Girl Does Nothing — Chelsea
Saturday, February 10–Sunday, March 4
Ages 6 and older
Atlantic for Kids presents this feminist fairy tale about three abandoned young sisters who take very different paths: one seeks adventure, another purpose, and the last builds a home. Yet when they reunite as women, they find all of their lives have meaning. This modern-day coming-of-age fable with music should resonate with everyone in the family.
Marvel Universe Live! — Fort Greene, Brooklyn
Thursday, February 22–Sunday, February 25
Ages 3 and older
If your kids (or you!) are counting down the days until Avengers: Infinity War comes out in May, you can get your superhero fix early at this live spectacle filled with all your favorites. Spidey, Thor, Iron Man, Doctor Strange, Black Widow, the Guardians of the Galaxy, and the rest of the Avengers all assemble to fight Loki's latest plan to take over the universe. I saw a previous incarnation of Marvel Universe Live! a few years back and it's exactly what you'd expect: amazing stunts, cool special effects, dumb (and often inaudible) dialogue, a silly story, and overpriced merch. But despite its flaws, my Marvel-loving family and I had a blast. For fans, it's high-tech, low-brow fun.
Layer the Walls — Midtown West
Thursday, March 1-Sunday, March 4
Ages 7-11
The walls have stories! This multimedia show uses masks, puppets, and actors to bring the tales of 19th- and early 20th-century Italian, Irish, and Jewish immigrants to life. When an old NYC tenement is slated for demolition, 40 layers of wallpaper unpeel to reveal these strivers, who faced great hardships as they struggled to make it in America. This innovative and educational show was developed in the New Victory Theater's prestigious LabWorks program.
Shakespeare's Long Lost First Play (Abridged) — Midtown West
Friday, March 2–Sunday, March 11
Ages 10 and older
The Bard gets bawdy at the New Victory! This fast-paced, comedy-filled satire is perfect for tweens who will love the outrageous humor, outlandish scenarios, and rapid-fire antics in this mash-up of Shakespeare's 39 plays.
RELATED: Family Restaurants Near Barclays Center for Post-Show Kid Eats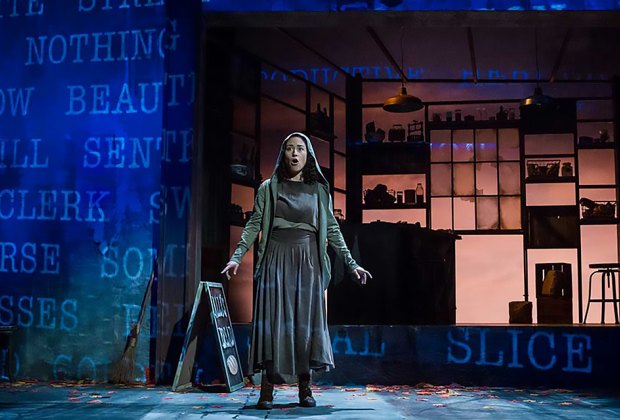 Where Words Once Were at Lincoln Center Kids. Photo by Yassine El Mansouri
Where Words Once Were — Lincoln Square
Saturday, March 10
Ages 9 and older
This dystopian adventure comes from the fantastical mind of playwright Finegan Kruckemeyer, who penned the wonderful The Boy at the Edge of Everything which played at Lincoln Center Kids a few seasons ago. His new LCK offering is set in a not-too-distant future when language is rationed, yet young Orhan realizes you don't need a lot of words to make a point. A great way to teach kids about the power of speaking out but choosing your words carefully!
Mammoth Follies — Tribeca
Saturday, March 10
Ages 3–8
It's vaudeville meets velociraptor! Hudson Vagabond Puppets' revue features oversize dinosaurs singing, dancing, and even telling jokes about what life was like during their time on Earth. This Tribeca Performing Arts Center presentation is a must for aspiring paleontologists.
Waves, All That Glows Sees — Lincoln Square
Saturday, March 10–Sunday, March 18
Ages 2–5
No need to don bathing suits for this immersive experience at Lincoln Center Kids, which takes place inside a magical tent where a storyteller transports audiences to the seaside via evocative visuals, stories, and songs. It's a beach day in the dead of winter!
Dino-Light — Upper West Side
Saturday, March 17
Ages 2–7
Head to Symphony Space to catch the eye-popping Lightwire Theater of America's Got Talent fame in this high-tech stage spectacle, which brings the extinct creatures to life via illuminated costumes and puppets. My daughter and I saw this show a few years back and were wowed by the special effects and simple wordless storytelling.
The Lightning Thief — Corona, Queens
Sunday, March 18
Ages 6-10
Queens Theatre presents Theatreworks USA's rollicking, hourlong musical based on Rick Riordan's YA novel The Lightning Thief, which we loved when we saw it back 2014. Kids don't even need to know the book to follow the adventures of a modern-day tween demigod who overcomes challenges both mythical (Medusa, Hades, the Furies) and earthbound (dyslexia, ADD) with a little help from his powerful pals.
Wink — Upper West Side
Saturday, March 24
Ages 2–7
The tot-centric Spellbound Theatre adapts the classic children's poem "Wynken, Blynken, and Nod" for the stage. Shadow puppets and animation help young audiences explore the concepts of sleeping and dreaming in this 40-minute show at Symphony Space, which is perfect for first-time theatergoers.
A Fool's Errand — Fort Greene, Brooklyn
Saturday, March 24–Sunday, March 25
Ages 5 and older
Acrobatic clown Jamie Adkins champions the importance of friendship in his slapstick-filled solo show, which explores the pitfalls and pratfalls of loneliness. This wordless comedy at BAMkids is punctuated by live tuba music. Now that's old-school!
Top photo courtesy of Marvel Universe Live! Catch the show at Barclays Center in Brooklyn this February.